The 2010 Magic Quadrant for Business Intelligence Platforms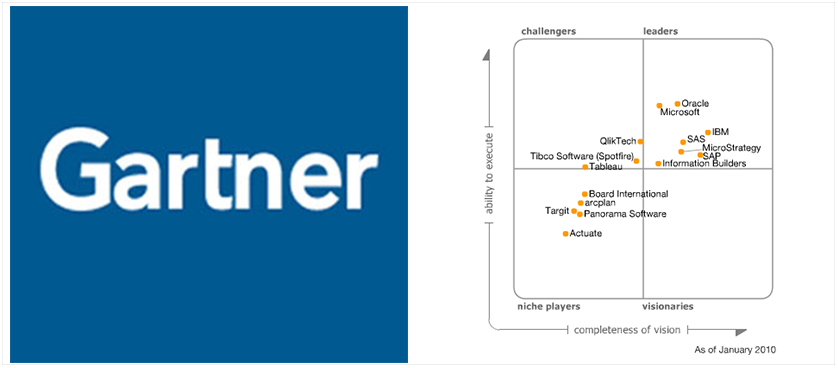 A useful resource for assessing the market of Business Intelligence (BI) Platforms is  The 2010 Magic Quadrant for Business Intelligence Platforms, released on 29 January 2010, by Gartner. The report provides a comprehensive evaluation of the main software vendors for the BI platforms, as well as defining the BI market and its trends. An eagerly expected publication in BI circles, this year's report was authored by four Gartner analysts: Rita L. Sallam (ex Oracle),  Bill Hostmann (ex IBM – Informix),  James Richardson (ex Hyperion, now Oracle) and Andreas Bitterer (ex IBM).
"In 2009, megavendors held almost two-thirds of business intelligence platform market share. But impatient business users increasingly turned to pure-play BI platforms, particularly those of small innovative vendors, to fill usability and time-to-value needs unmet by the larger vendors." the report states.
The Business Intelligence Market
According to Gartner's 2010 BI Magic Quadrant report, the market for BI platforms will remain one of the fastest growing software markets despite the economic downturn. Organizations will continue to turn to BI as a vital tool for smarter, more agile and efficient business. Gartner's annual survey of CIO technology priorities reflects that BI remained among the top five priorities in 2009, while being No. 1 in each of the previous four years.
Evaluation Criteria for the BI Vendors
Gartner used 8 criteria for evaluating each BI vendor present in the Magic Quadrant for Business Intelligence Platforms. The criteria are presented in the table bellow: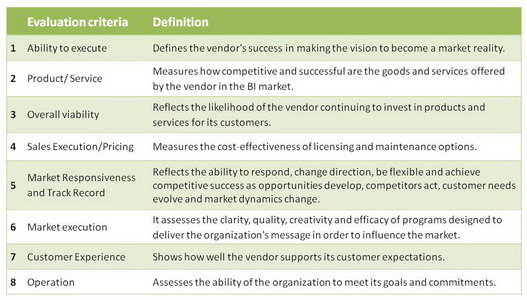 For further reading: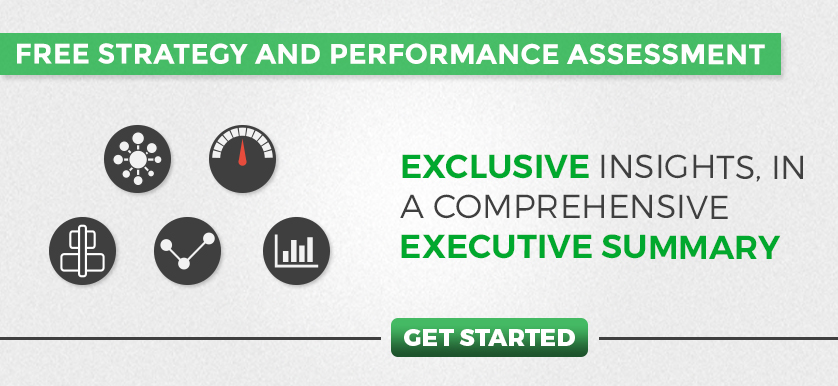 Tags: Business Intelligence, Magic Quadrant, Oracle, Software Solutions