Several considerations on performance measurement and metrics in current marketing reality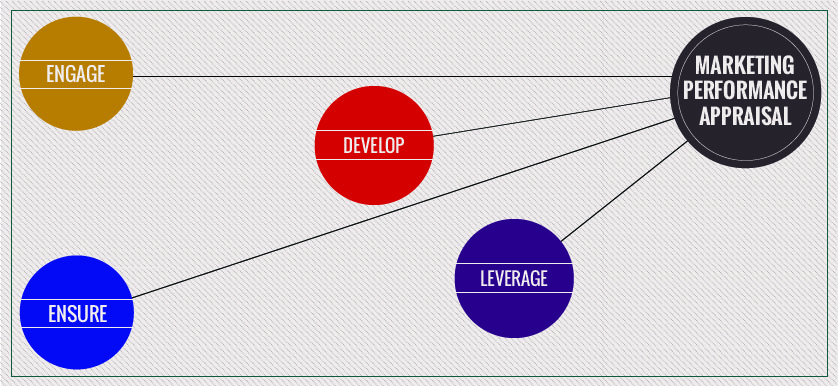 Although argued that marketing, as functional area, generates rather intangible outcomes, thus assessment being quite problematic, our series of blog posts on marketing put under attention metrics that capture performance in various marketing dimensions.
smartKPIs.com contains a comprehensive online repository of more than 100 KPIs in marketing functional area, measures that focus on the market (share, concentration etc.), on customer (loyalty, profitability etc.), on marketing activity and processes (relationship marketing initiatives) and many other aspects.
In today's blog post, we intend to present some considerations on the most recent research and developments in applying performance appraisal in marketing practice.
In their 2009 joint-venture study on marketing performance,  CMG Partners and Chandwick Martin Bailey suggest that Marketing Performance Management is "the practice of measuring, learning from and improving upon marketing strategies and tactics over time".  Based on their research conducted on more than 400 people involved in marketing activities, they suggest several best practices to be used when employing marketing appraisal:
Engage senior level buy in
Ensure the strategic alignment with all corporate goals and objectives
Develop and employ strong processes to ensure that the cycle measure-learn-improve is complete
Leverage marketing performance organization-wide for improved cross-functional decision-making
Indeed, in today's business paradigm, we believe that there is no such thing as "one discipline" or "one department" any more. Everything within the organization is interconnected and the word of order is multidisciplinarity. The marketer's role is gaining increased influence within organizations, which requests further reflections on accountability and assessment.
A study conducted by The Prophet in collaboration with the Association of National Advertisers (2009) analyzes what they call "the shift in marketing study". After surveying about 150 marketers at different levels of the hierarchy and from various types of organizations, they conclude that a change is on its way, positioning the marketer on the visionary edge of the organization, driving and not just supporting business growth.
The marketer's role shifts from the tactician that creates and deploys marketing strategies, sometimes in his own closed "silo" within the organization, to the visionary that manages valuable customer insights and business analytics, thus diving business impact. In this context, marketing itself evolves from a functional area, to a cross-functional, customer-centered collaborative way of working.
Nevertheless, all these mutations lead to a shift in the way appraisal and accountability is made: focus from incremental improvements is shifted to "pervasive innovation" (innovation that comes from anywhere and has impact everywhere) and the traditional marketing measures are replaced with sophisticated measurement tools.
The Australian Marketing Institute has argued even since 2004 the need to go beyond the marketing department and create widespread validity and value of marketing metrics within organizations. Secondly, they argued that standardization of metrics is a must in order to create a common framework and understanding of the marketer's role and the marketing's department realizations. It is admitted the fact that a one-fit-all approach is not possible, nor desired, but a general framework must be followed. They suggest a two-directions framework, with focus towards the customer (measuring processes and outcomes), on one hand and towards the shareholders (measuring current and future cash-flows), on the other hand.
Considering these recent developments, our recommendations for those involved in marketing performance appraisals would be the following:
Use traditional marketing metrics, but capture data also on more sophisticated and refined marketing implications
Do not give up on the constant monitoring of the market share or the average number of customer purchases per week and do not lack to track the efficiency of a well-defined advertising campaign in terms of reach or costs. However, do monitor for instance the marketer's role and impact as a strategist and visionary within the organization. You can follow the number of executive meetings he participates in or the cross-functional initiatives he engages in.
Measure results externally, but do not miss internal impact of marketing
An increased internal role of marketing is requested, as employer branding generates valuable competitive advantage both on labor force markets and consumers markets (consumers tending to analyze the companies they buy products from in the shed of responsible and carrying employers). Thus, marketing should enforce and even direct HR department initiatives and make sure that employees embrace the value proposition and that the company caters for them.
Try to use wide-known, standardized metrics
For a fair and accurate appraisal and to make possible the use of benchmarking, use preponderantly metrics employed by other companies, too. It is important to have a framework that allows comparison to other similar organizations, as if you do poor at something that the others on the market do well and you don't know why things are wrong, it might because you are not measuring the right things.
Document and learn from others and stay up to date to the developments in the field of marketing performance measurement
Marketing practice and also performance measurement in this area are of significant dynamic, keeping up to date with developments being essential for success. The Internet provides valuable resources in this respect and membership to a professional association in marketing could be of use. For those with little time and the desire to do much in a condensed time, participating at events and conferences on this topic might be a solution more at hand.
References:
CMG Partners, Chadwick Martin Bailey (2009), "The Marketing Performance Advantage. Improving Effectiveness and Accountability"
The Prophet, Association of National Advertisers (2009), "The State of Marketing Study", accessed 28 February 2009
Styles, C., Withford, M. (2004), "What value marketing? A position paper on marketing metrics in Australia", Australian Marketing Institute.