Editor's Note: This article is written by Justine McGrath, ProACTive Coaching's owner and EBW System assessment and training facilitator. "How To Engage Your Emotional Intelligence To Adapt To Different Work Environments" is originally published in the 23rd PERFORMANCE Magazine – Printed Edition. 
In 2020 the world of work changed forever. Companies with adaptable managers and leaders survived and, in some cases, thrived. Those who didn't suffered.
In a survey done by the Whitaker Institute at NUI Galway in 2022, a staggering 95% of respondents said working remotely makes life easier. Thirty percent of respondents said they would change job – even if it meant taking a pay cut — if their employers did not take into account their remote working preferences.
It was not all plain sailing for those working from home. It only took a few weeks before we saw the toll it was taking on some, as the lines blurred between work and home. For working parents, having to balance your job with trying to homeschool was extremely challenging.
There are emotional challenges for employees with all three types of working.  According to a Microsoft Report in 2021, 54% of remote workers feel overworked and 39% feel exhausted. Zoom Fatigue is also a factor with many meetings running consecutively. 
For those who have returned to the office full time, the daily commute is a reminder of a way of life they would rather avoid every day. Employees have to grapple with higher levels of stress, and this affects their ability to regulate their emotions.  
Emotional Intelligence is the ability to understand how our emotions and behaviours impact firstly on ourselves and then on others. In order to adapt to these new ways of working, employees need to be aware of how to best manage their emotions to ensure they can continue to perform at their best. 
How Leaders Build Trust and Accountability
Employers need two traits if they want their team to adapt to new ways of working: trust and accountability. This is especially important if you have certain people in the team working from home and some in the office. Employees need to feel they are part of the team and have a shared sense of responsibility. This gives them a sense of autonomy, which builds trust. 
Psychological safety is paramount. Give people an opportunity to air their views, grievances, and fears. Managers may see this as a threat to their role or as being too soft, whereas nothing could be further from the truth.
You need to be aware of what will enable peak performance from your employees. If you want to ensure success in the workplace, building trust and accountability is essential. 
To build trust and accountability, develop your self-awareness. How? Understand your style of leadership and whether or not it is effective. Get regular feedback from a trusted source. 
Self-regulation is how you manage yourself in the workplace. It is vital to understand your own emotions and behaviors so that you can adapt and improve where necessary. Do you have any blind spots in this area? How do people respond to you? This is the intrapersonal aspect of EI – managing the self. 
When it comes to managing others – the interpersonal aspect of EI – social awareness is key. Who are the best communicators in your team? Is there someone who is struggling and could use a little empathy right now? Put yourself in their situation and see it from their point of view. Using EI to deal with your own emotions and behaviors and to understand those of others will propel you from a good leader to an excellent one.
Emotional Intelligence for Employees 
In the same way that the manager or leader has to be fully aware of how their emotions and behaviors impact both themselves and others, the same holds true for any employee.
This is particularly important if they are feeling apprehensive about the options available in the workplace. They need to feel safe to voice their concerns. 
The most important aspect of developing self-awareness is understanding what it is about your job that motivates you. If going back to the office de-motivates you, why is that? Could you express those issues/concerns to your manager? If you are going to move to a hybrid work model, have you prepared yourself mentally for that change? What are the advantages and disadvantages, and how do they affect you?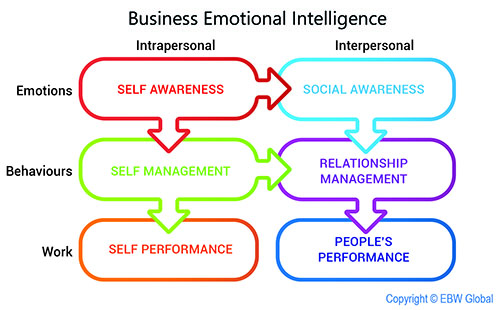 Image Source: ebw.online.com | Business Emotional Intelligence
EBW model of Business Emotional Intelligence is about the ability to use your intrapersonal and interpersonal intelligence to focus on the critical emotions and underlying behavioural traits that predict occupational performance. 
Be Proactive
Any good manager will appreciate an employee who takes the initiative on issues that arise. Try to find a potential solution before you talk to management. It's about building trust, communicating openly, and not being afraid to stand up for what you need.
Get yourself into the right mindset. If there are obstacles in your way or you feel unsupported, how could you change that?
Being aware of both the intrapersonal traits and the interpersonal traits of EI will enhance your career prospects.  Use self-awareness to take your own personal audit of how the new way of working is going to affect you. Use social awareness to see if it will impact how you relate to both your manager and your colleagues to ensure clear communication going forward.
To conclude, both employers and employees need to take stock at this time of change. If we can develop our EI to communicate clearly, build trust and accountability, and nurture both the self and each other, the future looks bright.
---
About the author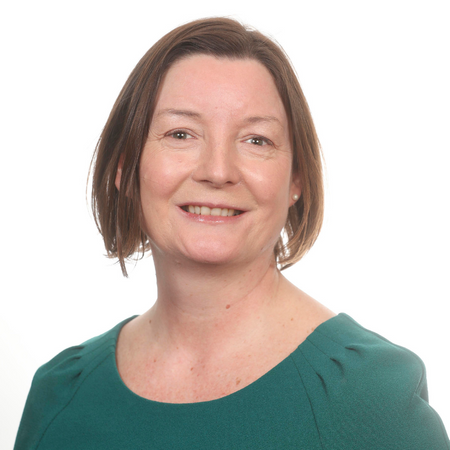 Justine McGrath is an executive coach and trainer who specializes in Emotional Intelligence. She is the owner of ProACTive Coaching and is a facilitator of the EBW System of assessments and training.