Supply Chain Analytics conference – Overview Day 3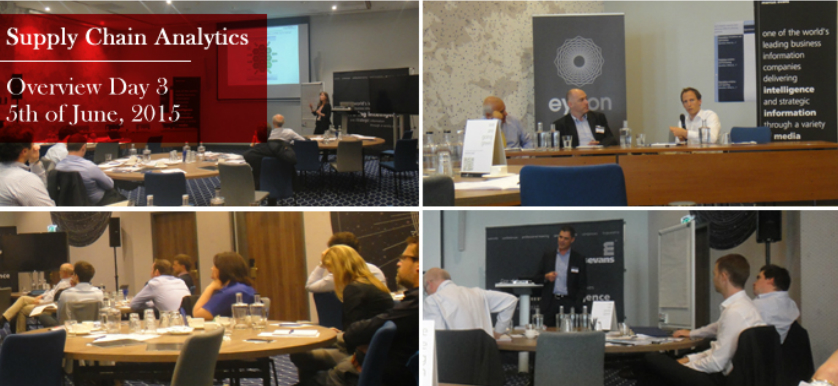 The last day of the conference, although comprised of fewer presentations, it still rolled on valuable supply chain innovative approaches, such as those detailed by Shell Lubricants, ADVA, Schneider Electric or The KPI Institute.
The first presentation belonged to the Luxottica Group: "STARS platform, deep understanding of demand patterns and accurate data driven forecast," which was held by the Corporate Stars and Retail Demand Planning Director, Dario Drigo. The case study explained how, by structuring massive amounts of data, demand signal synchronization can be effectively automated.
"Analytics: creating the bias for action" was the presentation of the Shell Lubricants group, delivered by Alex Hancock, Analytics Manager. Forecast improvement, dollarizing the supply chain and cross-sell an up-sell strategies were the main focus areas in Alex Hancock's presentation.
The third presentation of the day, delivered by Philipp Lutzny and Marco Buhl from ADVA Networking SE, was "From historical to predictive analytics for a better supply chain visibility." Thus, Lutzny and Buhl showed how ADVA, as a medium-sized company, is able to maintain itself on the competitive market of telecommunications by implementing, and even patenting an extended collaborative supply chain that increases performance in the manufacturing, supplier and customer service functional areas.
The next case study of the day, "How Schneider Electric is leveraging on Big Data," was held by Luc Gilleaux, Supply Chain Planning and Inventory Director, on behalf of Schneider Electric. The 175 years old organization revealed the rod it has taken, since 2011, with the implementation of a digitized supply chain.
The final presentation of the day belonged to The KPI Institute and it was delivered by Cristina Tărâță, Head of Research. Her case study, "KPIs to drive supplier excellence," was centered on the value brought forth by KPIs implementation, the appropriate Scorecards to monitor supplier performance and methods of extracting value through the long-term use of KPIs.