Supply Chain Analytics conference – Overview Day 2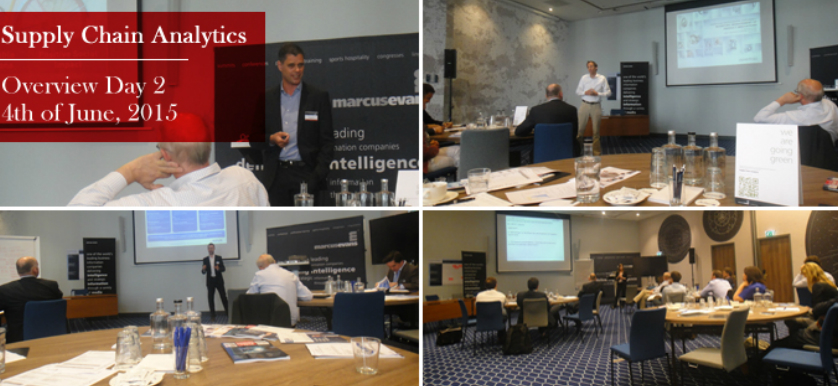 The Supply Chain Analytics conference, organized by Marcus Evens in the 3-5 June period, included one day of workshops and another 2 days of business experts' presentation delivery. The conference gathered Supply Chain professionals from all industries, from optic fiber networking organizations, such as ADVA, to precious stones manufacturer and retailer, Swarovski.
As the first day consisted only in workshops, our focus turns to the second and third day of the conference, when the presentations were delivered.
Thus, day two of the Supply Chain Analytics conference was opened by Hewlett-Packard, represented by Bert de Winter, Director for Logistics PPS EMEA. His case study, "Analytics to make better decisions and improve supply chain and overall enterprise business performance," was centered on the idea that supply chain excellence cannot be attained without data analysis. One revealing example of the benefits brought forth by data analysis techniques is that it allows a company to make profitable decisions that, at a first glance, may seem counterproductive.
The second presentation of the day, "Nike: Delivering actionable insights to spark the business in making better and faster decision," was delivered by Imke Stuurman and Sandra Vankrunkelsven. The main points disclosed here were related to Nike's integrated data analysis component and the journey taken by it from plan to a real functional capacity that is now implemented in every functional area under the names of Info & Analytics team and the Supply Chain Innovation team.
"Improving efficiencies by working together with retailers" was the presentation delivered by Josep Ragull, director of the Supply Chain Analytics & Information, on behalf of Diageo. The company managed to increase its revenue and save money by implementing a series of initiatives, such as applying differential treatment to suppliers, based on their performance, reduce the financial losses caused by product theft by taking anti-theft measures, or introduce a customized method of calculating the value created by projects.
Karsten Schimdt, the Supply Chain Innovation Community Big Data Director at Infineon Technologies AG, delivered the fourth presentation of the day, entitled "Big Data and business analytics." The main point disclosed by Karsten was the Industry 4.0 solution of real-time integrated value chain which, ultimately, provides timely information to various Infineon facilities across the globe, thus reducing both the information margin error and the manufacturing time range.
The presentation "Using analytics as a strategic driver to evolve supply chain professionals into business leaders" was held by Paul de Long, Global Logistics Transformation and Innovation Director at Unilever. The organization has planned to implement initiatives to modernize its supply chain so that it can better tackle the obstacles of the current business world.
Paul de Long was followed by Maximillian Rödel's and his presentation entitled "Inventory management of product innovations." Rödel, who is the Head of Demand and Inventory at Swarovski, explained how they overcame the issues they faced at Swarovski by implementing some initiatives related to new product launch process and refining KPIs that they used to track launch performance.
Following Paul de Jong, another presentation was delivered by Davide Valentini, Group Demand Planning Director at Barilla, with the presentation "Improve customer service and demand fulfilment performances." Davide enlisted the benefits of having an integrated supply chain, forecast as a key enabler of company results, together with an extended, collaborative supply chain.
The second day of the conference has been wrapped up by the Luxottica Group presentation, "Optimization of inventory," which was delivered by Michele Ginocchieti, Corporate Distribution and Inventory Planning Director. The presentation was centered on Big Data Analytics and how this process can enable the inventory coverage strategy.