Supply Chain Analytics 2015 Conference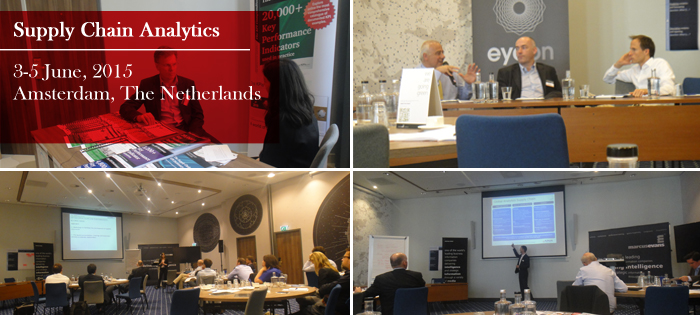 In the period 3-5 of June 2015, professionals from all industries, interested in developing a sound framework of the Supply Chain and achieving additional growth by implementing Data Analytics into the related operations had the opportunity to attend the Supply Chain Analytics 2015 Conference.
The conference was organized by Marcus Evans and it took place in Amsterdam, The Netherlands. Comprised of one day dedicated to workshops and two days dedicated to keynote presentations, the conference focused on offering participants information and best practices in order to assist them in using predictive analytics in the supply chain function. The workshops and presentations were meant at assessing attendees in:
Analyzing and benchmarking successful analytics models;
Looking into best practices of data management;
Empowering their business with data analytics by unlocking key information;
Identifying successful methods to make better decisions about spotted issues or opportunities;
Improving supply chain and overall enterprise performances bolstering your data analytics system;
Leveraging predictive analytics to harvest valuable insights.
The two workshops offered by the conference were:
Data Quality and Predictive Models: Taking Control over Information Assets to Empower Business;
Fusing Predictive and Prescriptive Analytics for High Performance Supply Chains.
The keynote presentations featured within the conference were delivered by:
Barilla – Extract Solid Data-Driven Insights About the Future Market Movements;
Hewlett-Packard – Analytics to Make Better Decisions and Improve Supply Chain and Overall Enterprise Business Performance;
Luxottica – Optimization of Inventory;
Nike – Delivering Actionable Insights to Spark the Business in Making Better and Faster Decisions
The KPI Institute – KPIs to drive Supplier Excellence;
Swarovski – Inventory Management of Product Innovations;
Shell – Analytics: Creating the Bias for Action;
Schneider Electric – Balance Risk and Opportunities to Achieve the Best Return;
Unilever – Using Analytics as Strategic Driver to Evolve Supply Chain Professionals into Business Leaders.
PERFORMANCE MAGAZINE will now offer a full coverage of the event, including overviews for each day of conference, the presentation summaries and interviews with specialists who attended the event.