About analytics and business performance at HP with Bert de Winter, at the Supply Chain Analytics conference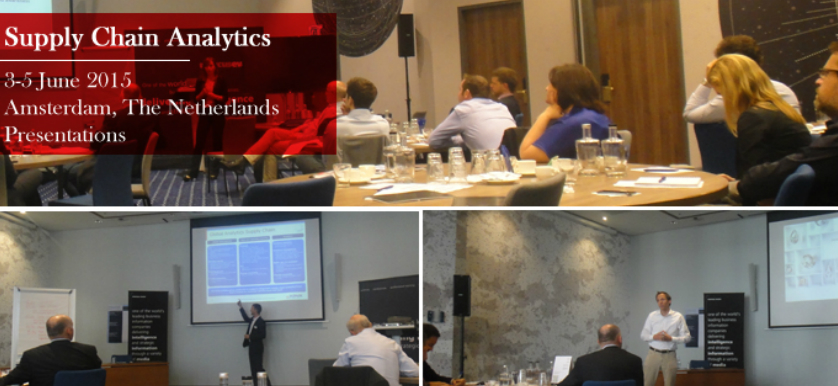 The case study "Hewlett-Packard: Analytics to Make Better Decisions and Improve Supply Chain and Overall Enterprise Business Performance," delivered by Bert de Winter, was the opening presentation of Marcus Evans' 2015 Supply Chain Analytics conference. Bert de Winter is currently leading the Hewlett-Packard Logistics Operations for the Printing and Personal Systems business unit in EMEA.
As the electronics giant Hewlett-Packard moves massive quantities of products every day, they are obliged not only to master supply chains, but also to permanently exceed expectations in order to gain competitive advantage. This comes to happen by excellence within the supply chain service supported by a future-oriented vision, as Bert de Winter implied.
At the point where HP is situated as a global company, supply chain excellence without data analysis is impossible. For example, Bert de Winter explained that, after employing analytics on container fill-rates, results revealed that by shipping less full containers with unmixed pallets (less than a 40% of the container's capacity), the company would actually pay less than they would by shipping containers with a 100% full-rate. This is due price rates applied during docking and shipload discharging operations.
Although apparently ambiguous, decisions such as the above-mentioned and several other enabled HP Logistics Operations to double their performance across 3 years, while also saving $M in costs.
Bert de Winter enlists factors of success in using analytics within the supply chain:
Data analysis and actual process complexity must be aligned;
Any analysis performed must not be based on averages and statistics, but on actual profiles, such as seasonality, or the size of the shipment;
Customs and VAT operations should not be overlooked;
Sensitivity analysis is necessary, and stakeholders should be informed on the resulted key assumptions;
The logistics chain must be envisioned from one end to another, from its manufacturing origins to the end delivery of products.
Another interesting point in Bert de Winter's presentation relies on the vision HP has for its future supply chain. This revolves around real-time information made available through cloud-based networks. Social collaboration with customers, suppliers, manufacturing partners and other logistics partners will represent a focal point to the supply chain.