Performance Insights: Corporate Philosophy in Japanese companies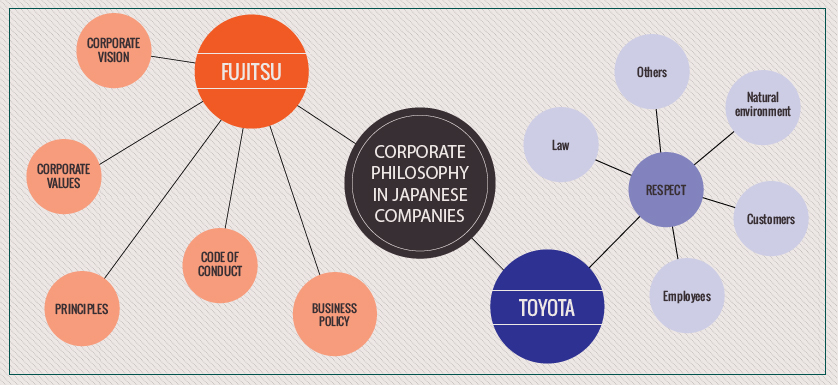 As I review organizational identities, I found it interesting that the Corporate / Company Philosophy is often used by Japanese companies as a tool to present corporate identities. On Japanese companies' websites, this term appears much more frequent than tools such as Values, Vision, Mission . Comparatively, this concept is seldom seen on company websites from other parts of the world.
Spiro (2010) defines Company Philosophy as "a distillation of its culture or ambiance into a group of core values that inform all aspects of its business practices", while Bower (2003) points out that Company Philosophy is commonly referred to in executive speeches, and the term is most often used to stand for some informal, unwritten guidelines that people should hold in business. Considered as implicit by many western organizations, Company Philosophy is reflected by using a set of other organization identities such as values and mission statement.
However, Japanese companies regard Corporate Philosophy as a set of overarching corporate concepts which are the basics to the organizations' business at the same time. For example, Fujitsu, one of the global information technology providers, addresses its Corporate Philosophy by calling it the "FUJITSU Way". It comprises four elements such as Vision, Values, Principles, and Code of Conduct: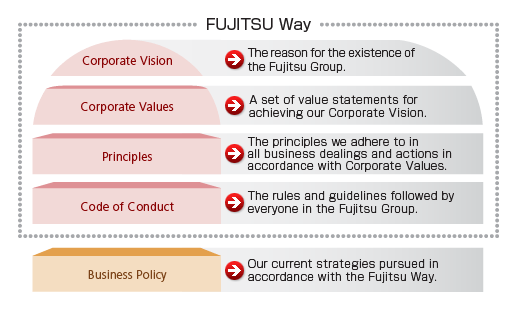 Toyota illustrates its philosophy as five basic principles:
Respect for the Law,
Respect for Others,
Respect for the Natural Environment,
Respect for Customers, and
Respect for Employees.
It is interesting to see that Corporate Philosophy is sometimes expressed by using only a simple word. The word must have a multiple meanings or is a broad overarching concept. A good example is kyosei, which is the Corporate Philosophy of Canon. Canon defines kyosei as "all people, regardless of race, religion or culture, harmoniously living and working together into the future".

Anita Liang,

smartKPIs.com Research Analyst

Reference:

Image Source:
Fujitsu (2011)
Canon (2011)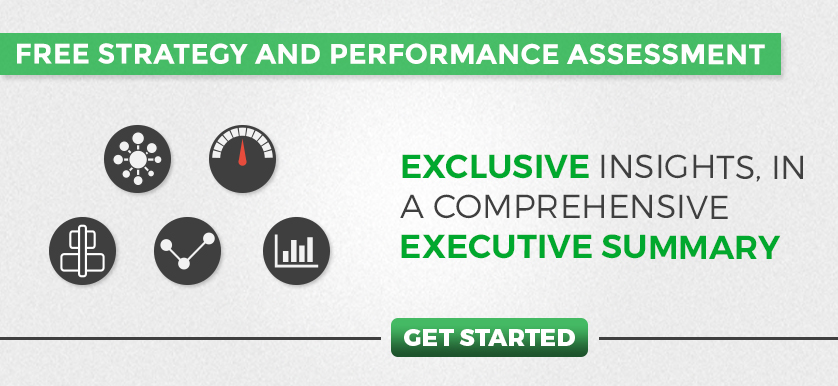 Tags: Kyosei, Management performance, Performance in Japan, Performance Management, Toyota