Indicators Measuring the Equity of European Educational Systems
Equity of the European Educational Systems. A Set of Indicators is a project that attempted to demonstrate the feasibility of building a set of indicators regarding the equity of education. The publication reports on a two-year period work on the issue of the equity of educational systems and covers three main parts:
The concepts of equality and equity, and the framework of indicators and its guiding principles.
A set of twenty-nine indicators on the equity of the educational systems, built in the context of this project and organized according to the framework.
An interpretation of the 29 indicators in an analytical interpretation of the equity indicators.
The European Group of Research on Equity of the Education Systems (GERESE) has been constituted in 2001 for developing a set of indicators for measuring the equity of education systems in the European Union Member States. The final report presents the 29 indicators developed as an informative tool to support decision-makers to redefine the educational politics.
The matrix of indicators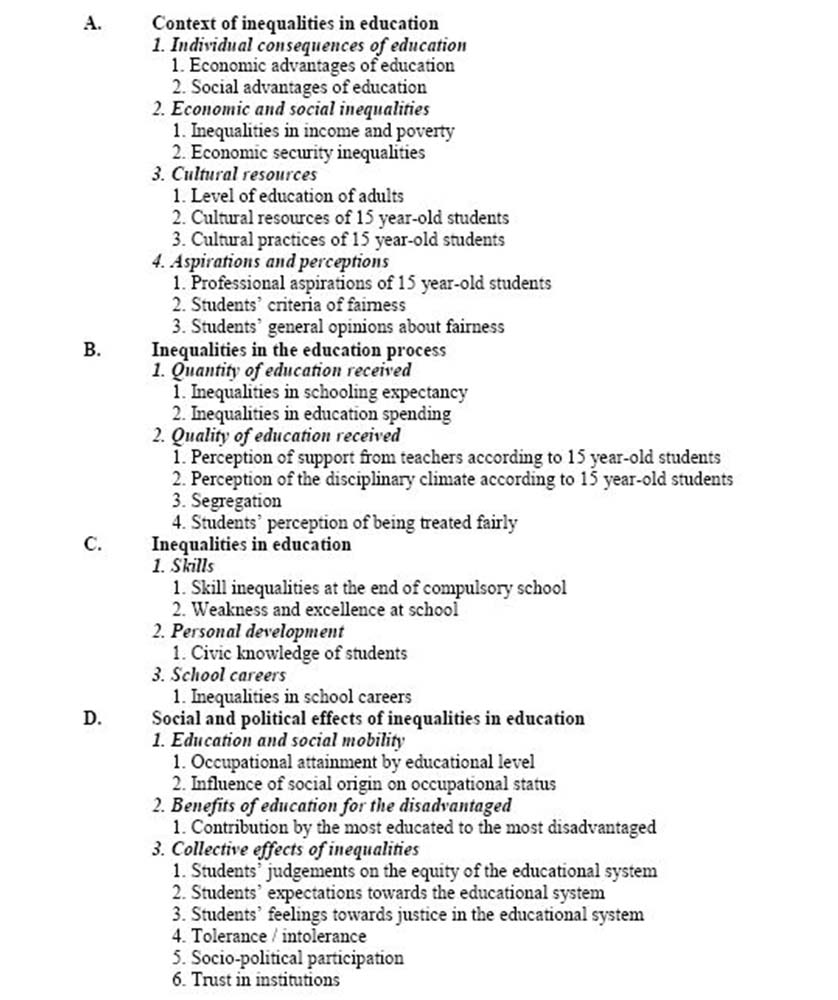 The matrix of indicators (GERESE, 2005)
The indicators presented are intended to provide input to the debate on justice in education, by offering some elements of response to the following questions:
What are the causes and the consequences of the individual educational inequalities ?
What is the importance of educational inequalities between girls and boys or between groups of different social, economic or national origins ? To what extent are they due to the societal context or rather due to the process of the educational system ?
How being below a minimum skill threshold can have important consequences for the individuals in and outside the school context ?
An approach to the fairness of European education systems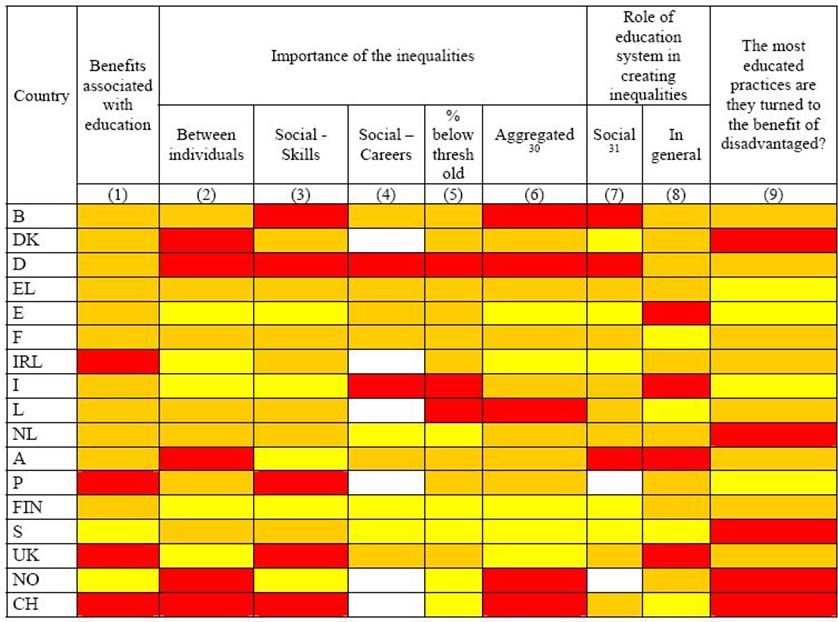 An approach to the fairness of European education systems (GERESE, 2005)
The table above shows that in some education systems, the inequalities in education are homogeneous, being pronounced (Germany and to a lesser extent Belgium) or small (Finland, Sweden, and to a less marked extent, Spain and Ireland) according to the three criteria at the same time:
inequalities between individuals (2)
inequalities between groups (3 and 4)
proportion below the threshold (5).
The two main overall conclusions stated in the report and emerged from this analysis:
Education systems have clear differences in equity. The data does not confirm the premise according to which inequalities are low in countries where education has few external rewards.
Some education systems that seem more (or less) fair than others on a large majority of the criteria, but for many the judgement of their fairness varies, sometimes considerably, depending on how we read the data. This study opted for a comparative and distinctive approach, pursuing a single principle of equity in the labyrinth of indicators, comparing equity, effectiveness and efficiency. (GERESE 2005)
References:
Image Source:
Tags: Education and Training performance, KPI, KPI in Practice, The European Group of Research on Equity of the Education Systems (GERESE)