Performance measures for the global newspaper publishing market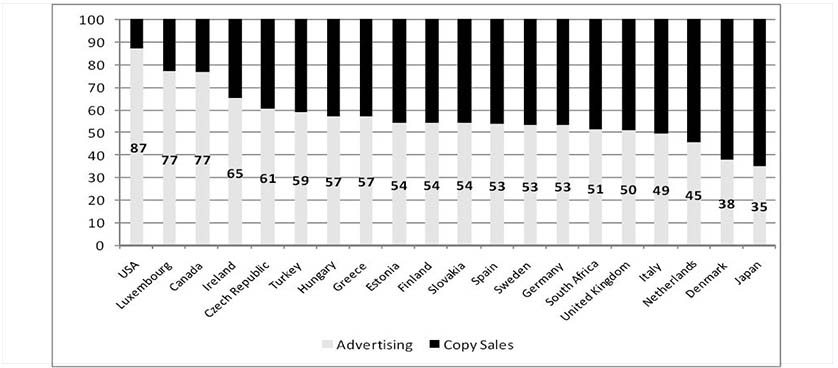 The report The evolution of news and the Internet, recently launched by the Organisation for Economic Co-operation and Development (OECD), provides a thorough analysis of the global newspaper market and its evolution. It explores its economics, the development of online news, related opportunities and challenges and policy approaches.
According to the statistics presented within the report, the newspaper publishing industry faces declining advertising revenues, titles and circulation, this downward being amplified also by the economic crisis.  Newspaper readership faced decline in 20 out of 30 OECD countries, numbers being usually lower among younger people who tend to attribute less importance to print media. The revenues of the global newspaper publishing market derives mainly from advertising ( 57%).
Online news are highly popular in some OECD countries (up to 77 per cent in Korea), but the willingness to pay for online news remains low. While younger age groups are much more active online news readers, it is usually slightly older groups — 25-34 year-olds – who are most active in most OECD countries. About 5% of all Internet visits are related to reading news online, which is a conservative estimate. (OECD 2010)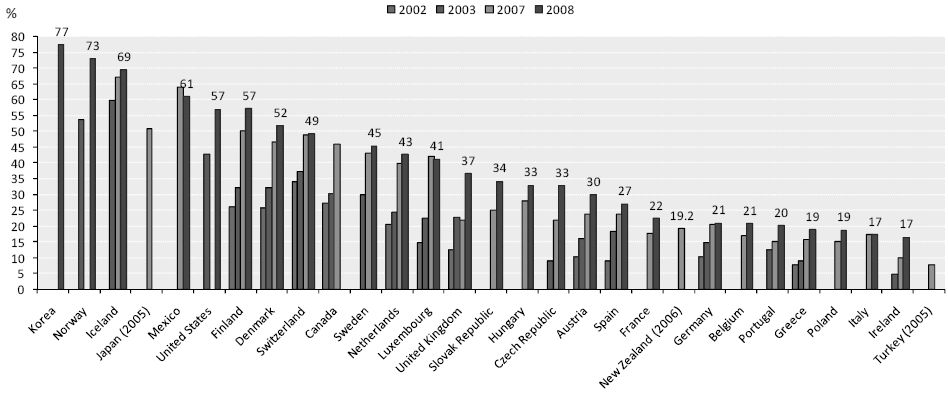 Proportion of individuals reading/downloading online newspapers/news magazines over the Internet for private purposes (OECD 2010)

The internet is rapidly replacing the conventional news media, as for example in Korea, where it has long overpowered all other forms of communication, especially the offline newspaper  (OECD 2010).

The performance measures used within the report for the global newspaper market are:

Online newspapers:

Printed newspaper:

For further examples of performance indicators, explore the Publishing KPI examples and  Online Presence – eCommerce KPI examples sections of the library of KPI examples available on smartkpis.com (smartKPIs.com, 2010).

References:

Image: Contribution of advertising and copy sales to paid-for daily newspaper revenues in per cent, 2008 or latest year available (OECD 2010)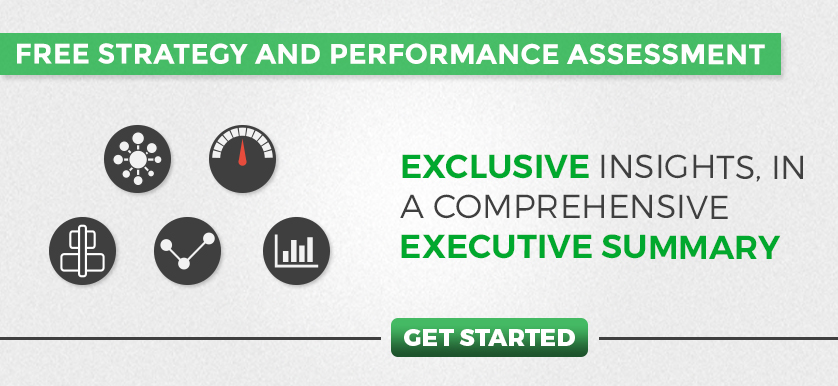 Tags: KPI, OECD report, Organisation for Economic Co-operation and Development, Performance Measurement, Publishing performance, Report Analysis