High Performance Organizations (HPO) characteristics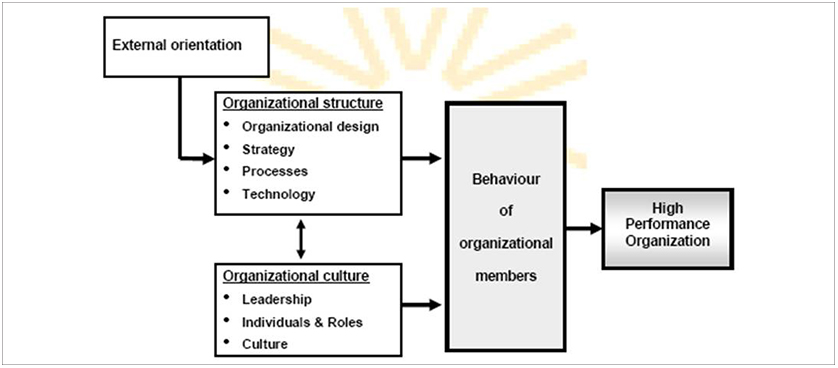 In his latest paper, Dr. Andre A. de Waal, the academic director at the Center for Organizational Performance based in the Netherlands, presents a framework to analyze the similar characteristics and factors of High Performance Organisations (HPO). The study conducted, The characteristics of a High Performance Organisation, was based on a systematic review of the literature, through the analysis of 290 selected studies, these being summarized by three researchers.Combining the definitions from literature, de Waal (2010) concludes that a High Performance Organization (HPO) can be defined as "an organization that achieves financial and non-financial results that are better than those of its peer group over a period of time of at least five to ten years".
The range of returns for HPO is analyzed through financial and non-financial KPIs, by comparing their current state within the HPO versus its competitors:
Range of returns for HPO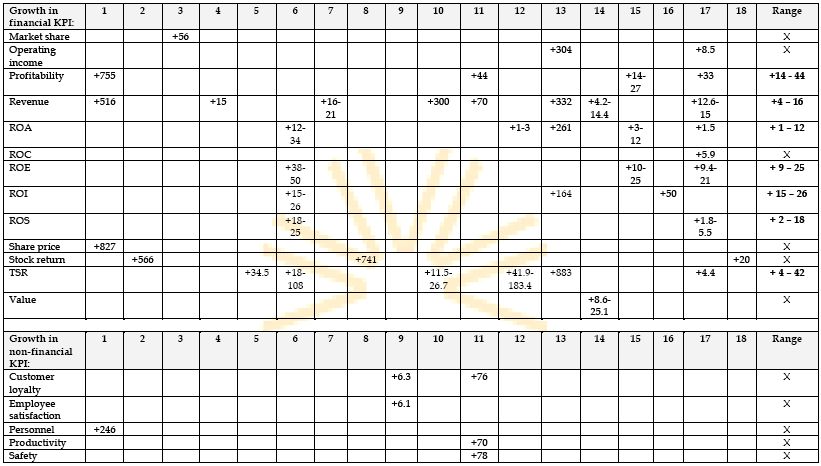 The HPO framework contains the main eight factors that define and influence success within organizations, making them become HPOs. The framework was defined based on a combination between the frameworks of Kotter and Heskett (1992) and the one of Scott Morton (2003). The factors from the framework shown in the first graphic influence together the degree in which organizational members exhibit performance-driven behaviour which in turn designates whether or not the organization is a HPO (de Waal, 2010).
The paper focuses on the thematic findings of the literature review and its greatest contribution is the overview of academic and practice work aimed at understanding the secrets of top management practices. However, further research is recommended to focus on validating these characteristics in practice, through underlining the direct link between HPO characteristics and organizational performance.
References:
de Waal, A 2010, The characteristics of a High Performance Organisation, Center for Organizational Performance, Hilversum

Kotter, J.P. & Heskett, J.L  1992, Corporate culture and performance, Free Press, New York

Morton, C 2003, By the skin of our teeth. Creating sustainable organisations through people, Middlesex University Press, London
Image Source:

Tags: Business Intelligence, High Performance Organization, Management performance