Country Brand Index 2009 – USA, Canada and Australia atop the list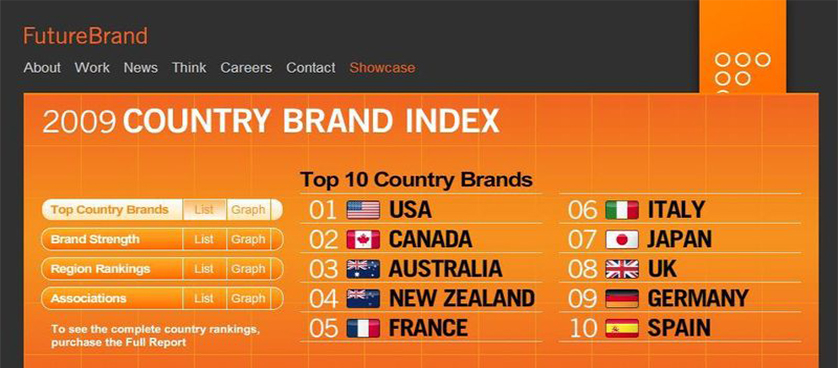 United States of America tops the list of the best country brands in 2009, followed by Canada and Australia. The Country Brand Index rankings revealed by FutureBrand for several years now is recognized as the most complete and thorough evaluation of a country brand.
How is the Country Brand Index put together?
A country brand is more than just a logo (Marazza, 2007). A country is a complex product, defined by far more than the land outlined by its borders. A country is a political, economical, cultural, historical and linguistic entity. Thus, a country brand can become hard to be defined and evaluated according with its true value.
FutureBrand has developed a three tiered methodology for examining and ranking country brands that permits data triangulation and minimal bias. The Country Brand Index incorporates:
– A global quantitative survey
– Expert opinions, and
– Relevant secondary sources for statistics that link brand equity to assets, growth and expansion.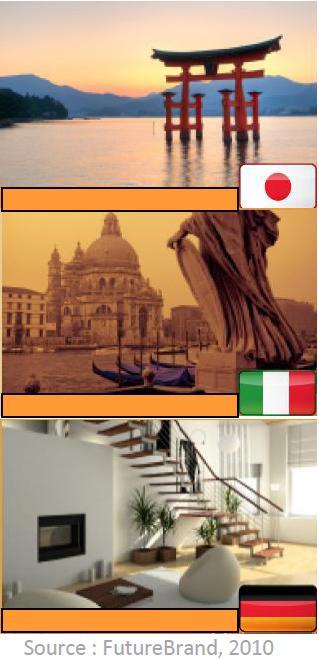 Key methodology figures and insights:
– The survey tracks the perception of more than 3,000 international business and leisure travelers;
– Travelers were selected from 9 countries: US, UK, China, Australia, Japan, Brazil, UAE, Germany and Russia;
– Respondent perception of 102 country brands were quantified through questions about country perception;
– The country brands were assessed on 29 attributes and 7 measures of brand strength;
– Survey results were weighted and aggregated in proportion of regional volume of travel consumption, for assuring a minimal bias;
– 47 panel experts with no association with a specific destination were interviewed, to strengthen and give credibility to country brand evaluation.
Assessing country brands – The framework
Countries are multifaceted, complex products. In order to assess their strengths, weaknesses and opportunities, as accurately as possible, FutureBrand has developed a multilayered framework that crystallizes the way we look and perceive a country brand. The framework built on 8 dimensions, captures every important aspect of a country, from geography, to economy and ethos. It facilitates the development of a holistic country brand platform by allowing to discern between strengths, weaknesses and opportunities. Thus, it gives a good sense of what is the maturity and brand level of performance, identifying possible gaps that need to be addressed.

Measuring the brand strengths
One of the most important components of the country brand assessment framework is the measurement of the brand strengths. For assessing this important dimension FutureBrand uses the Hierarchical decision Model (HDM). The model based on 7 measures asses the country brand development in terms of the place a brand occupies in the minds of its audiences. The seven measures are:
% Awareness – Do key audiences know that the country exists? How top of mind it is?
% Familiarity – How well do people know the country and what it offers?
% Associations – What qualities come to mind when people think of the country?
% Preference – How highly do audiences esteem the country?
% Consideration – Is this one of the countries being thought of visiting?
% Decision/Visitation – To what extent do people follow through and visit the country?
% Advocacy – What is the visitors' willingness to recommend the country to family, friends and colleagues?
In order to get the complete picture of the country brand performance, both rating and ranking of each measure were considered.
Overall, the FutureBrand report provides with a good sense of what are the best country brands in the world. The report provides also a wide range of interesting statistics and country brands' performance evaluations according with different criteria. To download the complete report, visit futurebrand.com.
Smartkpis.com recommendations
To support the marketers' needs smartkpis.com includes a wide selection of Key performance indicators for the Marketing functional area. A considerable number of articles addressing different key marketing performance aspects are also available.
References
Photo Source: FutureBrand, 2010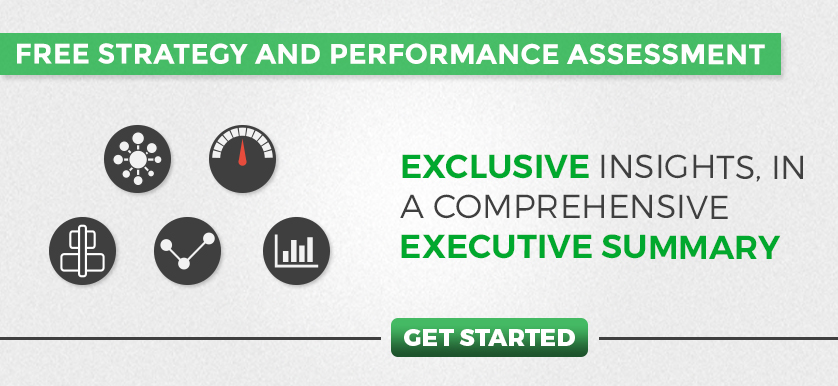 Tags: Marketing and Communications performance, Performance in Australia, Performance in Canada, Performance in USA, Report Analysis