About KPIs for Supplier Excellence with The KPI Institute, at the Supply Chain Analytics Conference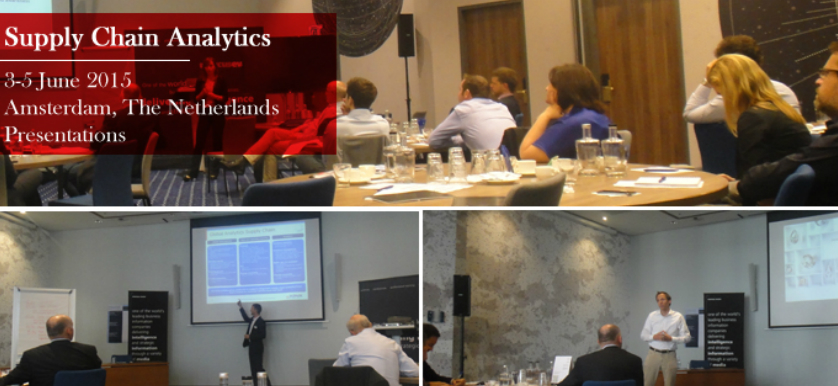 On the first day of the Supply Chain Analytics Conference, The KPI Institute's Head of Research Programs, Cristina Tărâță, delivered the presentation "Key Performance Indicators to Drive Supplier Excellence."
The session focused on providing the attendees with information and best practices regarding the value added by KPIs, supplier performance scorecards, as well as with means of generating value in the Supply Chain through Key Performance Indicators.
Starting from the benefits of using KPIs, such as clarity, focus, and improvement, Cristina further presented the entire KPI Management Framework, along with the most common challenges in working with KPIs.
After offering some terminological clarifications regarding KPIs, KRIs, and metrics, as well as some pieces of advice on how to make objectives more efficient by decomposing them, Cristina proceeded to explaining the importance of managing the relationship with the suppliers.
When it comes to developing supplier performance scorecards, the researcher presented a case study, as well as some issues that might appear in the implementation process, and the recommended solutions for solving each of these issues.
Furthermore, the "Key Performance Indicators to Drive Supplier Excellence" presentation illustrated the implementation project of a supplier performance scorecard that was used for a panel setting of around 200 members. The suppliers were delivering IT services to a governmental agency in Australia. There was a lack of visibility and engagement in terms of managing supplier performance in the department. Data was captured in various excel sheets, and inaccuracies were a frequent presence. Moreover, government users who were supposed to evaluate suppliers regarded this procedure as a formal arrangement with no added value for their activities.
The project brought several changes to the current process, in terms of both the use of technology, and the know-how. Well-structured supplier scorecards were designed to cluster 24 performance criteria into 8 clusters: outcomes, schedule, budget, communication, innovation, delivery, responsiveness, customer satisfaction. The process is now being initiated by suppliers' self-evaluations, followed by governmental user assessments and, in the end, an administrative team would make the results available, following previous data processing. Data collection rely on a web application and performance results are made public.
Presentations, trainings, and awareness sessions had been delivered for the involved parties (around 300 people) in order to ensure their buy-in for the new tool, and engage everyone in the system.
The supplier performance scorecard was a success as utilization rates among users was 80% in the first 18 months and it ultimately led to better performance results among suppliers as they were motivated to get good results to elevate their profiles and win more contracts.