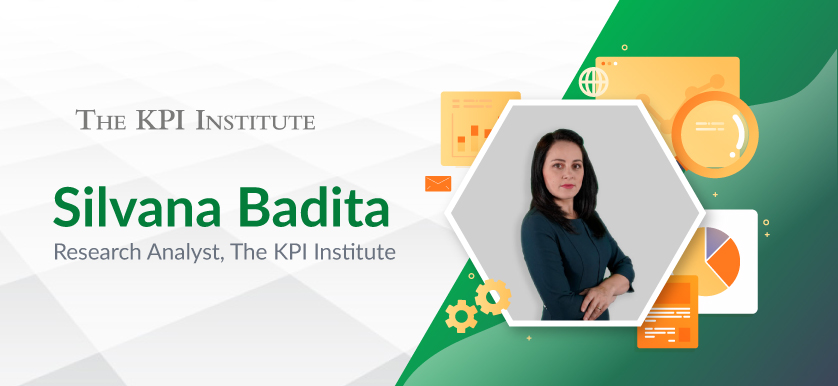 Join us in our journey to interview some of the most extraordinary individuals that continue to make The KPI Institute a role-model for others to follow. In today's edition, we will be featuring September's Employee of the Month, Silvana Bădiță.
1. What is your role at The KPI Institute and what makes it special?
I have been working as a Research Analyst at The KPI Institute, for about a year. Some of my main responsibilities are to document KPIs, to conduct primary and secondary research on performance management-related topics, to provide support in the form of research customization for different functional areas, as well as provide assistance in consultancy projects.
This variety of tasks contributes to creating a special dynamic in my daily activities, which opens up a great opportunity to develop my skills and competencies, and to acquire more expertise in different functional areas & industries.
A truly special feature of my work is that I'm guided by inspiration and creativity, which gives me tremendous satisfaction.
Moreover, another aspect that makes my job special is that I'm encouraged to think outside the box, in order to find the best solutions to today's organizational challenges. This provides a valuable perspective on discovering the things that really matter in the field of performance.
2. What do you find most challenging at The KPI Institute?
A particularly important aspect of my work is translating the theoretical side of research into practical changes, which can then aid an organization's development and performance.
This is equal parts challenging and riveting, for the same reason – it's not often easy to see how an idea on paper can be transposed into reality. However, when you do manage to do it successfully, it offers an exhilarating sense of success.
3. What would be the three main career lessons that you have learnt thus far?
Never stop learning – do not become complacent – this is very important to always keep at the back of your mind because otherwise, you will not be able to adapt to the requirements imposed by today's constantly changing society.

---

Set clear and measurable results – it is important to understand how your activity contributes to the organizational results, so do not overshoot your markers – aim for pragmatism, not grandeur.

---

Work as a team – I think this aspect is often underrated and it is a great shame because goals become more aligned when you work as a team. Teamwork leads to a greater chance of achieving your common goals.

---
4. If you could interview one person, either from the past or present, who would it be and why?
Considering that I am passionate about creating organizational cultures that are based on the continuous employee commitment to achieving higher levels of performance, I wish I could interview Daniel Pink, to learn more about people's intrinsic motivations and what drives us.