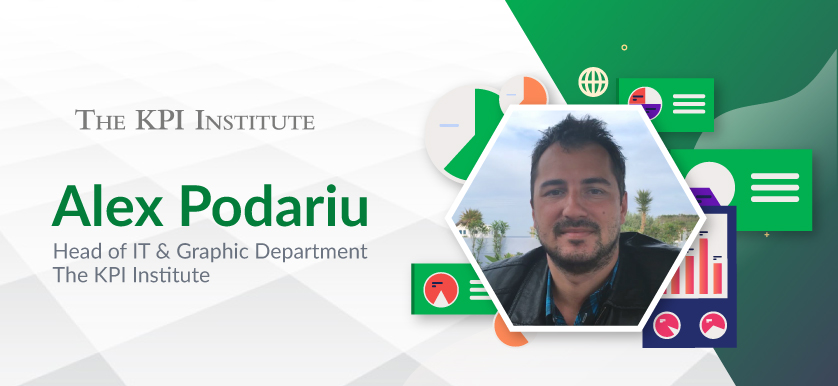 Join us in our journey to interview some of the most extraordinary individuals that continue to make The KPI Institute a role-model for others to follow. In today's edition, we will be featuring July's Employee of the Month, Alexandru Podariu.
1. What is your role at The KPI Institute and what makes it special?
I am currently employed as the Head of IT, at The KPI Institute. My day-to-day work includes anything and everything that has to do with ensuring our digital footprint, services, and websites are updated and run smoothly.
I enjoy my role here because we work on extremely eclectic projects, which always provide me with something new to achieve or put together. Things never get boring working in IT here.
2. What do you find most challenging at The KPI Institute?
Since we tackle so many different projects, there's a never-ending source of new things to do every day. It would be nice sometimes to be able to plan tasks in advance, but I cannot complain too much – the constant shift in tasks keeps me on my toes.
What's more, due to this, I get to expand my knowledge and use many different tools, gadgets, instruments, and technologies in various work endeavours that I get assigned to.
3. What would be the three main career lessons that you have learnt thus far?
Never call it quits – even when a situation looks dire and you have no idea whether there's a light at the end of the tunnel, keep going. You might need to pause for a brief moment and rethink your strategy, but as long as you stay focused, you're golden. Also, never forget about the IT rubber ducky!

---

Keep learning new things – knowledge doesn't end when a project is finished; knowledge ends when you cease to be interested in perfecting your craft. At least in my area of specialization, there is no finish line. We keep going and going. Each task is something new – either an update to an old solution or a completely novel discovery altogether.

---

Continue to optimize everything – the biggest "sin" I see people in IT commit is not giving optimization its due respect. Your website's loading slowly? Optimize it! Your game's not loading correctly? Recheck optimization! Your program's stuttering? Optimize the code! Optimization is the difference between a choppy and smooth interaction.

---
4. If you could interview one person, either from the past or present, who would it be and why?
I think the person I'd be most inclined to talk to would be Elon Musk. The man has no chill. The man perseveres, trudges on, and never gives up regardless of how many naysayers he encounters.
In my opinion, that level of determination is incredible, and I'd like to know how he managed to inculcate in himself such an attitude.