Airlines are progressively pushing for enhanced operational effectiveness and performance. In today's market, airlines must constantly change and strengthen their performance to remain competitive and satisfy their passengers' expectations. Due to liberalization and growing global competition, meeting consumer demands is no longer enough to keep passengers loyal to an airline. On-time performance (OTP) has been seen as an advantage, particularly among airlines targeting business travelers, according to the data and aviation analytics solutions provider Cirium. 
Optimizing operations is recognized as a profit driver since it reduces costs and allows the introduction of service differentiators, which increase revenue. Airlines concentrated on maximizing revenue in a high-growth climate before the pandemic. They focus on operational efficiency to save money and navigate an unpredictable environment. Aviation is considered one of the most dynamic industries; thus, an appropriate assessment and performance measurement system should be in place. 
The decisions made by airlines regarding their fleet of aircraft, the number of seats on each aircraft or the well-handled luggage, the routes they fly, the customer segments they prioritize, and the interest in protecting the environment have a significant impact on how well they perform. The quality of airline services and passenger satisfaction boosts overall customer loyalty. 
All of these aspects may be evaluated using performance metrics, which provide airlines with useful information for enhancing their operations. Information Design, an aviation technology company, reveals in an article from 2020 the main operational aspects in aviation that are measured with KPIs (see Figure 1).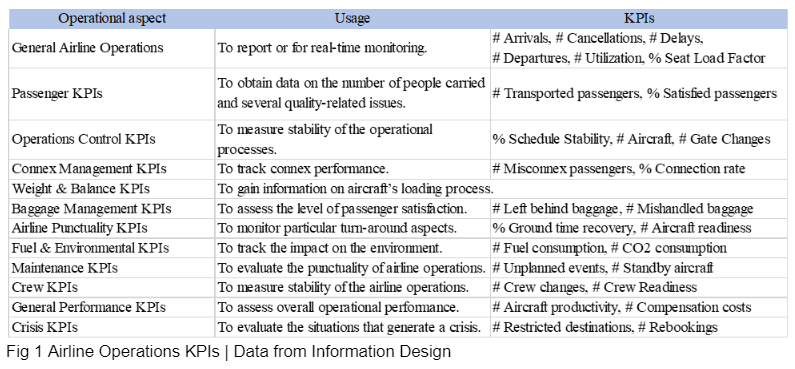 Qatar Airways' performance
Qatar Airways is categorized under the elite group of airlines in the world with a five-star rating and a recipient of the "Best Airline Award" and "Best Business Class" awards in July 2021, based on an annual airline customer satisfaction survey from transport rating organization platform Skytrax. 
Qatar Airways, owned by the Government of Qatar, became the first global airline to achieve the prestigious 5-Star COVID-19 Airline Safety Rating, which includes a thorough examination of procedural efficiency checks and safety standards at all stages of the passenger journey.
The Qatar Airways Annual Report 2021-2022 showed that the airline never stopped flying throughout the pandemic and is still making upgrades and expanding its services. As a result, the share of Revenue Passenger Kilometers increased by 3.1% from 2019 to 2021, from 4.4% to 7.5%. 
The report indicates that the revenue and other income of the company almost doubled in 2021-2022 compared to 2020-2021, reaching a value of 52.305 QAR million. A lot of areas in the company improved, including the number of aircraft (from 250 to 257), the number of employees (from 36.707 to 41.026), and the number of available seats (from 93.385 to 159.947 million). Meanwhile, the number of passengers carried more than tripled (from 5.8 million to 18.5 million). In addition, the number of routes expanded, with six destinations in Australia, Africa, and Asia reaching to transport 4.89% of global international passenger traffic in April 2021. 
For the best management of its KPIs, QAS developed its Integrated Operations Center (IOC), which is responsible for preserving schedule integrity and ensuring that all flights operate safely and securely. Travel restrictions have changed continuously over the past year as a result of governments adding and removing criteria in response to the pandemic. 
For IOC, managing these adjustments evolved into a standard procedure. Through investments in technology, the center will continue its mission of forecasting and managing disruption. In addition, the center will also upgrade its operations system and strengthen its flight planning software this year. The IOC has established additional Safety Management System-based procedures in the form of internal Safety Risk Assessments in compliance with industry standards and corporate safety policies. Therefore, the IOC management team is better able to quickly adapt to vulnerability factors in the operational environment.
The most important achievements that QAS managed to accomplish in 2021 were serving more than 20 million passengers per year, handling approximately 179.000 flights in 2021, and delivering an on-time performance rate of 99.51%. In the same period, the organization handled more than 17 million pieces of baggage, proving an extremely low mishandling rate of 0.08 per 1000 passengers. These indisputable results made the difference, and QAS Group announced in a press release that it recorded the highest profit in the global airline industry for 2021-2022. Its passenger revenue increased by 210% over the last year, and the number of passengers carried grew by 218&, maintaining its leading position in the industry.
To align with the United Nations' Sustainable Development Goals (SGD), QAS developed a corporate sustainability strategy monitored by environmental KPIs. It puts the best standards in environmental protection, noise, and air quality into practice by declaring its commitment to becoming the first net-zero carbon emission airline by 2050. The company's website shows the interest of QAS in measuring the performance of environmental sustainability, assessing it in fields such as climate and energy, waste and water, noise, air, and wildlife protection. 
The airline industry is a domain of continuous innovation and improvement. The pandemic wasn't the single challenge to overcome because airlines have to face everyday issues like the global economic environment, internal infrastructure, technological advancements, passenger satisfaction, climate change, and fuel efficiency. Measuring performance can help airlines to reduce these negative impacts by identifying their strengths and weaknesses and opportunities for improvement.
To learn more about KPIs in the airline industry, download the Top 25 Airlines KPIs – 2020 Extended Edition for free!
Editor's Note: This article originally appeared in the 23rd edition of Performance Magazine Printed Edition.