Media metrics: 2010 U.S. Digital Year in Review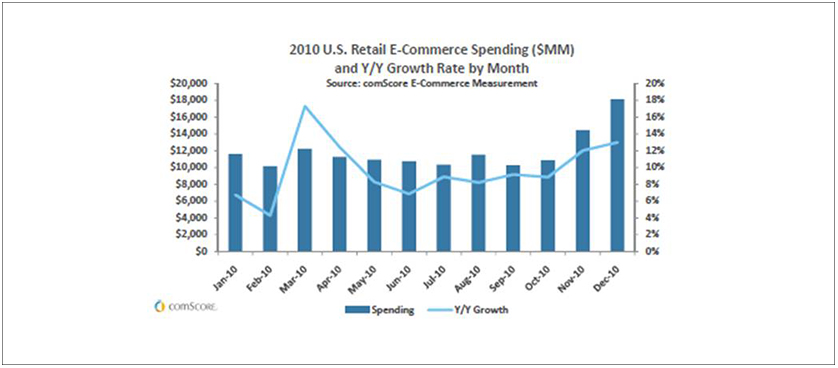 comScore, one of the leading companies offering comprehensive digital marketing intelligence and measurement services, has released this month the 2010 U.S. Digital Year in Review, presenting the key digital media trends of the year 2010, as well as their possible implications for the year 2011. The research focuses on areas such as e-commerce, social networking, online marketing, video and mobile markets, highlighting aspects such as media consumption behavior, consumer trends in digital media, new and emerging digital technologies.2010 was a good year for digital media in U.S., with positive trends and renewed optimism in all areas, the major findings of the research reveal that (comScore, 2011):
The U.S. e-commerce market showed signs of going back into positive trend (a trend interrupted from 2008), its total value in 2010 increasing with 9%, compared to the previous year. The retail e-commerce activity during the holidays season contributed significantly to this, indicating an improvement of consumer confidence, as well as consumers profiting from generous discounting and promotional pricing in the period.
Social networking was one of the major areas of digital media that benefited from tremendous consolidation throughout 2010. Several highlights into the social media U.S. marketplace are the following: 9 out of 10 internet users are visiting a social media site each month; more than 4.5 hours is spent by an average internet users every month on social networking sites, accounting for 12% of all time spent online; women increased their lead over men in terms of the time spent on social networking sites. Facebook was the social networking site 'to be' in 2010, gaining millions of new users and accounting for 10% of all U.S. page views.
In the search market, Google remained the incontestable leader, with 3 out of every 5 U.S. searches, followed by Yahoo! and Microsoft sites. Below are the top search phrases on core search engines in the U.S.: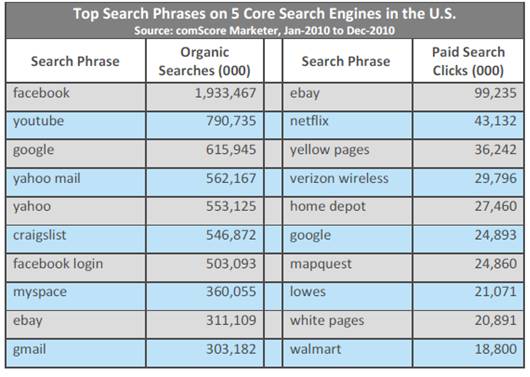 Source: comScore (2011)
A tremendous increase has been noticed in the online advertising industry, as brand advertisers continued to shift their budgets to the online. As a result, the U.S. internet users received a total of 4.9 trillion display ads (excluding video), with the social networking publishers accounting for 34% of the ads served in December 2010, an increase with 11% compared to the previous year.
In the online video market, increases were felt at both the number of users (an average number of 179 million Americans watching online video each month) and their level of engagement (an increased frequency). Hulu continues to be market leader, followed by several major broadcast TV sites (ABC, CBS, NBC and Fox). In this context, 16.4% of the online video consumption was dedicated to watching video ads, which is promising, considering that TV has about 25% advertising coverage, compared to just 1.6% online.
The area where technology has bloomed in 2010, both in terms of advanced devices and in terms content applications, was the mobile phones market. Research figures indicate that 1 in 4 mobile Americans use smartphones, the 3G penetration has increased to over 50% and 47% of the overall mobile subscribers were connected media users. With RIM market share leader in smartphones (followed by Google, Apple and Microsoft) and Samsung leader as original equipment manufacturer (followed by LG and Motorola), the U.S. mobile users had a generous offer of cutting-edge mobile devices and technology to choose from in order to satisfy their communication, information and entertainment needs. Below are the most frequent mobile activities that users in U.S. have engaged in throughout 2010.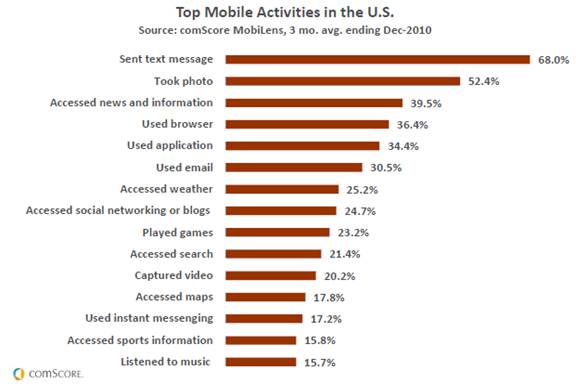 Source: comScore (2011)
Reference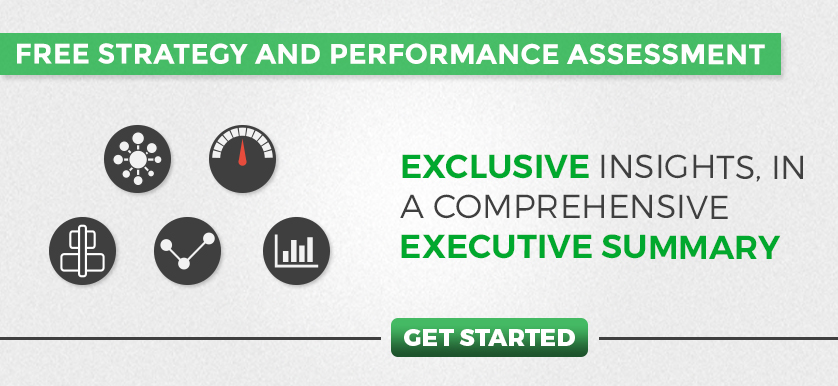 Tags: Media performance, online presence, Performance in USA, Retail performance, Social networking