Already winning the gold: performance in Tokyo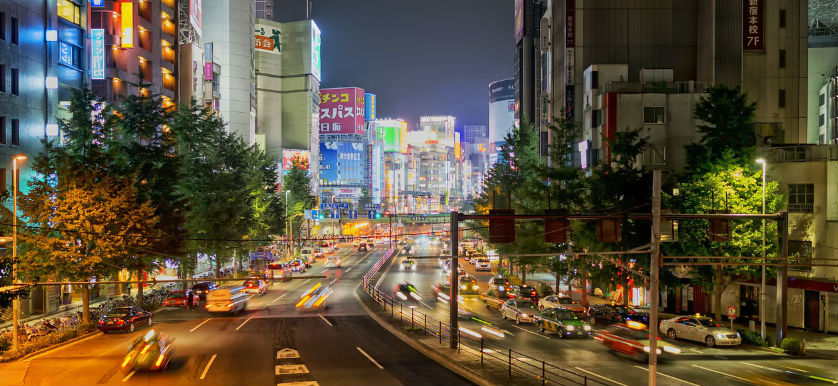 Ten years ago, cities rankings were mainly based on their growth per capita. Today, urban competitiveness revolves around the complex notion of a smart city. As such, one city stands out year after year, securing a top position in almost all city rankings. Tokyo excels due to attributes like livability, transparency, safety, future orientation and agenda, among so many others.
Across the world, there are over 1,600 cities, all of them competing for the title of Super City. The battle is not only being fought over the need for prestige, but, more importantly, for economic might and influence, corporate bases, extended real-estate and commercial markets, all set against a background of high-connectivity and enabling technology. Now, after securing the 2020 Olympics and Paralympics hosting privilege, Tokyo's reputation is set to grow considerably.
Leading the last years' city rankings:
As stated in the Tokyo On The World Stage 2014 report, the city's competitive edge is backed up by its leading position as the world's most populous city, with the largest economy and consumer market. With almost 38 million inhabitants who are also consumers, the city's economy, measured at US$ 1.4 trillion, exceeds the entire economy of several well-to-do countries.
Nevertheless, beyond the obvious advantages of size and economic power, Tokyo has gained a competitive edge through its capability to innovate, to be creative and sustainability-oriented. Three separate world city indexes (IESE Cities in Motion Index, Adobe and 2thinknow Innovation Cities Index) ranked Tokyo as the world's most creative city and the most technology-oriented, outranking, at this chapter, even cities like London and New York.
Tokyo's outperformance in this chapter has been built through its high-tech, Research & Development, and manufacturing pools. Its dynamism and innovation are granted by its youth culture and the highest number of patent applications of any other city.
The cobweb below, as it is represented in the IESE Cities in Motion Index 2014 report, reveals Tokyo's high performance in almost the entire range of selected review pillars.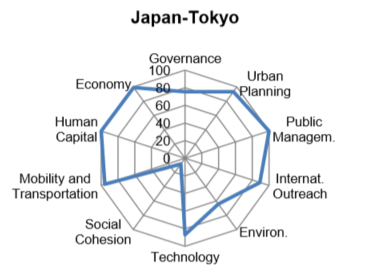 If Tokyo performs at high-level standards in almost all of the selected pillars, from human capital, to planning and technology, the social cohesion pillar is the one area which needs to be tackled. This pillar collapsed following the disaster from the Fukushima Daiichi nuclear plant in 2011 and the lack of credibility towards governance which ensued.
Maintaining atop with strategic plans
Another city index report, the 2015's Safe City Index, compiled by the Economist Intelligence Unit, also ranked Tokyo as the overall leader of its four-pillar report: Digital Security, Health Security, Infrastructure Safety and Personal Safety.
Tokyo has managed to dissolve the myth that big cities are home to increased pollution. Air quality has considerably improved, following a number of decisive initiatives, such as the banning of all diesel vehicles from urban areas, the construction of 3 major ring roads around the city and limiting city-center areas to pedestrian-use only.
Another important aspect of sustainability is focused on recycling. Currently, technology-based innovations are being implemented in all functional areas of a city that is regarded as smart. As a consequence, huge amounts of electronic waste, or e-waste, are mounting up. Tokyo, as a city that has always been known for its technological initiatives, has developed viable methods of extracting rare earth materials out of discarded electronic devices.
A vulnerable point for Tokyo and all of Japan is the frequency rate of earthquakes. Nevertheless, Tokyo still ranks high on the infrastructure security scale. In the wake of the 2020 Olympic Games, Tokyo's governor, Yoichi Masuzoe, pledged to replace all the wooden structures with modern residential and commercial complexes, which are resistant to earth movement. Throughout Japan, one in three houses was built before 1981, and the main construction material was wood. This makes them highly susceptible to collapse during earthquakes.
12 key projects define Tokyo's vision for 2020, as outlined by Masuzoe, Tokyo's governor:
100% completion of Seismic retrofitting;
Increasing fire-resistance of districts with close-set wooden houses;
Mutual assistance for disaster mitigation;
3 million kW made-in-Tokyo power generation;
Creating a smart city;
Building a network of water and greenery;
Bolstering the land, sea and air transport network;
Asian headquarters in Tokyo;
Bolstering Tokyo's child day-care system;
Active participation in society by senior citizens;
Let your child experience the world;
Build 4 big sports clusters.
Thus, it becomes apparent that Tokyo has seized the momentum to step into the spotlight of the 2020 Olympics. Despite the pressure that is now being put on officials, improvements and initiatives have boosted Tokyo to emerge as the world's most dynamic city.
References:
Image sources: