Kamikatsu – the town that produces no waste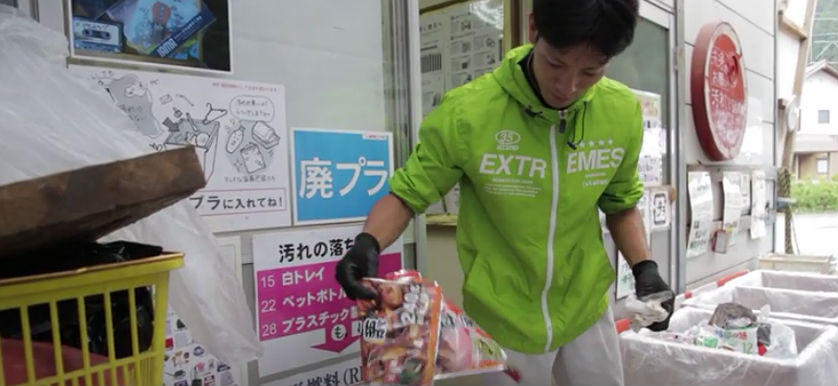 According to a short documentary by Seeker Stories, there is a town in Japan that produces no waste. It might seem like wishful thinking, but the small Japanese town of Kamikatsu, with a population of just over 1,700, seeks to become the country's first 'zero-waste' community by 2020. What is more, they seem to have almost accomplished this amazing feat.
According to the video, Kamikatsu already recycles about 80% of its trash, with the last 20% going into a landfill. However, this progress has not happened overnight. It has been in fact 12 years in the making.
In 2003, Kamikatsu declared its desire to produce zero-waste, after the town gave up the practice of burning the trash for fear of endangering both the environment and the population. Today, the town aims to completely eliminate the use of both landfills and incinerators, and rely solely on three principles:
Reduce
Reuse
Recycle
All residents abide by strict guidelines for recycling, reusing and reducing consumption, albeit things weren't so simple at first.
In the beginning of it all, most citizens were not happy with this intense program, but now according to Katayama, one of the town's residents, "I don't think about it. It's become natural to separate trash correctly."
Kamikatsu's recycling strategy
The recycling process starts with the composting of all leftover foods. Next, it's reusing bottles, and jarring cans, along with anything else considered reusable.
Then the real recycling begins. For this process to be accomplished successfully, the whole town has to work together. Elderly citizens volunteer to clean the recycling facility, while others sort and separate recyclables.
They don't skip any steps, as they remove lids from plastic bottles, rinse and clean all recyclable plastic containers, or remove plastic labels from bottles.
In the video, Hatsue Katayama admits that "classifying garbage for recycling can be difficult. To wash the containers thoroughly so there are no remains is hard work."
Residents take the sorted recyclables to the waste collection center, where they have to sort their trash in 34 categories. There are separate bins for different types of paper products like: newspapers, magazines, cartons, flyers. Then there are separate ones for cans, such as: aluminum, spray, steel. There are even individual bins for plastic bottles and caps and many, many more.
Going through all the steps to recycle and reuse materials provides huge incentives to reduce consumption. What is more, there are signs that inform residents what the materials they drop off will be made into, and how much it costs.

Recycling on a larger scale
However, Kamikatsu is not the only town that's making progress. Neil Seldman, Co-founder and President of the Institute for Local Self Reliance stated that:
"Berkeley, California, which is several hundred thousand people, is close to 80%; San Francisco reports 70%; and there are several cities in the U.S. that are over 70%…In Italy, they do it similarly to [Kamikatsu] where they have many different separations and drop off."
Even though California and San Francisco are in the green, the U.S. only has about a 34% recycling rate, according to the latest estimates from the Environmental Protection agencies. Even worse, Washington, D. Conly has about a 16% rate.
Seldman believes that the low rate is the result of the fact that 60% of the waste market is controlled by two companies, Allied and Waste Management, Inc., which stand to gain quite a lot from landfills.
The other thing he believes is causing these low recycling rates is politics.
"You've got the Republicans who don't think the oceans are rising, and they don't care," he says. "And with the exception of Bernie Sanders, the other two Democratic [presidential] candidates are status quo candidates."
On the other side of the fence, Japan has applied itself entirely to the task of producing less and less waste. Businesses are required by law to recycle, and the country's sorting systems are among the most extensive in the world.
In Yokohama, Japan's second-largest city with a population of 3.7 million, citizens are given a 27-page manual on how to sort more than 500 different items.
Even though it's not easy and the recycling process takes time and knowledge, the Japanese are aware of the fact that if they don't want to endanger both the environment and the population, they need to sacrifice a bit of their time for the greater good.
Image source: