The ultimate level of employee satisfaction: Working at the Googleplex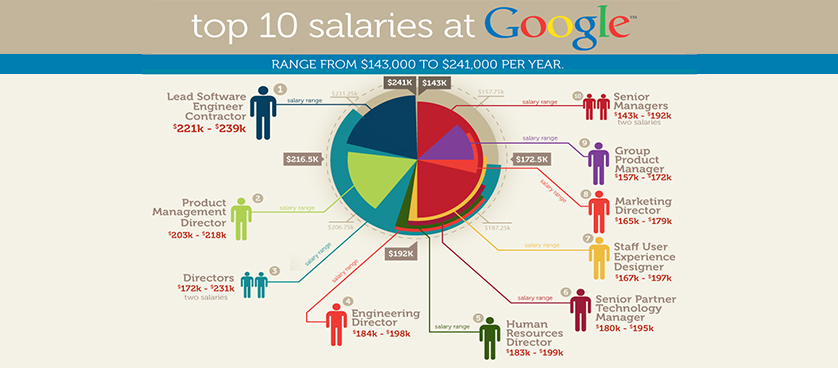 According to Fortune Magazine, Google is at present the number one best company to work for, and this is no surprise: the Googleplex in Mountain View, California, resembles a true recreational park. Employees have bikes to travel around the campus, free gyms, year round pools, healthy food courts andcolorful lounge areas.
At first glimpse, such conditions seem to stimulate leisure rather than hard work.  In fact, Google along with other successful companies like SAS, practice a philosophy focused around the well-being of the employees, and as a result, "they are consistently outperforming other companies", according to Milton Moskowitz, co-author of the Fortune Magazine list of "100 Best Companies to Work For".
This year, Google has registered a 31% increase in revenue for the quarter that ended on March 31st, which means their philosophy is actually benefiting the company. In a 2012 interview for Fortune, CEO Larry Page emphasized the mission that Google holds for its employees: to offer them great opportunities and a sense that they are meaningfully improving the society, all in a family-like environment.
Google also knows how to maintain these results: by constantly communicating and encouraging employees to offer feedback and suggestions.
In order to benefit from this seemingly perfect work environment, candidates must first manage to become Googlers. The Google interviewing process is also atypical: they train all employees to conduct interviews. This way, candidates are not necessarily interviewed by potential superiors, but by potential peers or employees unrelated to the job area, to encourage objectiveness. This operation relies on years of analytics that have helped shape the current interviewing process, while there is an ongoing data analysis and reviewing process in place. The latter seems compulsory, since Google receives around 2-3 million web applications each year.
To conclude, Google appears to have found the perfect balance between work and leisure for its employees: it  offers them a pleasant work environment, and in return, they deliver great ideas and results.
Some examples of KPIs that can be used in measuring employee satisfaction are:
% Employee satisfaction
# Employee engagement index
% Employee turnover
% Adherence to values and mission
# Rewards and recognition for innovation ideas
% Idea conversion rate
$ Bonus payout
References:
Image source:
---
Tags: Employee Satisfaction, Google, Internet, KPI, Performance in USA