What drives employee satisfaction?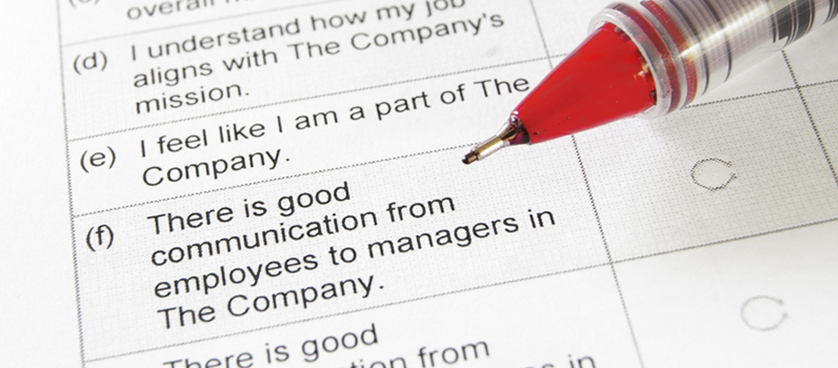 Employee satisfaction is an important component of business sustainability as it reflects in lower turnover rates, more commitment and higher individual performance.
The Society for Human Resources Management (SHRM) is the largest HR association in the world. Beside, building and sustain partnerships between professionals in this domain, it also provides quality research.
Since 2002, SHRM has been analyzing employee satisfaction, in order to outline what matters the most for employees and to provide valuable solutions for HR managers. During the years, # Employee satisfaction in the U.S. market seem to have grown constantly from 77% to 81%, according to SHRM's yearly study "Employee Job Satisfaction and Engagement".
The latest report from 2012, reveals the top five key elements that drive employee satisfaction:
Opportunities to use skills / abilities;
Job security;
Compensation / pay;
Communication between employees and senior management;
Relationship with immediate supervisor.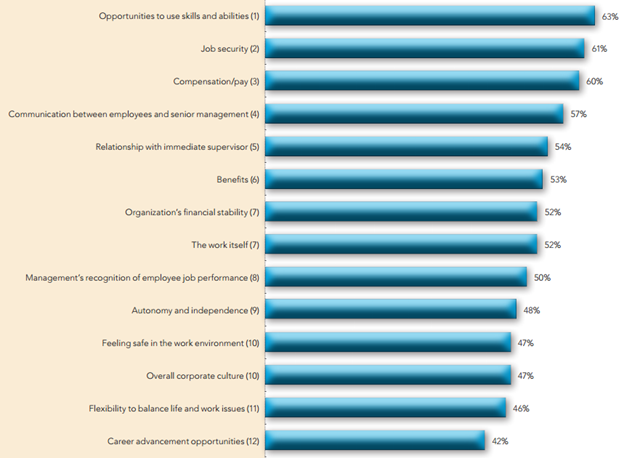 The surveys performed on employees provide valuable information about what stimulates the personnel to better perform and engage in everyday activities.
The way companies succeed in transforming data into actual actions is a key element in organizational management. Possible initiatives to address the top five most important aspects for employees are:
Training programs
Individual Development Plans should be implemented in order to identify specific training needs for each employee and ensure the monitoring of his professional evolution;
Training calendars should be established to make sure all employees receive a minimum of training hours. In order to monitor the progress achieved in training staff, key performance indicators should be used. # Training hours per full time equivalent reflects the average training time each employee received during the year. The actual result can be compared with a pre-set target.
Compensations and pay framework
The bonus system should be objective and based on employees' performance. To ensure employee satisfaction, performance should be measured in the same way all over the organization. Also, it has to be clearly defined for each individual, not just in terms of deliverables, but also in terms of competences and behaviors;
Performance evaluations should be conducted at least once a year;
The organization's compensation and pay philosophy should be communicated in order to ensure that the personnel understands what determines its payment.
Relationship with managers
Communication should be encouraged not only among employees, but also between employees and managers. Team building activities, or just a weekly lunch with the team can enhance communication;
Employees' involvement into strategic meetings and activities provides a better image in regards to the organization's future directions and to the role each staff member has. Furthermore, it makes employees more engaged in their work;
Feedback sessions are benefic for employees, as they can improve their performance and they create a culture of constant learning.
Gaining employee's satisfaction is a process that takes time, but it is worth the effort as the human capital is the most important resource of the company.
References:
Image source: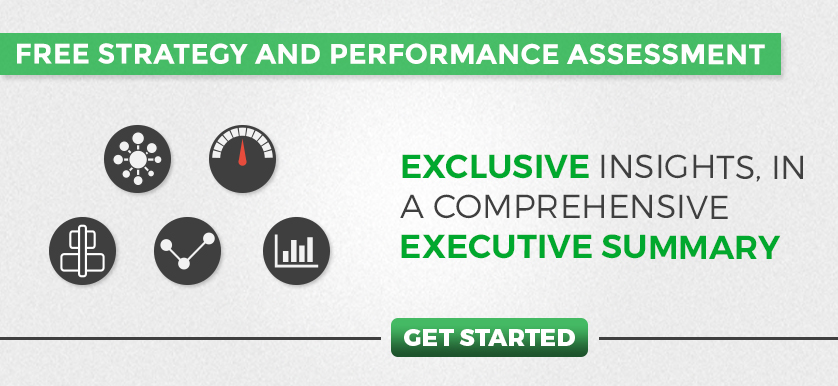 Tags: Employee Satisfaction, Human Resources performance, Performance in USA, Report Anlysis, Society for Human Resources Management