The gender Balance Scorecard: a gender journey for lead performers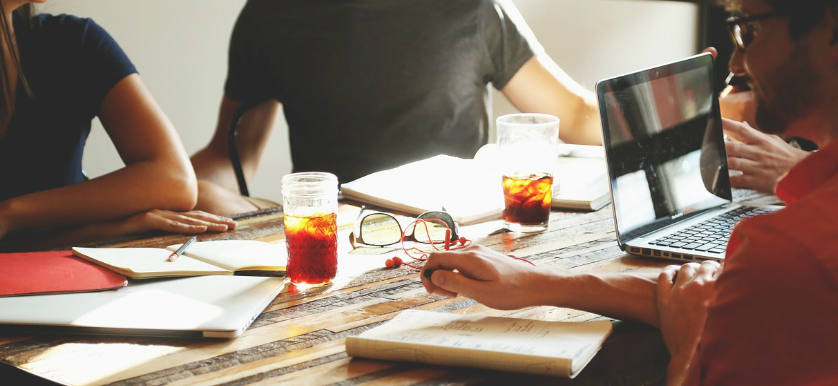 The corporate world is oftentimes believed to be too protective of their internal realities. More transparency is demanded with regard to all business environments, especially when the comprehensive research of today shows that performance is a by-product of an organization's approach to its many fractions. One of the aspects today's best talent rarely has access to, is gender balance within the organizations they target. This issue has gained interest at so many levels, that it sometimes becomes a single measure of progress looked at by prominent surveyors.
Every year, the 20-first consultancy company publishes its Scorecard on gender balance within the top 100 companies in the US, Europe and Asia. But it hasn't been until now that the relevance of this particular scorecard has begun to skyrocket. Seeing that women share an important number in the global talent pool of today, female workforce participation has become more of a strategic concern, than a reality check. Moreover, having that women outnumber men in purchasing power, it may be that a strategic drive towards gender-balanced teams can have a more than positive impact on corporate performance.
However, a brief insight into executive committees worldwide proves that employers lack a progressive approach to their gender imbalances. According to 20-first's fifth annual survey, there are currently 89% male executives, as opposed to the 11% female counterparts. The 2014 20-first Scorecard also shows that 87 of the top 100 American companies have at least one woman in their Executive Committee, and 8 of these companies, among which HP, IBM, GM and PepsiCo, are entirely led by women CEOs. On the other hand, none of the European and Asian top 100 companies have a female CEO to boast with, while men hold 90% of the positions in the Executive Committees of these companies.
The 2014 Global Gender Balance Scorecard is built around six phases of gender balance achievement:
"Asleep" companies – the companies that haven't started to incorporate gender balance into their leadership.
"Token" companies – have less than 15% of both genders on the Executive Board, and they have support roles rather than operational ones.
"Starting Smart" companies – have less than 15% of both genders on the Executive Board, but they have decisive core roles.
"Progressing" companies – have managed to engage 15% to 24% of both genders on their top teams.
"Critical Mass" companies – balance at least 25% of both genders, but not more than 40%.
"Balanced" companies – the tenuous companies that have at least 40% of both genders in their Executive Tea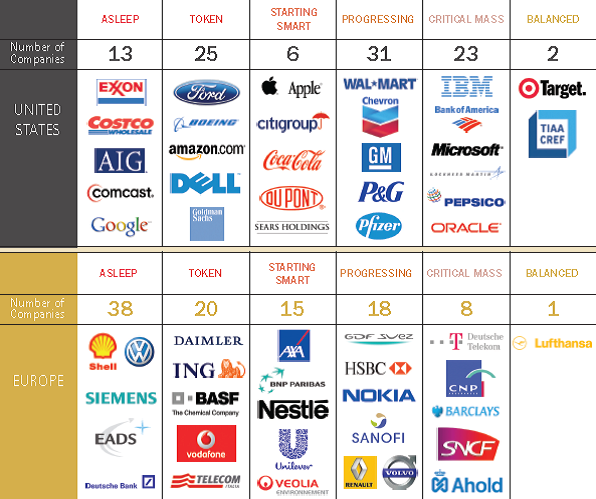 The Global Gender Balance Scorecard places the US and Europe at par in their progress beyond "Tokenism." 82% of US companies and 77% of European organizations have at least two women in their Executive Boards. Asia is significantly lagging behind in its struggle to balance genders, with only 11% of its companies having at least two women in their Executive Boards. In terms of gender balance achievement, 13 companies in the US and 38 companies in Europe are considered to be "Asleep." "Target" is one of the two companies in the US that have a "balanced" approach to gender diversity, Apple and Coca Cola are "progressing", while Microsoft and PepsiCo achieve "critical mass". In Europe, Lufthansa seems to have the most appropriate leadership gender mix in the region, Nokia and Renault are "progressing," while Barclays and Deutsche Telecom have reached "critical mass".
Multinational and trans-national organizations are starting to notice the negative effect gender imbalances have on both productivity and business results. In the summer of 2014, Google publicly acknowledged the fact that it has to improve the gender balance of its workforce. Google's action ultimately led to more high tech companies doing the same, in a joint effort to tackle gender imbalance as both a business, and a leadership challenge. Lead performers worldwide, such as Cisco and Unilever, are committing themselves to accepting the critical role women have in developing the solutions necessary for one company to fulfill its potential. Awareness raising campaigns, Gender Balance Scorecard included, have motivated CEO's to publicize their gender stats, thus revealing their interest for gender ranking improvement. Therefore, by admitting their difficulties with gender balance, corporate leaders have become the change they want to see.
References:
Image source: