South Africa 2010 FIFA World Cup social media fever – the most viewed ads on YouTube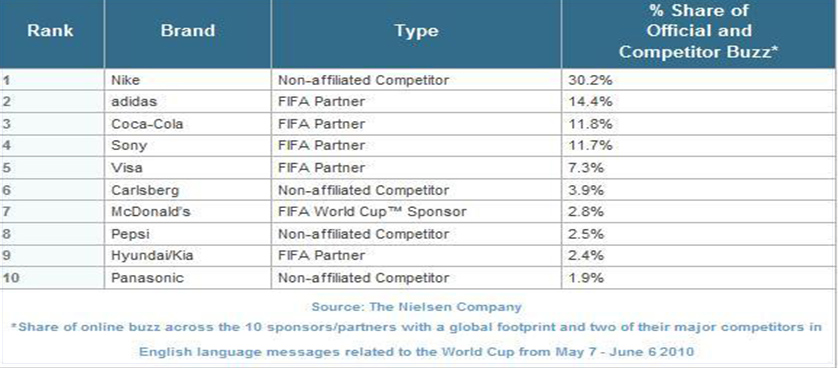 Without any doubt, social media is one of the hottest topics in marketing practice today. Both large and small businesses use it to leverage their marketing efforts. Benefits are obvious and they rely mainly on the "viral" characteristic that social media platforms enhance.
The latest example of a company who brilliantly explored the advantages of the social media marketing by associating one of its marketing campaigns with the second biggest sport competition in the world after Olympic Games, the World Cup South Africa 2010, is Nike.
Even though is not an official partner of the World Cup event, Nike turned the buzz created round the world soccer competition into its favor, by mastering a brilliant social marketing campaign.
As the latest Nielsen Company study reveals, Nike was mentioned in 30.2% of the English messages online, outrunning by far important World Cup South Africa 2010 partners such as Adidas, Coca-Cola, Sony or Visa (Nielsen Wire, 2010).
The study was conducted between May 7th to June 6th 2010 and looked at all World Cup related messages on blogs, message boards, groups, videos and image sites including You Tube, Facebook or Twitter – that mentioned at least one of the 10 official FIFA partners and sponsors with a global footprint or two of their top competitors (Nielsen Wire, 2010).
Additionally, if it is to make a top of the most viewed TV commercial ads and songs relating with the  World Cup South Africa 2010 event, as outlined by the metric # Views on YouTube, we find Nike as the clear leader, again:
1. Nike: # Views = 14,829,784 (accessed 13 June 2010)
2. Shakira & FIFA World Cup South Africa 2010 – Official Song: # Views = 6,595,756 (accessed 13 June 2010)
3. Adidas: # Views = 2,961,940 (accessed 13 June 2010)
4. Pepsi: # Views = 788,766 (accessed 13 June 2010)
5. Optus: # Views = 134,987 (accessed 13 June 2010)
References:
Additional resources:
smartkpis.com blog 2010, Performance in Social Media marketing: Tweet, but don't forget to measure!, available at http://www.performancemagazine.org/2010/03/04/performance-in-social-media-marketing-tweet-but-don%E2%80%99t-forget-to-measure/, (accessed 13 June 2010)
smartkpis.com blog 2010, Measuring advertising performance: a recommended set of 8 media metrics, available at http://www.performancemagazine.org/2010/02/22/measuring-advertising-performance-a-recommended-set-of-8-media-metrics/, (accessed 13 June 2010)
smartkpis.com 2010, Advertising KPIs examples, available at http://www.smartkpis.com/kpi/functional-areas/marketing-communications/advertising/, (accessed 13 June 2010)
Image Source: Nielsen Wire, 2010
Tags: Football performance, Performance in South Africa, Performance Measurement, Social Media performance, Sports performance, World Cup 2010, YouTube