Castrol Index and the World Cup South Africa 2010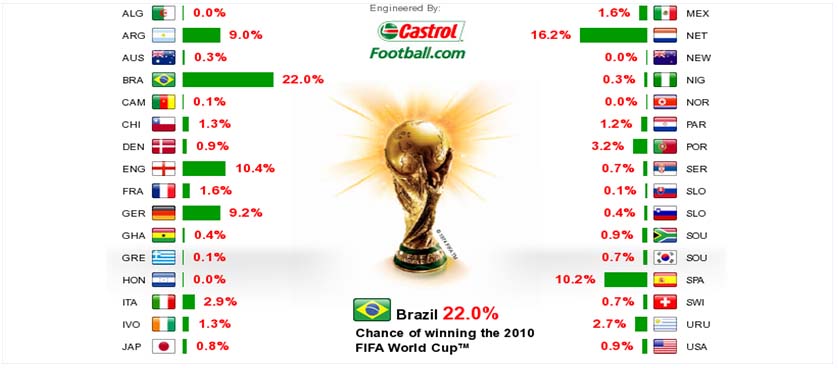 In a previous blog post "Performance in sport: a new era has began" we reviewed the ascent of sport in popular culture, bringing together entertainment, business and healthcare. Football in particular became in the last two decades a veritable industry that started to attract increased attention from analysts and media.
The Castrol Index and Ranking System is the world's first ranking program based on the actual performance of football players. Using the latest technology to objectively analyze each player's performance on the pitch, the Castrol Index tracks every move of each player during a game and assess whether it has a positive or negative impact on a team's ability to score or concede a goal. In doing so, an index of more than 20 performance measures, such as: assists, blocked shot, duels won, minutes played, passing accuracy or shots on target are used.
Being an official partner of the  World Cup South Africa 2010, Castrol through Castrol Football have recently launched a  several new features that were added to the old Ranking System. Fans from all over the world are able now to assess the performance of their favorite players and teams present at the World Cup.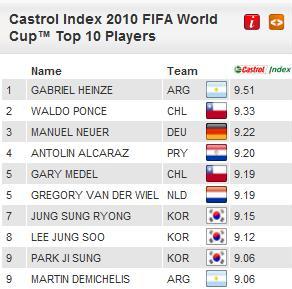 Additionally, FIFA World Cup Predictor functionality allows fans to visualize each team's chances of progression through the tournament, providing with insights into how a particularly team will fare in the group, who they will face in the knock out stages and ultimately their chance to win the World Cup.
To give an example we have choose England as a case study for a complete presentation of the FIFA World Cup Predictor  main features or characteristics. However, while being into the online application you can view predictions for any of the 32 participating teams at the World Cup 2010.
1. Success Predictor: How far is your team likely to progress in the 2010 World Cup?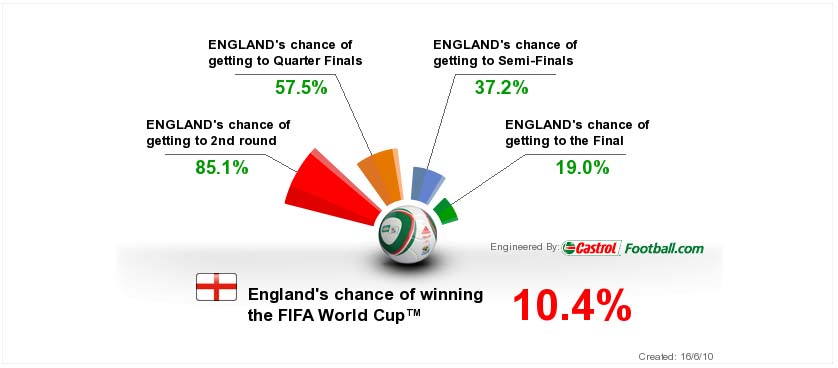 2. Group Predictor: How will your team perform in their group?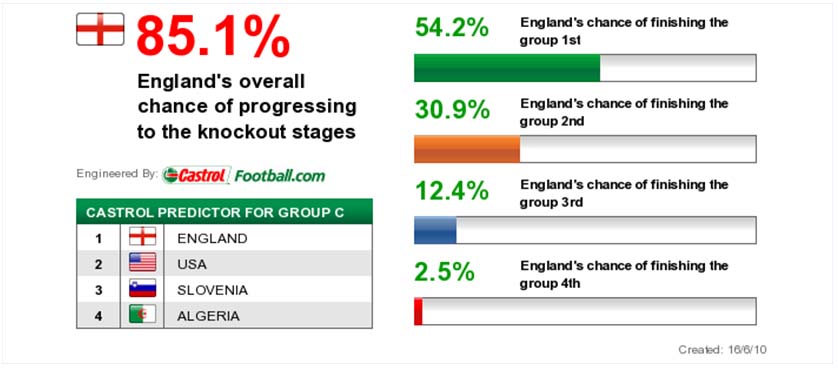 3. Match Predictor: What are your team's chance of beating its World Cup rivals?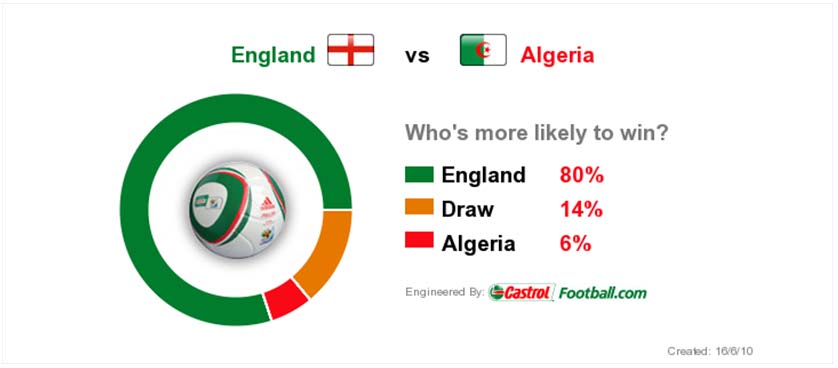 4. Opponent Predictor: Who is your team most likely to play with  in the knockout stages?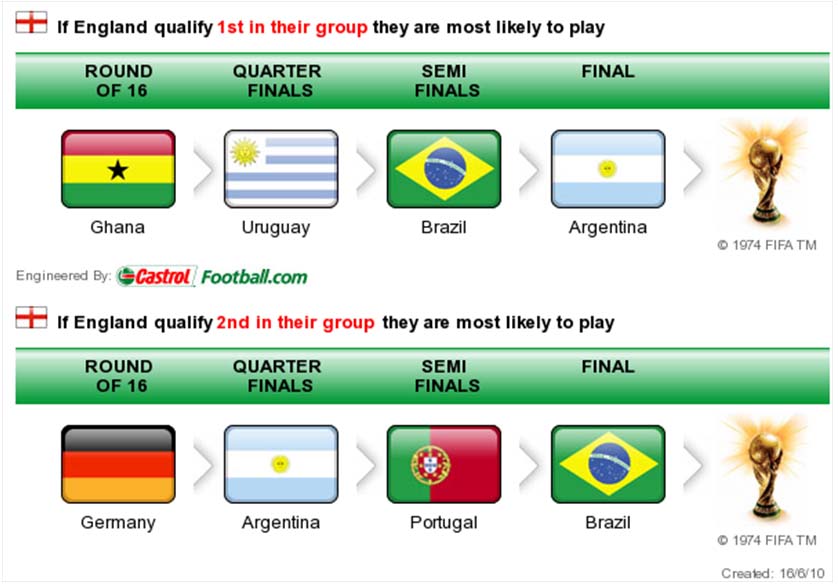 5. Tournament Predictor: Which teams are likely to progress to the later stages and who will they play with?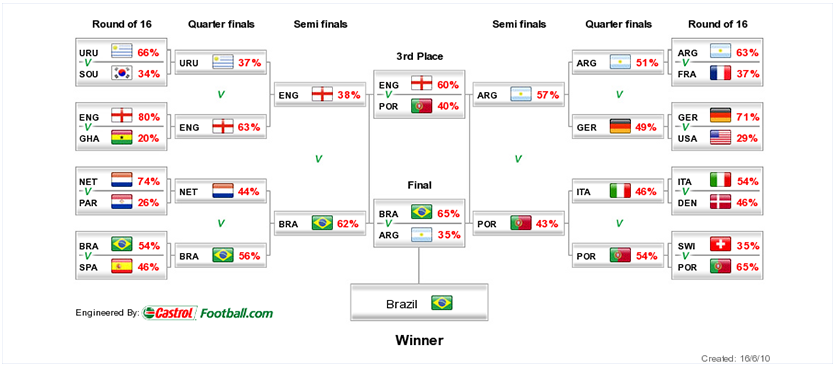 The Castrol Index and Ranking System makes football performance measurement easier. Debates such as who is a better player or which team payed better now have an analytical based answer…In the new edition of the Castrol blog post series we will present a new feature of the Index, which is about to be released soon, by Castrol Football, during the knock out stages of the World Cup 2010: the Castrol Edge Penalty Analysis!
References:
Image Source: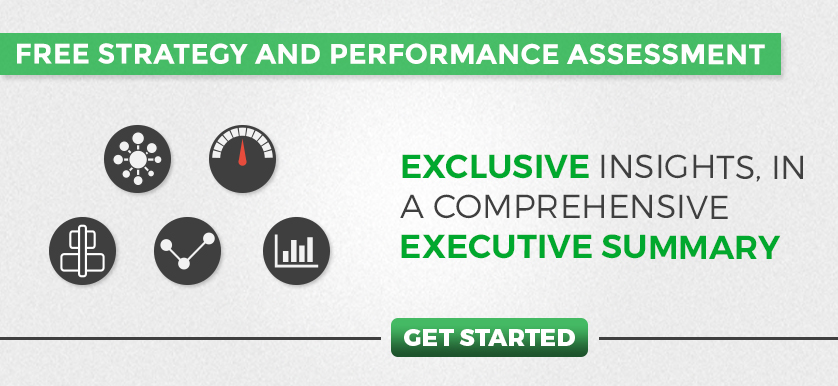 Tags: Football performance, KPI in Practice, Performance in South Africa, Sports performance, World Cup 2010