Measurement in education at the crossroads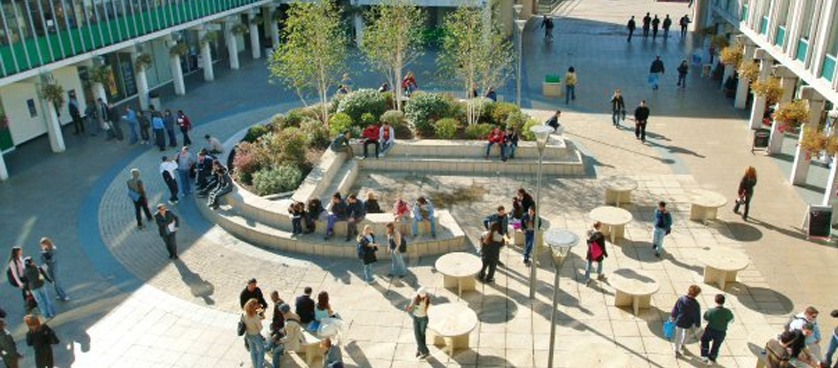 It turned into a clear sentiment in the last years, especially since measuring performance in any economy field became a souring concern both for managers and workforce, that education, as part of a living and healthy economy, needs to develop its own measuring and evaluation standards.
Should these performance standards follow the same economy rigor aligned to the same business performance indicators as in the case of any other company or organization operating in a specific profit-oriented business sector? Are there any particularities to be taken into account when measuring a school performance and which are the best practices in order to tackle a certain performance standard?
All this could be quantified into a plain question: What would be a better way of evaluating teachers and school programs?
Canadian Practice
Back in 1998, the Ontario Government decided to boost the responsibility of colleges of applied arts and technology by measuring and rewarding their performance in meeting specific goals and outcomes. Both Govt. officials and college representatives debated over a series of KPI, meant to measure the college performance, as follows:
graduate employment
graduate satisfaction
employer satisfaction
student satisfaction
graduation rate
Georgian College Performance Indicators
Key Performance Indicators (KPI)
Key Performance Indicators (KPI) are a province-wide accountability tool established by the Ontario government in 1998. KPI surveys are conducted annually by an independent body on behalf of the Ontario Ministry of Training, Colleges and Universities and the colleges' umbrella group, Colleges Ontario.
KPI Results (2012-2013 reporting year)
Graduate Employment 88.1%
Graduate Satisfaction 81.6%
Employer Satisfaction 93.3%
Student Satisfaction 78.8%
· Graduation Rate 63%
Provincial Results
Graduate Employment 83.6%
Graduate Satisfaction 80%
Employer Satisfaction 93.4%
Student Satisfaction 77.1%
Graduation Rate 64.8%
Key KPI findings include:
The graduate employment rate was 88.1 per cent at Georgian, the fourth highest score in the province (83.6 per cent provincial average)
Graduate satisfaction with the usefulness of their college education was 81.6 per cent at Georgian (80 per cent provincial average)
Student satisfaction with the overall quality of services, programming and resources was 78.8 per cent at Georgian (77.1 per cent provincial average)
Employer satisfaction with the quality of the educational preparation of college graduates was 93.3 per cent at Georgian (93.4 per cent provincial average)
European practice
Miles away, on the Old Continent, The University of Essex, a British campus university located near the town of Colchester, UK prepared a set of KPIs, enrolled within the institution's strategy from 2009-10 to 2013-2014. As mentioned within the official documents of the University, the strategic plan is designed around an ambitious program of investment in order to enhance the international reputation and the global impact of this institution.
The set of KPIs has been grouped in 10 major clusters, broken down into 42 specific indicators against which University performance is measured.
The top five from the Vision
Supplementary KPIs
For instance, the performance indicators for Student Experience section looks like: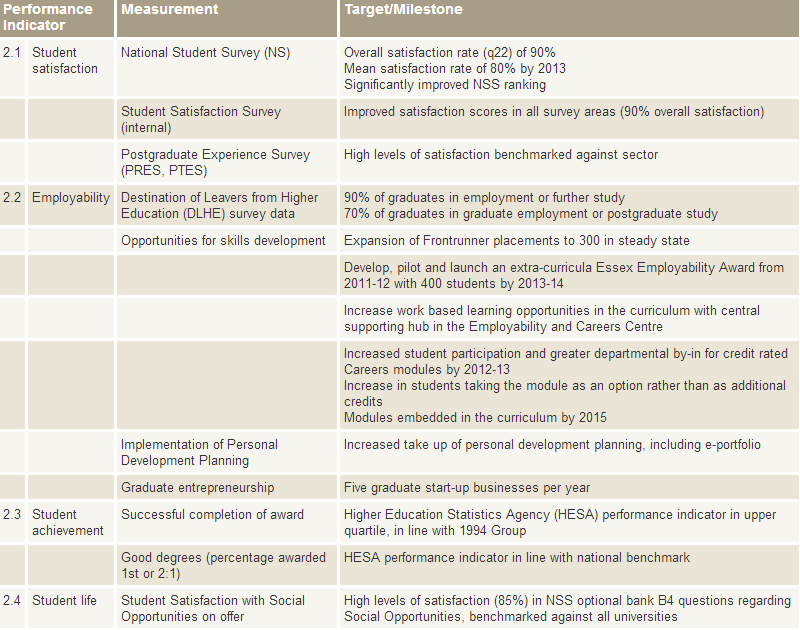 Performance measuring differ from one institution to another and, the more detailed is the data comprised in performance charts and the more customized are the measuring tools, the better. Educational data may differ from regular performance indicators applied for marketable companies but, in the same time, the aim points to the same objective, to trigger investments (budget and private) and to boost the reputation to a targeted scale.
In order to access supplementary Education & Training KPIs, visit smartkpis.com where you can find more than 400 KPIs for Academic, College and Universities.
Also, you can find Top 25 Academic Education KPIs of 2011-2012 report
References:
The University of Essex's

Strategic Plan download

(.pdf). This document contains the text/information as agreed by Council in November 2009, and is the version submitted to HEFCE.
Image source: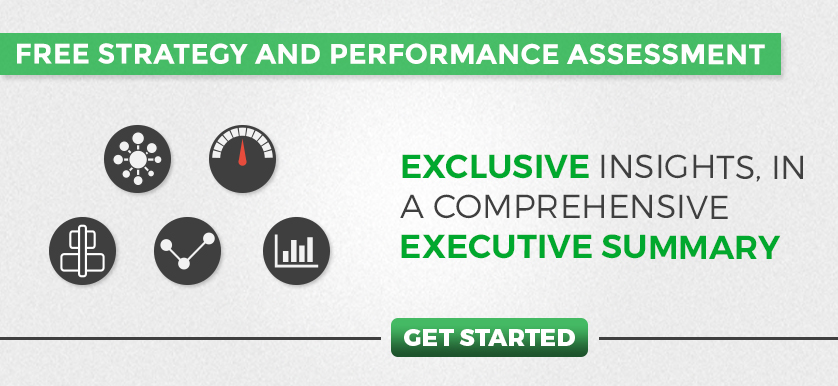 Tags: Education and Training performance, Government performance, KPI, KPI in Practice, Ontario Government, Performance in Canada, Performance Management, Performance Measurement