Construction KPIs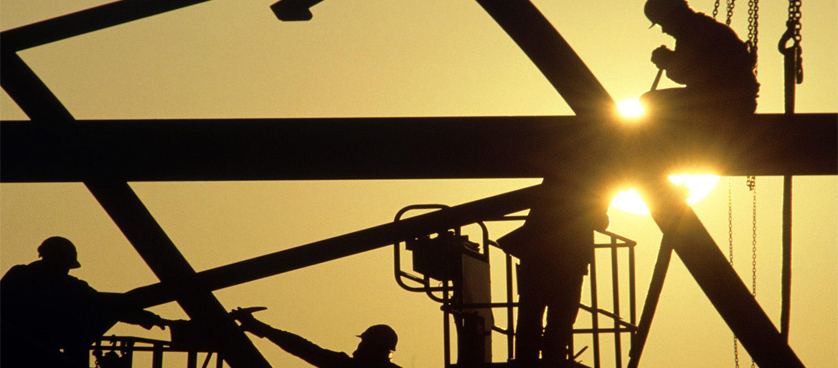 The construction industry has been one of the most affected economic sectors by the 2008 financial crisis in many countries. As profitability of this business was seriously damaged, monitoring closely the evolution of the sector is important in order to improve the performance and revive the industry. Despite the challenges the industry had to face, some construction KPIs registered positive evolutions during 2012, according to the UK Industry Performance Report, performed by Glenigan.
Glenigan is the UK's leading provider of construction project leads and industry analysis. In its studies, relevant KPIs for the construction industry are presented and analyzed on a 10 year basis.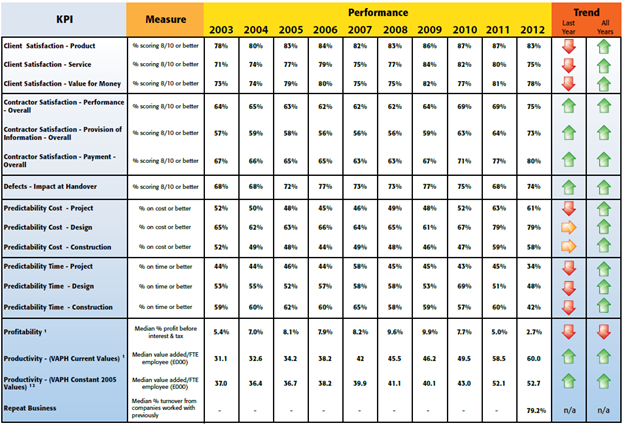 We can see that KPIs are clustered in 6 areas of interest for this business, like: customer satisfaction, contractor satisfaction, quality, costs, time and profitability/ productivity. Positive trends in 2012 were registered for contractor satisfaction and productivity. The 10 year evolution, might have been slowed down by the crisis, but considerable progress has been made since 2003.
Deciding upon the list of KPIs to measure and monitor is a difficult decision, as there is always the trap of focusing on performance indicators that are more accessible, even if they are not the most relevant.
In the process of documenting KPIs internal sources of information can be used like input form managers, front line employees, the board, strategic plans or operational reports.
External sources that can be reviewed refer to studies, like the one presented above, annual reports or online catalogues. A valuable resource to be used is smartkpis.com, an online platform reaching more than 20,000 KPI examples, from 15 functional areas and 26 industries.
The most popular Construction KPIs on smartkpis.com are:
% Construction cost in use
% Order value variance from original contract value
# General construction contractors
# Time to rectify defects
% Cost predictability
% Quality control tests passed
# Accident prediction techniques in place
# Requests for time extension submitted
% Predictability of the construction project profit
% Time predictability at construction due to project manager change orders
The popularity of the KPIs is based on the number of views they receive within the smartKPIs.com community. The top 10 KPIs illustrates that, in practice, managers are interested in monitoring costs, profitability, quality, time and safety in the construction industry.
For more details about Construction KPIs visit:  http://www.smartkpis.com/kpi/industries/construction-capital-works/construction-of-buildings/
References:
Image source:
Tags: KPI, KPI in Practice, Performance in UK