How to improve your online store performance? – Part III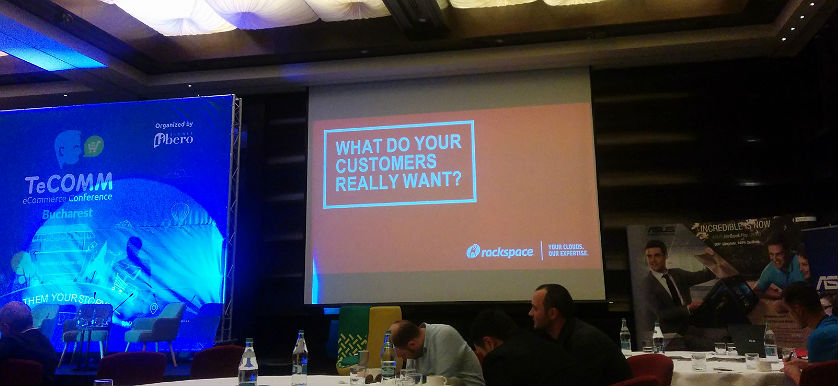 On April the 26th & 27th, at the Radisson Blu Hotel Bucharest, the TeCOMM Bucharest event took place, which is an event dedicated to the eCommerce industry.
Among the invited speakers, there were very many well-known names, such as: Richard Prenderville, CMO & Founder of the Peloton Digital Marketing Group, Mike Bainbridge, Chief Digital Technologist at Rackspace, Nick Lansley, Innovation Insider at Nick Lansley's Innovation Lab, Carlo Terreni, General Director at Netcomm Suisse, Jakub Minks, Regional Director of the Central & Eastern European branches of Exponea, Sven Bally, Founder of & Senior Consultant at XETA, or Kunle Campbell, Advisor & Ecommerce Growth Consultant at 2X eCommerce.
The event hosted an impressive number of workshops, where the attendees were invited to take part in, so as to get in-depth insight about the latest trends in eCommerce and what they should do to improve their eCommerce performance.
Given that this was quite an all-encompassing event and we wanted to write a bit about everything, we will be covering this event in four separate articles. This means that today we will be featuring Part I of the TeCOMM Bucharest eCommerce event coverage, with its respective workshops.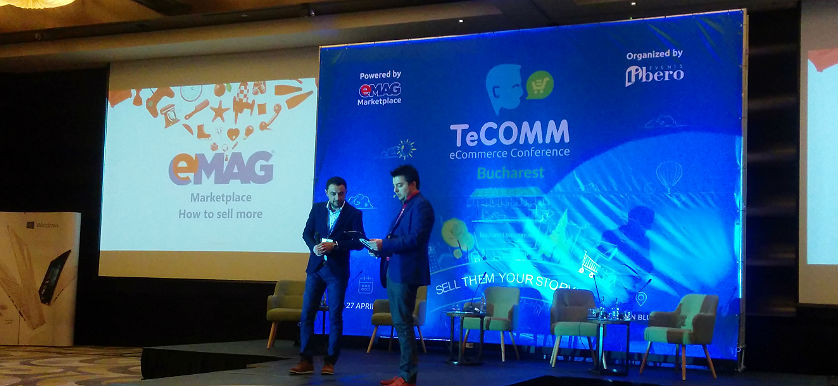 How to sell more! – George Iordache, Sales Team Leader @ eMAG Marketplace Romania
The main highlights of this presentation were as follows:
It's best to have a stock of items, rather than constantly getting products from importers.
You should use emotions (for example, by saying "Thank you" when appropriate.
You should focus on solving customer's issues.
If using a courier, choose a professional one.
Try using not a single channel, but a multi-channel to promote your items.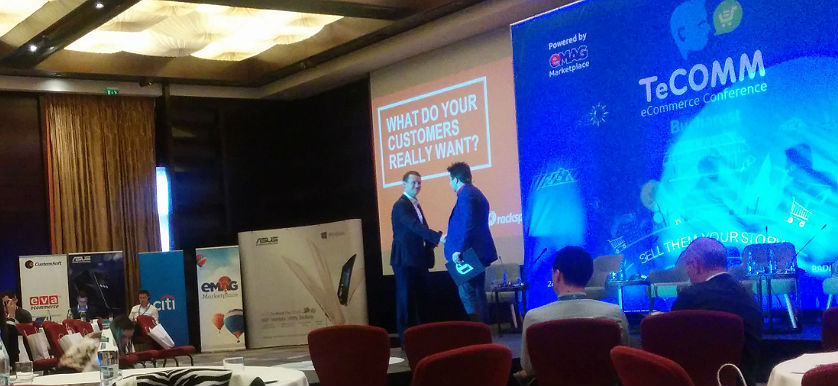 Do you really know what your customers want? – Mike Bainbridge, Chief Digital Technologist @ Rackspace
For the first time, social and mobile technology has put power into the hands of the consumer. With so many features and functions available to the modern e-commerce store, it's easy to get distracted and forget that the customer comes first. How can you ensure you take a customer centric approach and get things right? Mike Bainbridge, Chief Digital Technologist at Rackspace has worked with over 300 online retailers, to build world-class experiences and has shared with us a few insights regarding this question.
The first thing he mentioned was how other companies have stepped up their data gathering capabilities. One example was Nike, which has modified its shoes with a chip, which can be connected to a smartphone and track the shoes' performance. In this respect, they are trying to maximize their product's performance, effectively differentiating themselves from most other competitors in this market.
The second point he highlighted was that when you sell services/products online, many people think it is quite difficult to create an outstanding customer experience for your clients, when in reality, the opposite is true. There is lots of data, and the only element separating you from that data are HIPPOs – highest paid people's opinions. Take for example
– they do a great amount of A/B testing rather than going by guesswork or taking a few people's opinions for facts.
As far as what metrics to measure with your data, the most important ones are # of visitors, # of conversions and # average order value.
Other noteworthy mentions were the following:
Never forget about performance, which basically means the speed of your website. It's linked directly to conversions. Faster websites deliver a better experience. If you go to a website and it loads fast, the customer will say "wow, that was fast".

---

NPS – Net Promoter Score – this can be measured by asking the question "on a scale from 0 (lowest) to 10 (highest), how likely are you to recommend us to a friend or relative?", where 0 – 6 means detractors, 7 – 8 are neutrals, 9 – 10 are promoters. To put it in perspective, banks tend to have low NPS, while companies like Apple have high ones.

---

It's 7x more expensive to sell products to new customers than old ones.

---

Amazon has single-handedly changed what the expected criteria for buying products are. For example, you should give free delivery after a shopping basket meets a certain value threshold.

---

Apparel & clothing are one of the highest growing niches.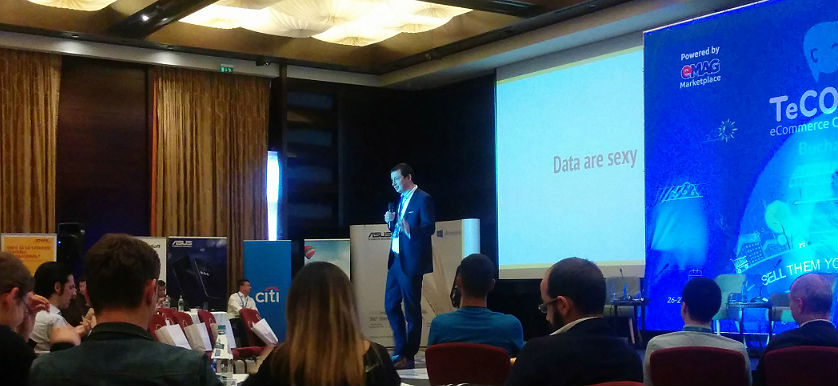 Simplify your digital marketing toolkit and get positive ROI in just 8 weeks – Jakub Minks, Regional Director Central & Eastern Europe @ Exponea
As a regional director, Jakub Minks is responsible for the sales, service, and support departments across 11 CEE countries. Prior to joining Exponea, Jakub spent four years with McKinsey & Co., helping telecoms & sales organizations reach higher levels of performance, whilst developing and growing his expertise in large-scale digital and omnichannel transformations. Jakub has a Ph.D. in genetics, having spent 10 years in research before shifting to the business sector.
The main highlights of his presentation were based around increasing sales and conversion rates. His findings showed us that:
If you own a lingerie company:

Photos of products on brunette models sold more lingerie than blonde models.
If a model touches her hair, rather than her hips, conversions increase.
If the photos are not retouched, as opposed to being Photoshopped, they sell more.

---

Marketing clouds allow you to execute campaigns and analyze data across all channels. They allow you to turn your sales data into a pipe.

---

"There are X customers who are looking at this item right now" message can increase sales.

---

Low stock alerts can boost conversions by 6.5%.

---

Marketers don't need more data, they need data which is relevant to their business and decision-making process.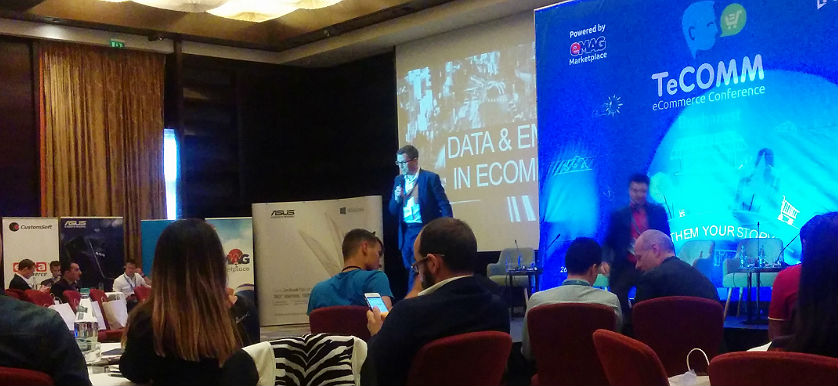 When Big Data meets Emotion Data – Sven Bally, Founder & Senior Consultant @ Xeta
Experiencing and expressing emotions are integral parts of our life. In the retail area of commerce, emotion plays a fundamental role. When we choose or buy a commodity, our choice has a profound emotional dimension. We are social beings, we are influenced by others' opinions even though we have our opinions and we like to bargain for everything.
Key notes to remember from this presentation:
Even if you do small changes, test them beforehand.
Photos and visuals are important for the selling process.
Texts, images, buttons – all need to be tested prior to releasing your website.
You should keep your promises. If you say you can deliver in a day, two or three – keep the promise.
The people you aim to have as clients should be represented on your web site. If you target Hispanic males for example, use photos with this audience on your website.
You can scrape your competitors' prices and simply price match on your website.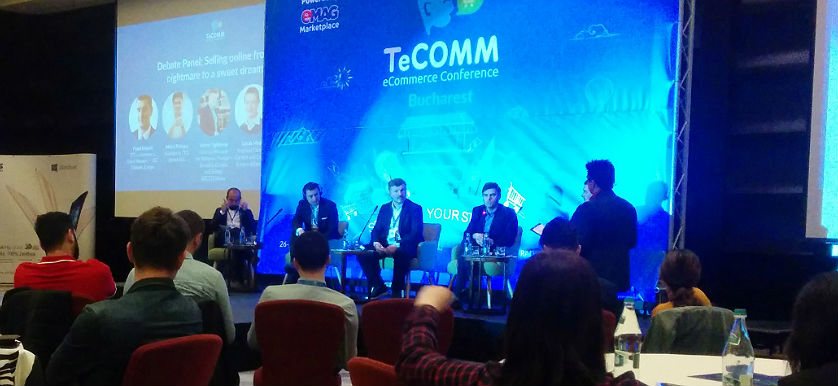 Debate panel: Selling online, from a nightmare to a sweet dream!
You can sell to a celebrity or straight in the heart of London from a small warehouse in Pașcani! What do you need to know, to avoid and to do, so that your online business becomes more like a dream, and less like a nightmare?
The most important asset for an online store is scalability, as well as having a focus on technology. Other than that, it's all dependent on your sales skills.
You should focus on profit and how to best get it – no one likes losses.
In online marketing, you get instant results, versus the classical marketing model where data is received at a slower pace.

---
Tomorrow we'll be featuring part IV, which will cover the How to think like an Innovator (And Stay Profitable!) and Understanding and guiding consumer behavior in the multi-channel economy! presentations.
Image sources: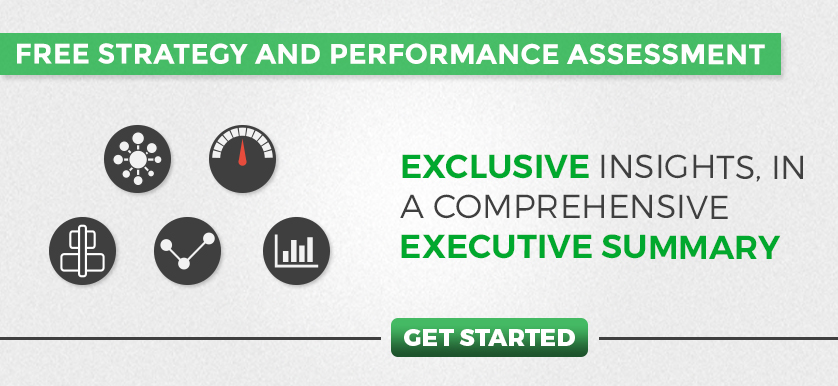 Tags: Amazon, Digital marketing performance, Online Presence - eCommerce performance, Sales and Customer Service performance, TeCOMM