How to improve your online store performance? – Part I

On April the 26th & 27th, at the Radisson Blu Hotel Bucharest, the TeCOMM Bucharest event took place, which is an event dedicated to the eCommerce industry.
Among the invited speakers, there were very many well-known names, such as: Richard Prenderville, CMO & Founder of the Peloton Digital Marketing Group, Mike Bainbridge, Chief Digital Technologist at Rackspace, Nick Lansley, Innovation Insider at Nick Lansley's Innovation Lab, Carlo Terreni, General Director at Netcomm Suisse, Jakub Minks, Regional Director of the Central & Eastern European branches of Exponea, Sven Bally, Founder of & Senior Consultant at XETA, or Kunle Campbell, Advisor & Ecommerce Growth Consultant at 2X eCommerce.
The event hosted an impressive number of workshops, where the attendees were invited to take part in, so as to get in-depth insight about the latest trends in eCommerce and what they should do to improve their eCommerce performance.
Given that this was quite an all-encompassing event and we wanted to write a bit about everything, we will be covering this event in four separate articles. This means that today we will be featuring Part I of the TeCOMM Bucharest eCommerce event coverage, with its respective workshops.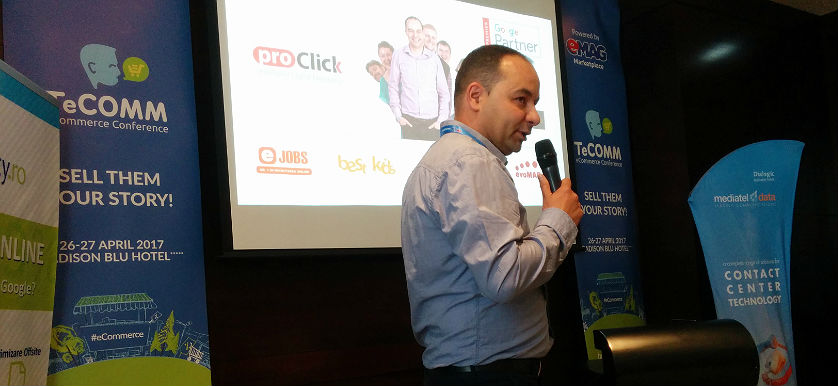 Do you own an online business? – Attila Birtha – Digital Marketing @ Proclick
During this workshop, participants discovered 7 traps of using the data analysis instrument Google Analytics. The workshop contained introductory terms, the best practice for analysis, solutions for rectifying problems and case studies.
Google Merchandise Store is a website used for buying merchandise related to Google brands.
Geolocation on Google Analytics is not 100% accurate.
Direct and organic traffic is also not 100% accurate, according to some studies. Some of the visits overlap.
In Google Analytics, it's best to have a:
Master view – complete configuration and settings.
(new and important!) Test view – testing before applying to Master view.
Raw data – no filters.
Sample filters – IP filtering of my own IP address(es) – good to implement.
You should be setting automated alerts, like:
Spike in Traffic
Drop in Traffic
Spike in Goal Completions
Drop in Goal Completions
No traffic
You should closely watch the sales funnel, by creating events on the website. Furthermore, by sending data from the user's ID, from the website to Google Analytics, you can accurately monitor how users interact with your website. It also allows you to closely monitor the device a user is using when shopping on your website.
To be noted here – User ID cannot contain information of personal identification (Google Analytics' Terms & Conditions). Moreover, when visualizing data on Google Analytics, it's best to use a customized view, which implies comparing all data to the threshold.
Another important lesson was that you should be using notes/comments on Google Analytics when something important happens internally on the website (a site redesign, for example), but also for external events (like Google Algorithms changes), or any of the marketing campaigns you do, or the offline events you create and handle.
Lastly, one important point was that Google Data Studio is considered one of the most powerful tools for data visualization to date. Although it's still in beta, you can create a dashboard with the most relevant information. You can grant user access for different levels, so that you can share vital information regarding the most relevant KPIs. You can also have a side-by-side comparison of your own data compared to Google Analytics data.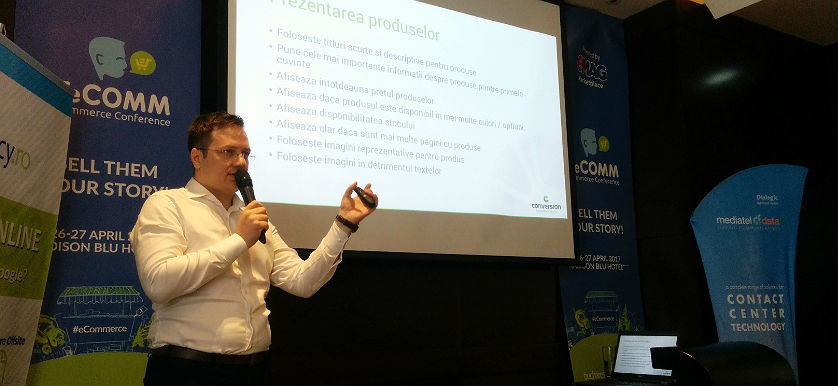 User Experience for Online Stores – Eugen Potlog, UX Lead & Product Manager @ Conversion Marketing
During this workshop, we were presented what tools & techniques to use to get insights about where we can find the issues, which are the usability heuristics everybody should know and which are the main usability best practices for eCommerce websites.
Why should you care about UX and CRO?
Increase sales.
Increase CRO.
Increase positive brand perception.
Increase customer satisfaction.
Increase ranking in search results.
Reduce costs with customer support.
Google Analytics – this time we once again learnt something new about GA, which is the fact that time on site, as an indicator, can be a good indicator or a poor one.
I. Good – means a user visits more pages and is interested.
II. Bad – the user doesn't find what he is looking for and leaves frustrated.
Even more so, we were given a list of 10 UX heuristics from the Nielsen Norman Group that should come in handy when designing a website with good UX in mind:
Visibility of system status – the user should be notified if there is a lag between clicking an item and the result.

---

Match between the system and the real world – what is the user's perspective compared to the actual presence on the website?

---

User control and freedom – the user should know how to get somewhere.

---

Consistency and standards – users are used to things being in a certain way.

---

Error prevention – avoid scenarios where a user lands on a page that get an error and they can't solve it.

---

Recognition rather than recall – you should use graphical items which are already known/understood by the user.

---

Flexibility and efficiency of use – make your website as clear as possible.

---

Aesthetic and minimalist design – the website's design should help with UX.

---

Helps users recognize, diagnose, and recover from errors – help the user leave the error page. Document each possible error – if the email address is wrongly written, help them with that.

---

Help and documentation – when the design is complicated, create a help page.

---
When it comes to which tools you should use, the most recommended ones are Hotjar, CrazyEgg, Inspectlet, SurveyMonkey and Qualaroo. Moreover, you should remember to use a minimalist design, avoid complex backgrounds, with a heavy load for graphics.
In addition to this, never forget that site speed matters. You should create a mobile version of your website so as to accommodate both desktop and mobile users, but be careful regarding the type of visitors you are targeting and what information they might want (for example, eMAG's clients wanted to know where the closest location of a showroom was).
Other things to note are that you should always monitor 404 errors, place the elements of authentication where people expect them (upper right corner), don't ask for browser notification permissions without them being initiated by the user and don't launch a pop-up in the first 2-3 viewings of a page in session.
Also, there should be a good contrast between font colors and background. If you don't know which ones are good, use web fonts (for example, Google's web fonts). The recommended font size is 12 pixels (even 14-18 pixels), as this creates a good first impression and gives the website a well-rounded look.
Another point is whether you should use a default template for your business or create a customized template for your website? That depends on the size – if  it is a large store, use a custom one; if it is a small one, use a default template. Avoid using carousels, such as sliders, as they induce banner blindness. If you use a banner, create a call-to-action.
Now, when it comes to the search option on your website, we are faced with the paradox of choice – if you give too many options, the user might get confused; too few and they become uninterested because it takes too long to find something. In addition to this, here are a few other tips you can apply to your search box optimization:
The search box should be prominent, big, on the homepage.
Try to use autocomplete on your searches.
The search results should be relevant.
If the search result didn't bring any results, give two options – browse the web site or search for more.
The Enter button should work on searches.
Keep the search items in the search, after typing it.
Treat the errors of writing errors with a synonym dictionary ("leptop" vs. "laptop").
Use breadcrumbs.
The menu should be accessible from all the pages.
Try to group a lot of sub-categories in smaller ones.
If a user orders on your web site without an account, offer an option to just add the password to create the account.
Adaptive Placeholders is a solution used to show labels of fields.

---
Tomorrow we'll be featuring part II, which will cover the Content Discovery workshop, the How to Build and Scale a Long-Lasting eCommerce Brand workshop, the Digital Disruption in Fashion and Retail workshop, as well as a few insights on Romania's current eCommerce stage.
Image sources: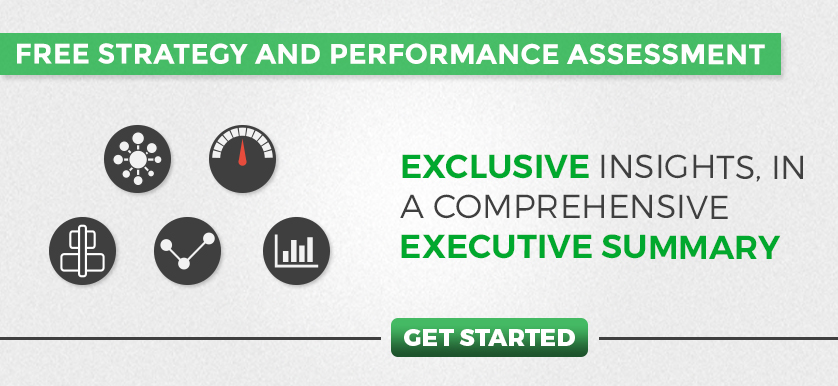 Tags: Customer Experience, Digital marketing performance, Online Presence - eCommerce performance, TeCOMM, UX