Employer Brand Strategy (EBS) Summit, Asia 2012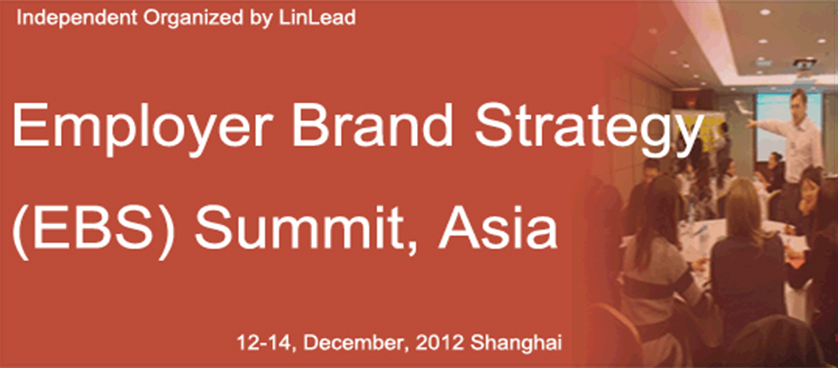 Independently organized by LinLead, Employer Brand Strategy (EBS) Summit, Asia 2012 will take place on 12-14 December, 2012 at The Renaissance Shanghai Pudong Hotel in China, as China and Asia's one-of-a-kind independent conference.
The event will bring an exclusive focus on "Employer Brand" for the 1st time, facilitating ideal exchanging and best practice learning on employer brand strategy and talent development for sustainable development, among forward-thinking professionals and senior executives in Recruitment, Human Resource Management, Corporate Branding and CSR from China and the rest of Asia.
Following rising awareness and importance of Employer Branding concept across the globe since 1990s, more and more international and regional leading players have been deploying or will deploy systematic Employer Brand Strategies in Asian and Chinese markets, to survive the war for talent and thrive further. However, a question remains unanswered: is Employer Branding is more tactical or strategic enough?
Stakeholders will have chances to discuss and explore further at the 3 days summit, where Chinese and Asian forward-thinking professionals in Employer Brand Management, HR Management, CRS and Corporate Branding, will be facilitated to understand well a broad set of functions and aspects key to create, develop, manage and sustain an employer brand strategy successfully, to attract, retain and inspire talent effectively, then enhance organization's Employer Value, improve Employee Productivity and therefore escalate Customer Value to win in emerging markets.
In addition to providing a good grounding in the theories that underpin the discipline of employer brand management, this summit will also provide many Case Study examples of employer brand strategies deployed by the world's leading brands, with particular emphasis on how organizations have applied this thinking within China and Asia.
Thanks to LinLead's past organization and operation of the masterclass series of Developing an Effective Employer Brand Strategy in China, Linlead's Employer Brand Strategy (EBS) Summit, Asia 2012 will independently provide senior level participants with opportunities exchanging insights and building up business value, in terms of Employer Brand Strategy.
The 8 key subjects to be addressed for this topic at the event:
1. Applying an Employer Brand Led Recruitment model to cost-effective Talent Acquisition
2. Developing a clear and compelling Employee Value Proposition to underpin your talent management and Leadership Succession strategies.
3. How Employer Brand Strategy can be used to optimize Employee Engagement and Experience.
4. How Employer Brand Strategy can be used to support a winning Performance Culture and reinforce Customer Service Excellence.
5. How HR works with Corporate Communication / Marketing to promote the organization's status as an Employer of Choice
6. How Employer Brand Strategy fits with the organization's approach to Total Reward and Human Capital Management
7. How to Measure your Employer Brand
8. How Employer Brand Strategy can be used to facilitate HR Transformation from a Service Provider to a Business Driver
Speakers:
To deliver a great conference, the independent event organizer LinLead is pleased to announce that we have confirmed the following big names of pioneering practitioners and researcher fellows coming from HK, Singapore, Australia, India, UK, US, Denmark and China mainland, sitting in the 20 members speaking faculty, including:
Mr. Richard Mosley, based in UK, SVP, People in Business (the originator of the concept Employer Brand in 1990s)
Dr. Lara Moroko, based in Sydney, Macquarie Graduate School of Management
Mr. Troels Wendelbo, based in Denmark, Director, Corporate HR (Global), LEGO Group
Mr. Martin Cerullo,based in HK, Managing Director – Development, APAC at Alexander Mann Solutions
Mr. Bhutani Manmohan, based in India, VP, People & Operations, Global Services, Fiserv
Mr. Laurence Lee, based in SG, VP, Human Resources – Greater China & Mongolia, Hilton
Ms. Jessie GU Jing-li, VP, HR, Asia, Technicolor (formerly Thomson Electric)
Mr. William GU Zheng-yu, VP, Head of Learning & Development, North Asia, OCBC Bank
Mr. Alan Pang, Director, Global Research Center. Aon Hewitt Based in SG
Ms. Joy Xu Jing-hui, CHRO, Asia Pacific Region, PepsiCo
Ms Louisa Wong, Founder & Executive Chairman, Bo Le Associates. Based in HK.
Mr. Robin LIANG Bin, Senior HR Manager, Tencent (QQ) Headquarter
Mr. Leo LI Qiang, Senior HR Manager (Country manager), Bosch China
Dr. Tao WU, Research Director, China, Gallup Organization
Ms. Antonio Bogi, HR Director, Asia Pacific, Ferrero
Mr. Auther WANG Wen-ji, Recruitment Director, China, Deloitte
Ms. Michelle LU Xue-fen, HR Head, Guangzhou Region, China, Novartis
Ms. YANG Shu, Recruitment Director, North Asia, Oracle
Ms. Winnie Ng, Vice President, Human Resources, IHG
Mr. Geoff Li, Corporate Director, Public Relations, GE
Mr. Gordon Cheng, Founder and Board Director
Taking advantage of Early Bird rate, to be part of the EBS event by sending your delegates to attend, get updated on Employer Brand strategy and practice for an enhanced HR transformation, please send email to [email protected], or make a phone call at +86(0)10 85711440-603.
Image Source: