EBSS Presenting Its 2nd Round on Employer Branding & Employee Engagement in Shanghai in August, 2013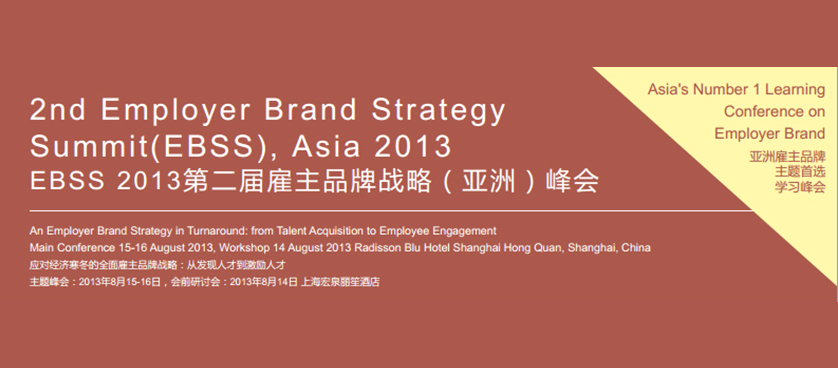 On August 14-16, 2013, Shanghai witnesses a return from the successful series of EBSS – Asia's No.1 learning event on employer brand, with another round of learning conference – 2nd Employer Brand Strategy Summit (EBSS), Asia 2013, taking place at the Radisson Blu hotel Shanghai Hongquan.
Hosted once again by LinLead, the independent learning meeting organizer, the focus at EBSS 2013 will be authentic linkage between employer branding (also known as recruitment marketing) and employee engagement. This forward thinking conference seeks to educate and push HR and marketing executives from proactive organizations to scrutinize and develop internal strategies on driving up talent value.
The event sees the return of Richard Mosley (co-founder of the employer brand concept) from last year in addition to over 20 authoritative speakers hailing from 7 different countries and regions of the world. Each speaker will be sharing their inside information on successful execution of these strategies within their companies, which range across many industries including pharmaceutical, high-tech, manufacture, financial, hospitality and petrochemical to name a few. EBSS 2013 maintains the same level, in terms of presentation organization, to the last year which Leo Li, senior HRM from Bosch claimed; "the most high leveled learning event on Employer Brand I have ever attended."
The first day (August 14) of EBSS 2013 will start with a pre-conference interactive workshop conducted by Richard Mosley, naturally the ideal man for the job with his unmatched experience and expertise in this area of HR/marketing cross-functional strategy. The workshop will include a vigorous and rewarding timetable dedicated to learning the action plan for an 'effective Employer Branding Campaign.' Furthermore particular attention will be paid to EVP (employee (employer) value proposition) development and its marketability within a large company.
The 2 day main conference dives deeper into the core of Employer Brand to fully understand its concepts and potential as a game-changing strategy for people operation. A good line-up of over 20 speaking faculty consisting of pioneering practitioners, scholars and research fellows will present key aspects of a holistic employer brand strategy, from external recruitment marketing to internal employee engagement, and address authentic linkage between them, given over 15 keynote speeches and 2 brainstorming discussion sessions. When asked for comment on the event agenda, Brie Mason, Employment Brands & Marketing Manager from Telstra rated it "a very thorough deep dive into all areas that the Employment Brand and EVP touch. It covers topical issues, future trends, as well as ongoing challenges for our industry (employer brand discipline). A fantastic overview.".
During the 3 days of breaking-through sessions at EBSS 2013, the organizer LinLead, has confirmed senior executives in HR and Marketing with benchmarking enterprises from 4 continents (Asia, Oceania, Europe and North America) who will gather under the same roof, including; Aramco Oil, Accenture, Amway, Bosch, Baidu, BenQ, Continental Automotive, Ctrip, Career International, Fiserv Tech, Hilton Hotel Group, Johnson & Johnson, Jaguar Auto, Kraft Foods, Lenovo, LEGO, LinkedIn, Metlife, Novozymes, Oracle Software, Oxus, Roche, Siemens, Sumitomo Mitsui Banking, Standard Chartered Bank, Tencent (QQ), Universum, Walmart, Wartsila etc. When asked for feedback regarding LinLead's last EBSS event which attracted many players attending too, XIA Ping, the University Relationship Manager at Siemens replied; "it is very good opportunity to bring so many EB (Employer Brand) experienced companies together, sharing the practice, knowledge, it is a great learning session."
To highlight the great impact which employer brand thinking makes on a number of HR functions, including recruitment practice, talent relationship, workforce planning, total rewards, leadership development, corporate culture and performance management etc, a good mix of attendants from above-mentioned different functions is always a crucial ingredient at the series of EBSS.  As another company at EBSS once again, Ferrero has sent 4 delegates to attend this round this year, including senior executive from both recruitment and C&B.
Insiders believe, during the transformation and utilization of HR from an administration centre into a strategic hub in China and Asia, with a deep impact on overall employee performance, EBSS 2013 by LinLead and its sister editions have chances to serve the role of upholding employer brand strategy at the frontier.
Learn more, please inquire: Layla Song Tel: 010-85711440-602 Fax:  +86 10 8571 1149 Mobil: +86 13552429307 E-mail: [email protected]
Silver Sponsors
Career International As the leading total recruitment solution provider in Asia, Career International, has more than 1000 professional recruiters in 15 branches and 36 affiliated agencies, providing the best services for over 1000 brands in 18 industries and fields, with 2000 professionals successfully placed, since 1996.
BenQ Guru As a Grand-China based IT Expert, BenQ Guru enables customer smart management experience through multi-industrial IT solution. We pursue the best partnership with our customer and embark our global implementation experience in products. We believe the best-run business run systems for lean management.
Prize Sponsor Guanaitong (also known as GAT) by CIIC, is the first corporation to provide comprehensive one stop employee non-cash reward solutions in China
The Organizer
About LinLead As China mainland's 1st home-grown 3-rd party B2B meeting organizer, we make every endeavor to be a productive business intelligence provider facilitating Corporate Decision Making in emerging markets and the rest of the world, since 2009. Through organizing (including market research, topic development, meeting management , speaker recruiting and delegate engagement) market-oriented B2B meetings (workshop and conference) independently, we are devoted to delivering cutting-edge Business Intelligence (regarding Academic achievement, Research findings, Industrial & Regional outline, Market update, Technical advancement, Regulation policy changes etc ) for decision-making related to Organizational Development, Business Innovation and Industrial Development.