Employee of the Month: Nicoleta Bano, General Manager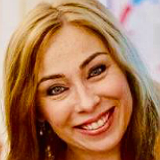 Join us in our journey of interviewing some of the most extraordinary individuals that continue to make The KPI Institute a role-model for others to follow. In today's edition, we will be featuring February's Employee of the Month, Nicoleta Bano.
Know what you stand for, and what you don't. It gives you a sense of unwavering clarity.
1. What is your role at The KPI Institute and what makes it special?
I accepted the position of General Manager 4 years ago, and I took it as a learning opportunity – to learn from the challenges it had to offer, and as of now, I have had plenty of challenging situations here.
As a manager, I am responsible for the entire organizational process, for consolidating our company's position on the Romanian market, for our people and their results, for various projects such as organizing annual national conferences, in-house projects and open courses, and nonetheless for its current and future clients.
My mentality is focused on identifying and serving my internal and external clients' needs. Having a customer focus is usually a strong contributor to the overall success of a business and involves ensuring that all aspects of the company put its customers' satisfaction first.
I love what I do, I love my responsibilities and I love working with and for people! I like the complex situations of our field, and I like to think that I managed successfully some of the most provocative situations that I could encounter so far.
2. How did it feel to be nominated and selected as Employee of the Month?
It was a tremendous surprise, which brought a great feeling of happiness & joy. I wasn't really expecting it, I didn't see it coming, but I am happy that my efforts are appreciated.
3. What do you find most challenging at The KPI Institute?
What can be more challenging than working with and for people? I always strive to find that perfect balance between meeting our client's expectations and accommodating our internal resources. While sometimes you only succeed with about a 90% rate, when you do get that 100%, it feels extremely rewarding, because you know you were at the top of your game.
4. What would be the three main career lessons that you have learnt thus far?
I feel like I've been around long enough to give more than that, so here's my top 4, one for each year I've been here:
Know what you stand for, and what you don't. It gives you a sense of unwavering clarity. I stand for truth, perseverance, hard work, and never choosing the quick, yet subpar way out.
A winner never quits. A quitter never wins.
Trust your gut, even when the naysayers do not.
Don't be afraid to do the unexpected. That nervousness you feel means that you are growing. Go out of the comfort zone and learn to live for thrill a little.
5. If you could interview one person, either from the past or present, who would it be and why?
Of all the famous figures, I would choose the artist Leonardo Da Vinci. He wasn't just an artist, he was also an architect, writer, mathematician, inventor, botanist, musician, cartographer, military engineer, geologist and anatomist. He was a real visionary, with a depth of abilities you rarely find in any figures, historical or current.
I would love to ask him one question: "How on Earth did you manage to balance all of your occupations and not die from stress, like I would if I were in your place?"