Certified Data Analysis Professional – Online Course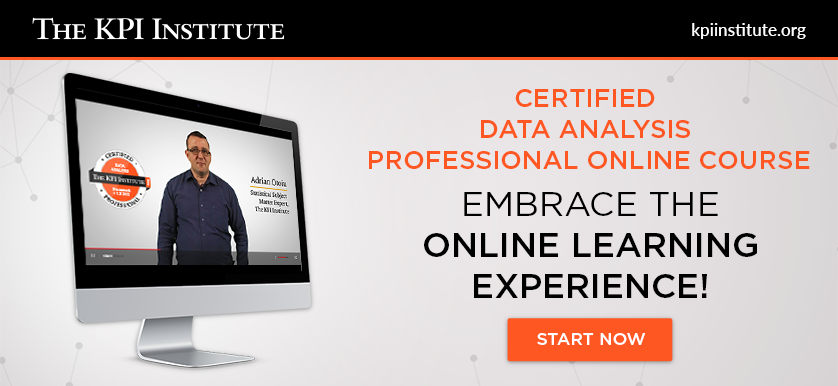 The Data Analysis Certification is an accreditation course that endorses you both for the knowledge and practical application of best practices used in analyzing statistical data.
The certification is the result of a complex, experiential learning program that has 3 sections: pre-course activities, core-course exercises and post-course assignments.
You will acquire the tools and skills needed to develop complex data analysis, useful for the processing and interpretation of data and relevant for your company's profile.
Validate your expertise!
The online course is built around 12 modules, that feature 3.45 hours of video presentation, approximately 14 hours of practical assignments that will ensure you will gain a better understanding of Data Analysis and its processes by the end of the course, which will be rounded up with a 2-hour evaluation session. The course will be delivered in English, at the attendee's own pace, at any time and with no prerequisites.
Benefits
Achieve processes clarity and strategy optimization by implementing data analysis frameworks;
Optimize the performance reporting processes by closing the gaps found in the data analysis tools used within your own business;
Attain superior results by implementing data analysis procedures, which improve the achievement of your company's objectives.
Target Audience
I. Professionals interested in Data Analysis
The course is designed for anyone who has basic mathematical training and basic competences in using Microsoft Excel. Statistical knowledge, intermediate or advanced knowledge of Excel, practical experience with data analysis and related duties are not necessary.
II. Management Representatives
The course is addressed to Managers, HR Representatives, Analysts, Auditors or Logistics and Acquisitions Experts, as well as to professionals from other business areas, who deal with data analysis.
III. Data Analysis Experts
The course is ideal for those interested in pursuing career opportunities in data analysis, data modelling and related activities (e.g. campaign management, data mining, statistics, risk management, reporting, data processing for survey analysis etc.)
Testimonials
The course was very comprehensive, systematically and step by step detailed. The materials were structured and arranged in an organized flow to enable the understanding process in an easy manner."
Yuvarajah S.Thiagarajah
Specific Resources Sdn Bhd, Kuala Lumpur
---
"The course content was broad and the range of data analysis tools which can be used for various purposes were more than enough."
Haya Hashem
Shams Power Company, United Arab Emirates
---
"I believe this is a very good certification course and it will add value especially to those who are dealing with data analysis."
Ali Al-Abandi
Johns Hopkins Aramco Healthcare, Kingdom of Saudi Arabia
---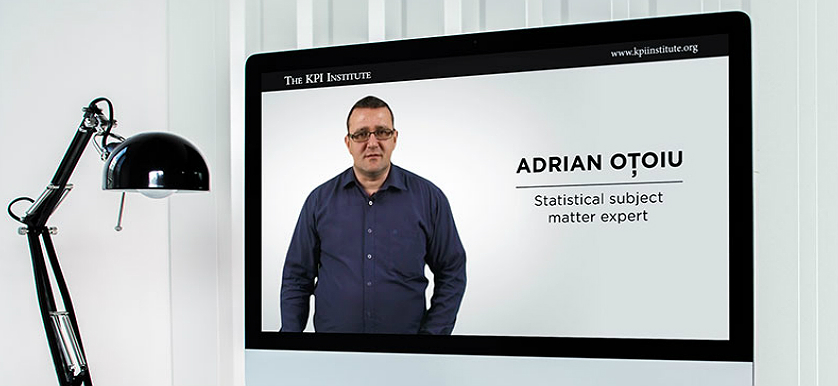 Course Trainer
Adrian Oțoiu, Subject Matter Expert, The KPI Institute
Adrian Otoiu has gained more than 15 years of experience in statistical, economic and business analysis in various roles within the government, academic organizations and multinational corporations.
Throughout his experience, he has garnered work expertise and had undergone training in the following fields: labor market, health economics, migration, quantitative marketing – including online surveys, composite indicators, default and risk models, business analytics and business intelligence, data preparation and processing, teaching and coaching.
The work he has been performing includes doing statistical analysis by using the following main methods: regression analysis, including logistic analysis, panel data/hierarchical models, factor and PCA analysis, Bayesian regression analysis, cluster analysis, market basket analysis, decision trees, and natural language processing.
Adrian has supplemented his process portfolio by adding data analysis and reports targeted at specific needs, including industry and competition analyses, SWOT and SBP studies, government briefings and notes, and academic paper and conference proceedings, retrieval of specialized data from various sources, presentation of results to non-specialized audiences and fact-finding for high-level analyses.
These skills and abilities are supported by extensive experience and training in SAS and R, machine learning and modelling methods, backed by constant contact with the academia either in the form of hands-on research, continuous training offered by SAS and Johns Hopkins University Data Science program, and through teaching statistics and quantitative methods.