Certified KPI Professional – Online Course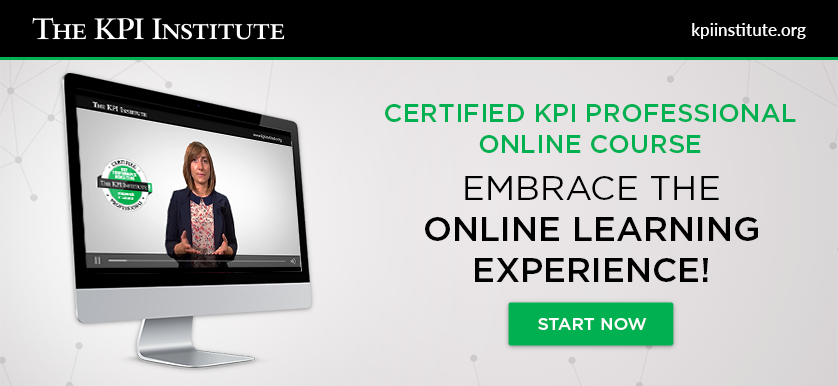 The KPI Certified Professional accreditation course is unique at a global level, given the certification process' thoroughness and the in-depth expertise dedicated to KPI measurement that participants acquire in this educational program.
This certification is the result of a complex, experiential learning program that has 3 sections: pre-course activities, core-course exercises and post-course assignments.
You will acquire the tools, skills and the necessary knowledge to differentiate yourself from other professionals through a rigorous and structured approach to measuring performance.
Validate your expertise!
The online course is built around 9 modules, that feature 5 hours of video presentation, approximately 23 hours of practical assignments that will offer you all the necessary tools & knowledge to properly maximize your KPI use; the accreditation will be rounded up with a 2-hour evaluation session. The course will be delivered in English, at the attendee's own pace, at any time and with no prerequisites.
Benefits
Improve the performance of your company by practicing a sound framework for KPI measurement;
Obtain better business results by selecting the right KPIs to monitor for your company;
Generate value from using KPIs by optimizing the data collection process.
Target Audience
I. Professionals interested in measuring performance
Professionals from different fields, such as finance, human resources, production, logistics, information technology and others, interested in Key Performance Indicators, will acquire the competencies needed to measure the performance of their team, department or organization.
II. Top/middle management professionals
Executives or operational managers, regardless of their field of expertise, will gain the ability and knowledge to measure performance and maximize the value of using KPIs. The tools and resources offered enable managers to apply the concepts learned in their organizations, immediately after the course.
III. Performance measurement experts
For professionals like Data Analysts, Strategy Managers, Performance Management Officers or Performance Architects, it is important to develop competencies in measuring performance, especially in terms of KPI selection and data gathering.
Testimonials
"The course content is complete and sophisticated. It is systematically organized and it made me learn easy and be able to implement at the end."
Ferry Wirawan Tedja
PT Kapal Api Global, Indonesia
---
"The course makes me look at a new and improved way of doing things. This course will certainly help me improve the current process that we are involved and to provide clarity from top to bottom management."
Nurul Quistina Rahman
Telekom Brunei Berhad, Asia
---
"Due to the nature of my current job in the strategy and setting the KPIs, the content of the program is very detailed, excellent and useful in many ways. I returned to the workplace full of enthusiasm!"
Talal Nasser Al Sahli
Saudi Arabia Monetary Agency, Kingdom of Saudi Arabia
---

Course Trainer
Cristina Tărâță, Head of Research Programs, The KPI Institute
Cristina's research activity is reflected by the development of smartkpis.com database, documenting over 1,000 KPIs from 16 functional areas and 25 industries. She also coordinated the launch of over 90 reports" Top 25 KPIs in 2011-2012″; and the development of book series: The KPI Compendium, The KPI Dictionary – Volume 1 and Volume 2, The KPI Dictionary Series.
As a consultant, Cristina was involved in several projects for implementing a performance management system based on Balanced Scorecard at strategic, operational and individual level. Among representative clients, is mentioned Abu Dhabi Retirement Pensions and Benefits Fund and VM Finance Group.
Furthermore, she revised the performance management architecture of companies from different industries, including financial institutions, petrochemicals, public sector, health and professional services. As a Master Trainer, certified by Association for Talent Development, USA, Cristina facilitates training courses related to the use of KPIs at strategic, operational and individual level.
Besides delivering and contributing to the development of face-to-face or online training courses, Cristina also elaborates other educational materials, such as video doodles or webinars in the field of managing and measuring performance in organizations.
Tags: KPI, Online Course, The KPI Institute