What tools/ techniques can be used for an external analysis?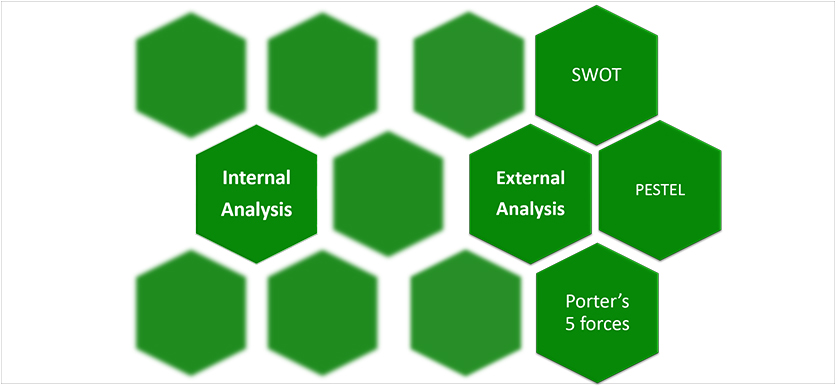 Every company has a strategy regarding the objectives they want to achieve, but the difference between a successful and an unsuccessful strategy lies in the steps that are taken when formulating the strategy, more specifically in the first step, the external analysis. In order to facilitate this process, organizations can deploy a number of tools to perform an external analysis thoroughly.
1. SWOT
It is an acronym for Strengths, Weaknesses, Opportunities and Threats. Strengths and Weaknesses are used for the internal scan of the company, while Opportunities and Threats are part of the external scan. By analyzing the external environment, the company can better focus its internal resources to reduce the threats and capitalize on its opportunities.
Advantages:
Analyzes both the internal and external environment;
Offers a link between the internal and the external analysis;
It is simple to understand.
2. PESTEL
PESTEL or PESTLE  is an abbreviation for Political, Economic, Social, Technological, Environmental and Legal. By analyzing these 6 categories, the data provided will offer an overview of the external environment and will serve as a support for the strategic planning process.
Advantages:
It offers and overview of the current external environment;
Analyzes what external forces can influence the company;
Provides a useful input for SWOT analysis.
3. Porter's Five Forces Model
Porter's Five Forces Model is used to analyze the opportunities and threats posed by an industry to a specific business. As the name states, the model focuses on 5 different forces that can influence the direction of a business:
The risk of entry by potential competitors;
The bargaining power of the buyers;
The bargaining power of suppliers;
The intensity of rivalry among established companies within an industry;
The substitutes to an industry's products.
Advantages:
Analyzes what external factors can influence the profitability of the company;
Shapes the competitive strategy of the company;
Provides a useful input for SWOT analysis.
Deciding what tools should be used when performing the external analysis of the company has an important impact on the strategic plan, which dictates what the objectives of the company are and which can, eventually, make the difference between a successful and a mediocre company.
References:
Tags: Ask the Experts, Strategy, Tools