Ticket to performance: JetBlue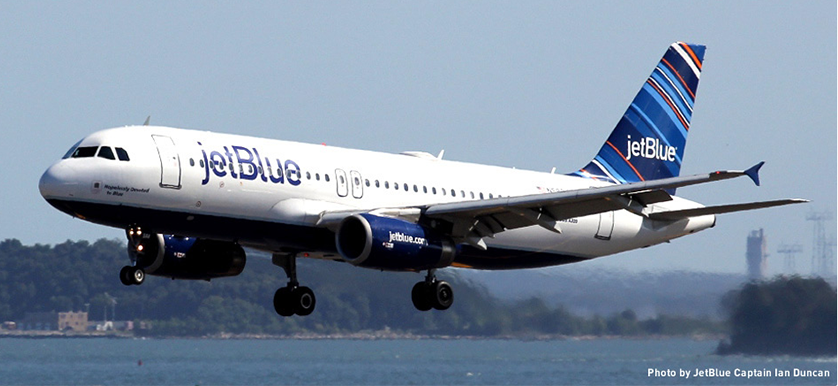 Founded in 1999, JetBlue's initial mission of "bringing humanity back to air travel" has now evolved to "inspiring humanity", reflecting the company's endeavors towards offering its clients highly quality services, in order to maintain them satisfied. The airline has now received, for the 10th consecutive year, the award for "Highest in Customer Satisfaction among Low-Cost Carriers in North America". 
The key to achieve such a high performance is mainly related, as stated in its 2013 Annual report, to JetBlue's differentiated products, high-value operating markets and the competitive advantage the company has by comparison with other airlines when it comes to pricing policies. Among the 2013 operational highlights, JetBlue can name:
Product enhancement – the company launched Fly-Fi, a much faster in-flight internet service, and it planned to launch in 2014 a premium transcontinental service, Mint. As promised, this new services was launched during the year, and it offers 16 fully lie-flat beds, 4 of which are in suites with privacy door;
 Network – JetBlue continued to expand its market, especially the Boston, San Juan and Puerto Rico networks;
TrueBlue –  a frequent flyer program that allows clients to earn, keep and share points with their family / friends, without expiration and charge;
Costs – the fuel cost continues to remain the largest one, accounting for 38% of total operating expenses; however, the company focuses on streamlining the operating procedures, including the single-engine taxi, and investing in a more fuel efficient fleet.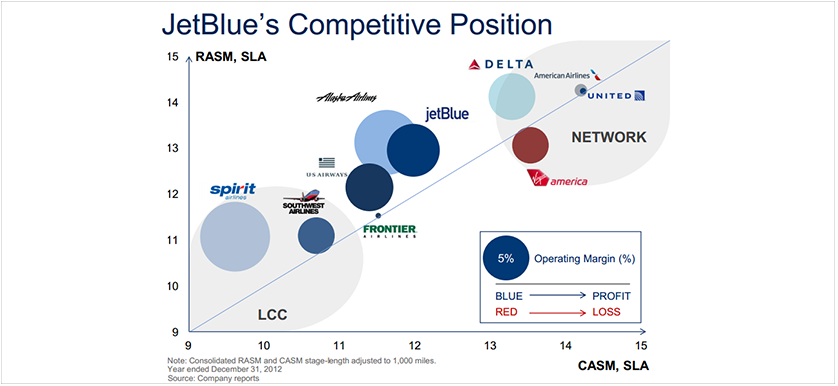 From the graph presented above, at the end of 2012, JetBlue was well positioned on the market, both in terms of $ Revenue per Available Seat Mile (RASM) and $ Cost per Available Seat Mile (CASM). 2013 was also an excellent year for the company, as the key figures below reflect it:
More than 30 million customers used JetBlue services;
Revenues generated exceeded $5 billion, which led to a net income of %168 million, translated into $120 million of positive free cash flow;
The stock price increased almost 50%, outpacing the S&P 500.
The positive results continued in 2014, as its latest August report reflects it. JetBlue's operational performance is reflected by the following Key Performance Indicators (KPIs), which reflect the growth from August 2013 to August 2014:
Moreover, JetBlue's on-time performance was 77.4%, which means, according to the U.S. Department of Transportation, that the domestic flights of the company arrived within 14 minutes of schedule in 77.4% of the cases.
The airline industry is a highly competitive environment and airlines have no alternative than to innovate and continue to improve their services, if they want to keep up with the changes taking place and with customer needs. JetBlue is one of the companies that strive for improving their performance and this effort is recognized by the market.
References:
Image source:
Tags: Airlines performance, Performance in USA, Performance Management