Selecting the world's top airlines with KPIs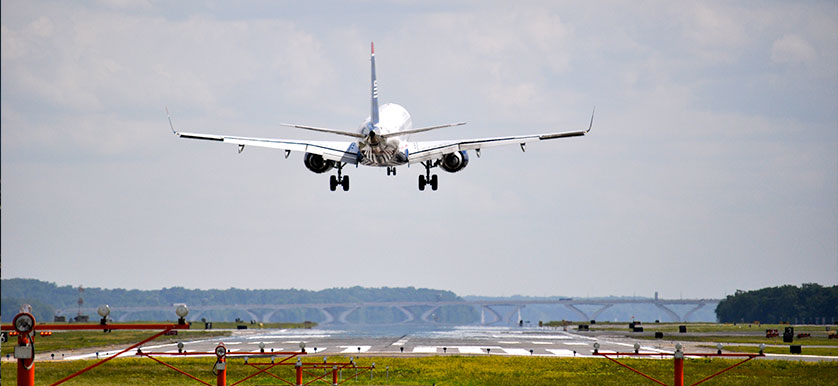 On a yearly basis, the world's top airlines are selected, at the prestigious World Airline Awards, based on a worldwide customer survey. For the 2014 awards, around 19 million customers completed the survey that resulted in Cathay Pacific Airways being awarded the top spot among the globe's airlines. The runners up were Qatar Airways and Singapore Airlines at number two and three respectively. The top 10 airlines for 2014 are the following:
1. Cathay Pacific Airways
2. Qatar Airways
3. Singapore Airlines
4. Emirates
5. Turkish Airlines
6. ANA All Nippon Airways
7. Garuda Indonesia
8. Asiana Airlines
9. Etihad Airways
10. Lufthansa
The survey is conducted by one of the leading airline reviewers, Skytrax. The rating system used covers 41 KPIs that are related to both the services and facilities offered by airlines to their customers.
Some of the most important KPIs that Skytrax includes in the annual survey are:
# Seat comfort
# In-flight entertainment
# Service Efficiency
# Meals served quality
# Average Airline Reliability
Aggregating the results from the survey, Skytrax then calculates and ranks airlines based on the KPIs included in the survey. However, the results do not take into consideration airline % On-time performance, which is of key importance to a large number of customers.
A team from Business Insider, the US business and technology news website, took note of this and devised a new airline ranking system that also takes into consideration % On-time performance in addition to the in-flight experience of the traveller.
They took Skytrax's five star rating system for in-flight experience and assigned 20 points for each star, thus being able to calculate an # Average airline experience index, that had a maximum score of 100, for each of the dozens of international airlines.
In order to include departure and arrival timeliness for the considered airlines, Business Insider used data from Flightstats.com, which provides data for % On-time performance.
The end result of their endeavour was combining the two categories and calculating final results. Based on the importance of the in-flight experience, they assigned a 70% weight for this category, and a 30% one for the % On-time performance.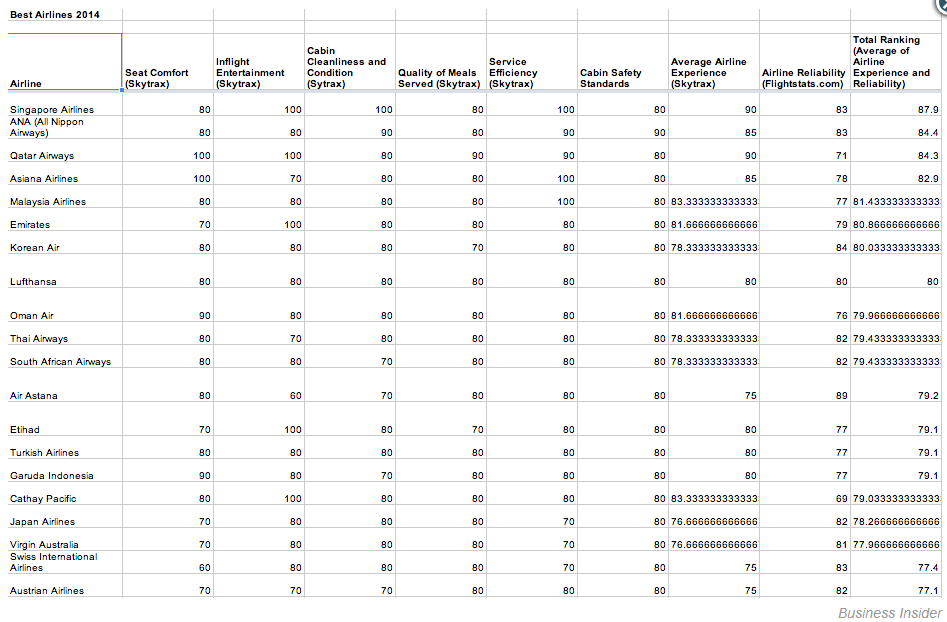 As can be seen in the above table, the rankings were different than the ones published by Skytrax, with Singapore Airlines at number one, followed by ANA (All Nippon Airways) at two, and Qatar Airways at number three. Based on the second ranking, Cathay Pacific Airways, winner of the 2014 World Airline Awards, came in only at number 16. The great difference in ranking clearly emphasizes the impact of on-time performance.
In conclusion, finding out the world's best airline is not an easy undertaking and, like any client and stakeholder, travellers must make sure that their preferences are taken into account, in the form of KPIs used by companies that rank airline performance.
References:
Image source: