The role of HR as a strategic partner – Deutsche Telekom HR case study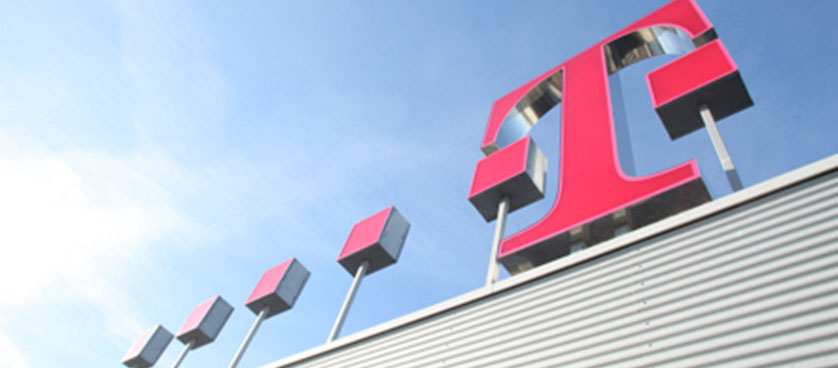 One of the most common challenges that HR managers may face nowadays is placing HR as a strategic partner at the decision round-table. Proving the value added brought by HR in an organization is no easy task for HR managers.  However, this blog post will analyze the Deutsche Telekom HR strategy and how it aligns with the business coordinates.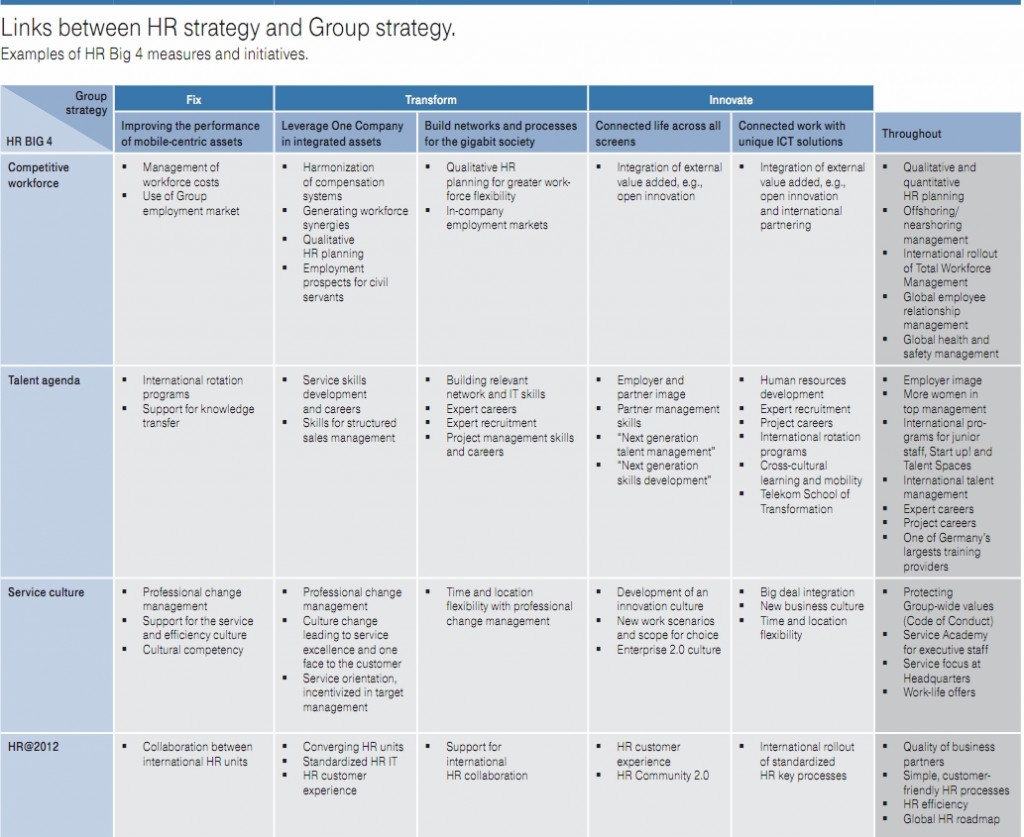 The Deutsche Telekom HR – case study
Mission: "HR – Your Partner in Business" – starting with the mission, the HR states that its "raison d'être" is nothing else than being a partner for the entire organization and the business itself;
Strategic objectives: The following cornerstones are fixed elements of HR operations:
"Add value" with a competitive workforce – a worldwide integrated, efficient corporate and workforce structures;
"Enable transformation" with a service culture – correct management, exemplary service conduct by executives, and corporate culture devoted to entrepreneurial co-responsibility;
"Best People" with our talent agenda – we draw on the best talent in all its diversity by offering attractive development opportunities and work environments as an employers;
"HR Excellence" with HR@2012 – best services and outstanding products.
Key Performance Indicators (KPIs) and measures utilization: Each objective – cornerstone is explained and monitored through a set of KPIs / measures:
Competitive workforce – to position Telekom as the leading provider of connected life and work;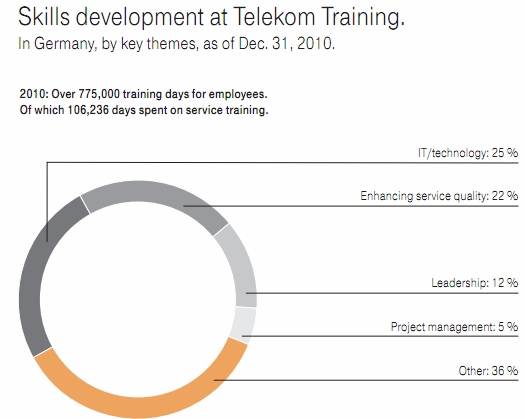 Service culture – bridging the gap between an efficient service company and a creative driver of innovation;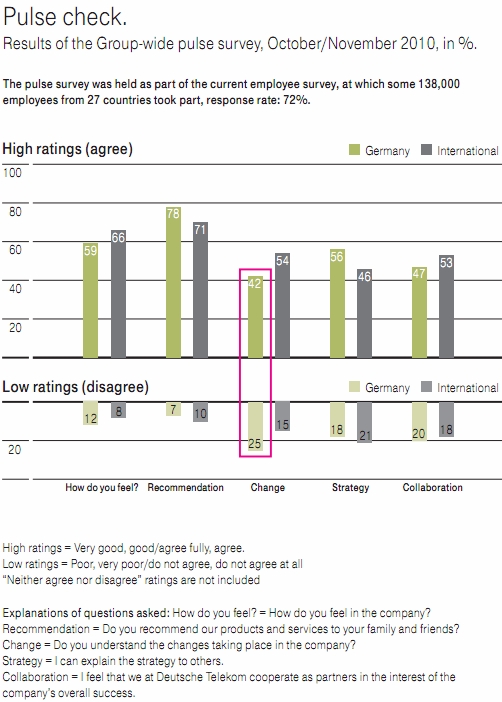 Talent agenda – Creating the "new Telekom" through diversity of talent;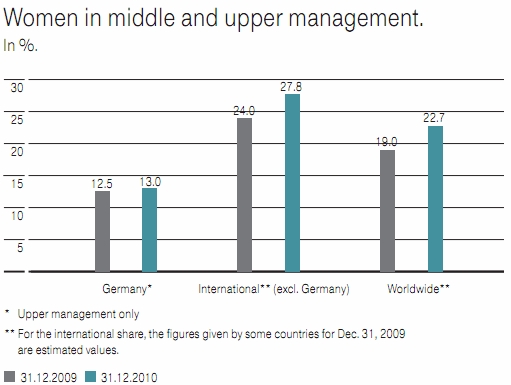 HR@2012 – HR excellence as the foundation for business centric HR Work.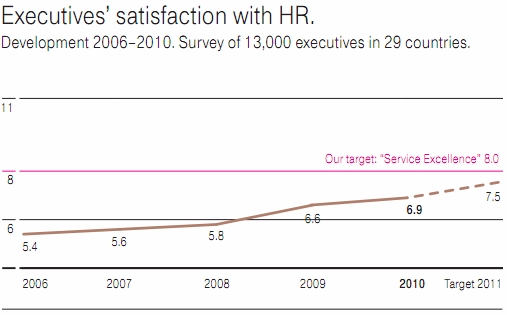 The HR Global Roadmap was enabled to further internationalize the HR mission and action areas. As part of HR@2009, the Deutsche Telekom HR established a new, three-pronged organization consisting of HR Business Partners, competence centers and shared services, aiming to make HR more efficient and transparent in sustaining the business strategy.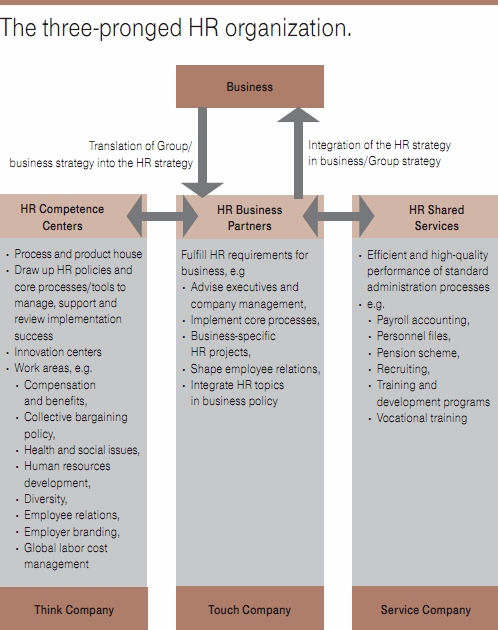 Though there are no standard recipes for assuring a strategic role of HR in business strategy implementation, for sure, looking at best practices and existing models in other organizations can be helpful for generating a personalized solution for your own HR department.
In one of his books, The HR Value Proposition, Dave Ulrich (2005), a recognized university professor, author, speaker, management coach and consultant, mentions five key aspects generating the HR value proposition:
Knowing external business realities (technology, economics, globalization, demographics);
Serving external and internal stakeholders (customers, investors, managers, and employees);
Crafting HR practices (people, performance, information and work);
Building HR resources (HR Strategy and organization);
Ensuring HR professionalism (HR Roles, competencies and development). (Brockbank & Ulrich, 2005)
"The most potent action HR managers can take to ensure their strategic contribution is to develop a measurement system that convincingly showcases HR's impact on business performance" (Becker, Huselind & Ulrich, 2001).
References:
Becker, B., Huselind, M. & Ulrich, D. (2001), The HR Scorecard: linking people, strategy and performance, President and Fellows of Harvard College, USA.

Brockbank, W. & Ulrich, D. (2005), The HR Value Proposition, Harvard Business School Press, Boston, Massachusetts.
Image Source:
Deutsche Telekom (2011) Alignment between HR and business strategy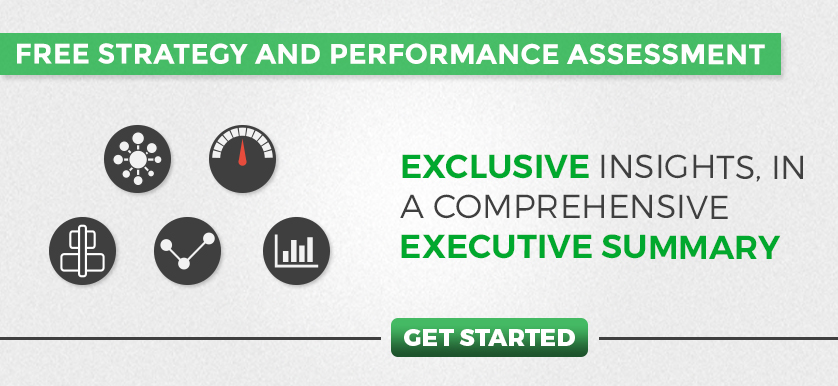 Tags: Case Study, Human Resources performance, Performance in Germany