The financial performance of the world's top football clubs – a "Deloitte Football Money League" special report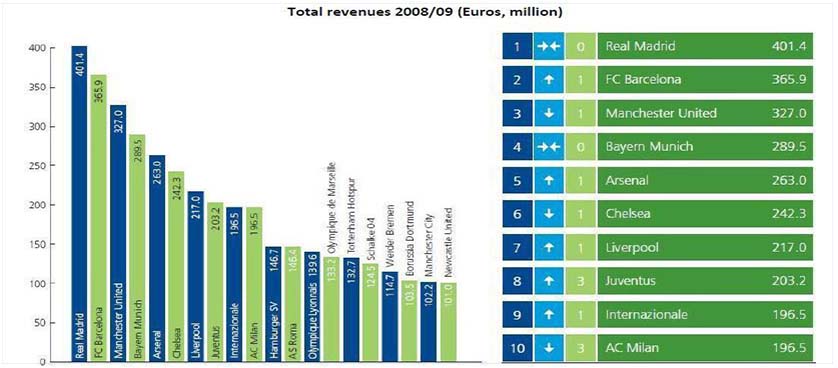 Deloitte Football Money League reached its 13th edition, once with the launch of its latest report on March 2010, under a striking headline: "Spanish Masters Football Money League".
The report, profiles the highest earning clubs of the world's most popular sport, football, and was released nine months after the end of the 2008/2009 season.
The measure chosen for assessing the clubs performance is $ Club revenue, as it offers according with Deloitte analysts "the best publicly available financial comparison". Other measures such as # Fan base, # Broadcast audience, or # On pitch success, though good candidates for assessing club strength and performance, were not considered for the purpose of the current investigation.
Thus, according with the latest club financial performance results, Real Madrid is the first sports team to record revenues in excess of 400 million Euros in a financial year. What strikes out is the fact that this astronomic revenue was generated in the conditions of a relatively disappointing season, with poor performance results for the team, both in the internal arena, where they were overpowered by their life time rivals, F.C. Barcelona, but also on the international stage, where they suffered a six consecutive loss in a Champions League knock out stage. Despite all these misfortunes the matchday, broadcasting and commercial revenues, where all in triple figures at the end of the reporting period, maximizing club's revenues.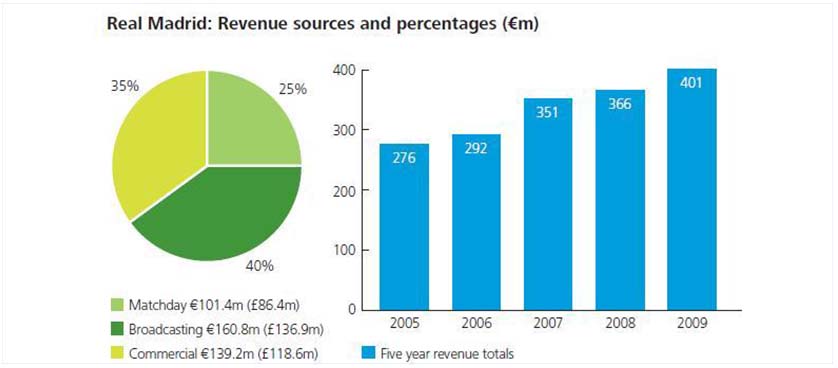 Even more impressive, the report reveals that the revenues of the Spanish top 2 clubs, Real Madrid and Barcelona, have tripled in the last 10 years as the graph below shows. This is mostly due to a tremendous increase in the revenues generated from broadcasting rights. Thus, the two clubs significantly ascended in the Deloitte Money League Rankings, Real Madrid from the 6th position up on the top spot and Barcelona from the 13th position on the 3rd place.
Revenue growth of selected Money League clubs 2000/01 to 2008/09  (Euros/millions)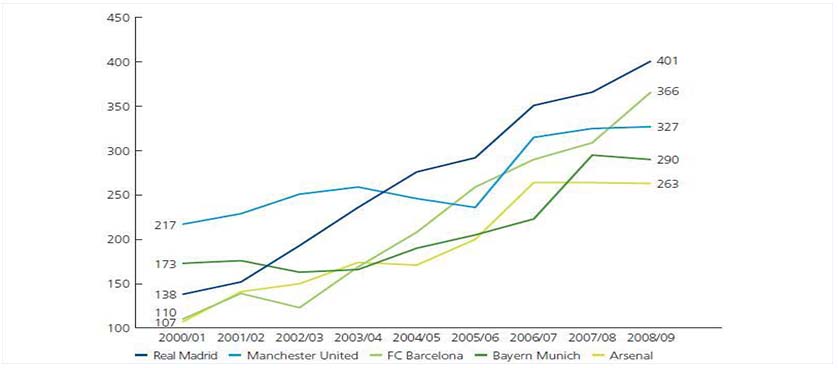 As the report further reveals, the top 20 of the world's most successful football clubs is entirely dominated by major European clubs. Most of them, as regular participants in the richest football clubs competition, the  UEFA Champions League, are also generating impressive revenues from it, both from the tickets sales and TV broadcasting rights but also from the match-day prize money. According with Deloitte analysts, the revenues generated by the most prestigious European football clubs competition over the last 18 years increased more than twenty fold, from 45 million Euros in 1992/93 season to a staggering 1, 090 billion Euros in 2009/10 season.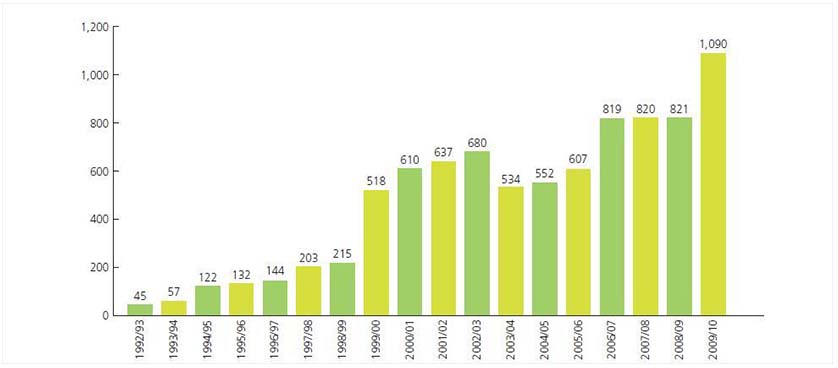 These figures, are further proof that  football has become indeed a major industry. Club performance is no longer measured only by the form showed on the pitch by teams during competitions, but  is becoming more and more dependent on the clubs leaders ability to manage "a real business", one in witch marketing campaigns are as important as football transfers, and leadership over the entire club is as important as the leadership that the football team captain has to show on the pitch.

For more Sport Management KPIs visit: http://www.smartkpis.com/kpi/industries/sport-management/

References:

Image Source: Deloitte, 2010

Tags: Football performance, KPI, KPI in Practice, Performance Measurement, Sports performance