The 100 Top Hospitals Performance Matrix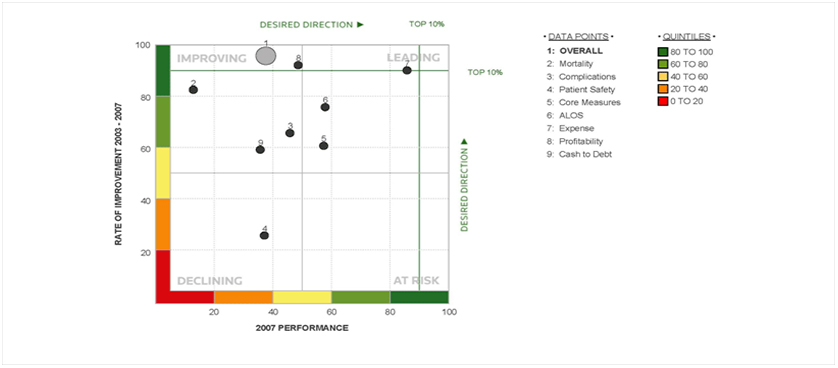 Hospital Management is an important part of healthcare administration, that represents the sum of all administration and management activities of hospitals, hospital networks or medical centers. As a discipline, it has developed empirically, due to hospitals being established as private charitable community resources, for religious missions, by physicians to have a place to practice, or as governmental driven entities. Hospitals have traditionally been operated and managed through a variety of means, each of them developing a different management philosophy and style.
Throughout the years, different tools have been developed not only for supporting the management of hospitals, but also for assessing their performance. An example used in the United States for assessing and ranking the hospitals is the 100 Top Hospitals Performance Matrix, by Thomson Reuters.
This tool provides an executive-level scorecard that aims to measure the leadership effectiveness, the success of organizational improvement strategies, and impact of executive decisions. The analysis of the hospitals is based on short-term achievement and long-term rate of improvement compared to peers across the nation.
The ranking is based on long term of improvement,  current performance and specific metrics, such as:
Patient safety
Average length of stay
Mortality
Complications
This is an example of how performance indicators are used in practice. For more examples of healthcare and hospital management performance reprots, visit the Healthcare Industry section of the smartkpis.com KPIs in practice catalogue.

For specific performance indicators from Healthcare industry, visit the smartkpis.com Healthcare library of KPIs.

References:

Image credits:

Tags: Healthcare performance, Performance in USA, Performance Management, Thomson Reuters