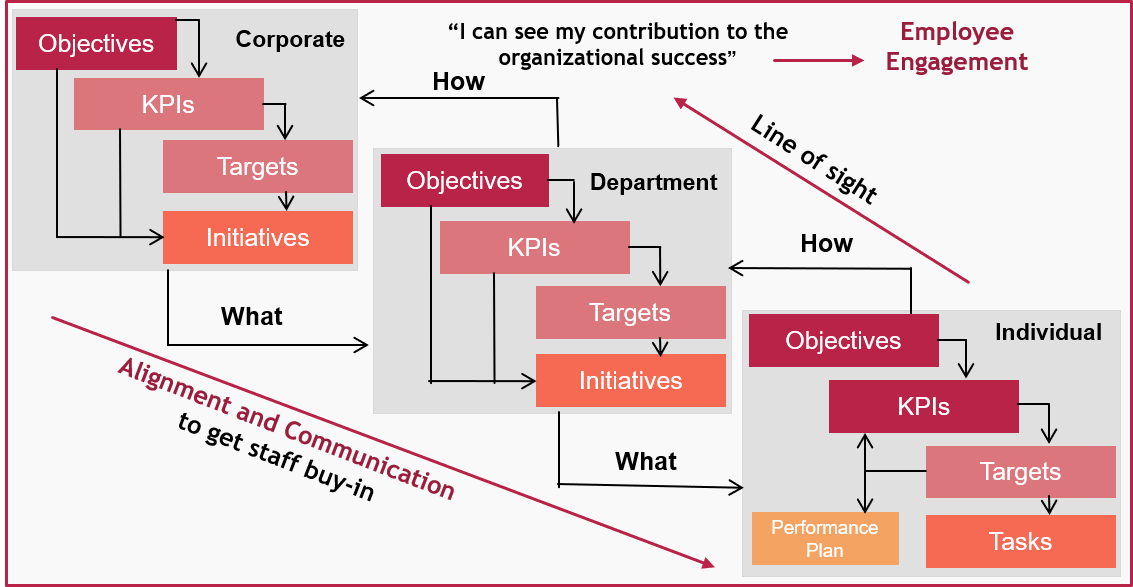 How does cascading KPIs to the individual level look like?
Performance management as a practice facilitates the long-term success of an organization, as it brings focus and clearly defines the organization's identity and strategy, while ensuring resources are allocated towards what matters.
A structured performance management system enables alignment from the organization's strategic direction towards its departmental key functions and individual priorities.
It ensures that strategic objectives are executed across all units and functions, while establishing relevant KPIs at each level of the entity. The cascading technique addresses the challenge of working in silos and drives cross-functionality and uniformity.
How do we cascade operational strategy to individual level?
Let`s take a look at an example of an HR Department.
First, the same objective can be cascaded to multiple functions, each of them measuring it through different KPIs.

Second, department level objectives and KPIs can be cascaded and aligned at individual level either as they are, with the same or different KPIs:
Same objectives – same KPIs;
Same objective – specific KPIs.
Finally, some departmental objectives may not be applicable to cascade to lower levels; however, we can add specific objectives and KPIs based on the targeted employee's job description.
SMART objectives
In terms of the quality of objectives, organizations must focus on developing SMART ones.
The SMART acronym is one of the most used phrases in business. It has its origins in the Goal Setting Theory school of thought and the Management by Objectives concept. The latter was introduced and popularized by Peter Drucker in 1954 through his book "The Practice of Management". This approach aims to improve organizational performance by clearly setting and defining objectives/ goals agreed by both management and their employees.
Back in 1968, Dr. Edwin Locke published "Toward a theory of task motivation and incentives," where he investigates the premise that conscious goals affect actions. His research and conclusions lead to four general principles designed to motivate and lead to best performance:
Goals should be challenging, however attainable.
 Goals should be specific rather than vague
Employees should be part of the process of setting their own goals
Goals should be measurable and clearly understood
George T. Doran published a paper in 1981 called: "There's a S.M.A.R.T. Way to Write Management's Goals and Objectives." Based on his proposal, a SMART objective should meet the following criteria:
Specific – target a specific area for improvement
Measurable – quantify or at least suggest an indicator of progress
Assignable – specify who will do it
Realistic – state what results can realistically be achieved, given available resources
Time-related – specify when the result(s) can be achieved."
While there are many examples of objectives that are incompletely defined and don't meet the SMART criteria, in the case of KPIs things are different. By their own nature and definition, KPIs are indicators of performance with the following inherent characteristics:
Specific – For the objective/ process/ functional area which it addresses;
Measurable – It has to be a metric, therefore it is required to be quantifiable;
Assignable – Ownership needs to be assigned to ensure achievement and improvement;
Realistic – Targets set for the KPIs need to be realistic, taking into consideration available resources, current baselines, benchmarks and market or industry trends;
Time-bound –Targets must have a predefined time, by which they should be achieved.
Consequently, a KPI shouldn't even be called KPI if the smart criteria are not met. For this reason, the term SMART KPI is in a way doubling down on the SMART criteria.
Our recommendation is that we should not use the traditional approach to defining SMART objectives, but rather ensure that the objective is clearly formulated and easy to communicate. We will then ensure they are 'SMART' once we add the KPIs to our objective.
This involves decomposing the traditional approach to ensure clear linkage between performance management tools, concepts and roles such as KPIs, Targets and KPI Owners, thereby ensuring a clear understanding of the SMART criteria and its direct application in organizational contexts.
To learn how to create a framework for performance, check out The KPI Institute's Certified KPI Practitioner Live Online training course.