Reducing cart abandonment rate – increasing revenue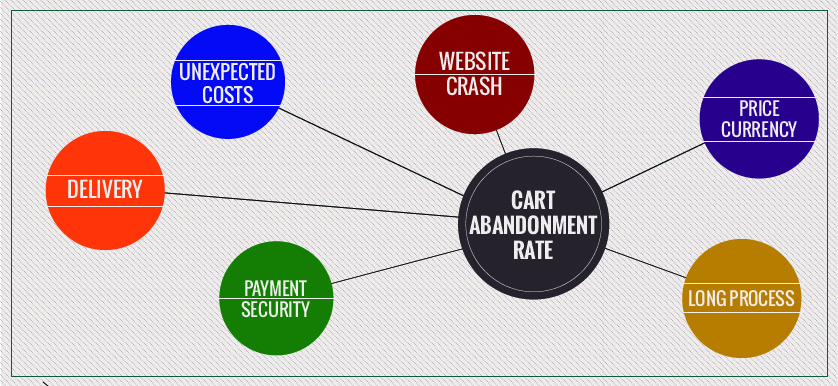 One of the biggest problems of online retailers is cart abandonment rate. Let's take an example: with a cart abandonment rate of 60%, a company loses 60% of its potential customers. How much would the revenue increase if the company captured those sales, instead of losing them?
If the company's current sales are $15,000/month x 0.30 (30% bump) this means $4,500/month, which means $54,000/year translated directly in extra sales.
Why shoppers leave without paying? Well, according to Statistia, there are 14 main reasons why shoppers abandon their carts.
Now, out of these 14 main reasons, only a couple are within the webmaster's influence. Obviously, all of the possible  reasons for cart abandonment cannot be influenced by a webmaster. So let's analyze and explain the processes that take place in the user's mind, the ones that webmasters can influence directly.
Presented with unexpected costs
This is a highly common issue that is encountered during the online shopping process. The online user finds a product he is willing to buy and clicks "Add to Cart". When he decides to checkout, he finds out there are additional fees and charges that were not clearly specified on the original product page.
Website crashed or was too slow
Many online retailers host their websites on poor performing servers and, as a result, the site loads very slowly and crashes from time to time. Nowadays, customers buy online because they do not have time to spend on traditional shopping, and having to deal with a site that loads very slowly is exactly what customers do not need.
Price presented in a foreign currency
Most online retailers accept international orders. It is highly recommended to display or provide the option that can show what the cost will be in the shopper's local currency. If your business does not offer this option, or you are not able to implement it, you should at least display the prices in a globally accepted currency, such as $ or €.
Process was taking too long
Again, it is very important to be time efficient as an online retailer, because, as pointed above, the main reason why people buy online is their lack of time. It is a well-known theory in online marketing that the "content" wanted by online users has to be "2 clicks" away from them.
It is highly recommended to respect this theory and not ask customers to undertake different actions (such as register, like, share, follow) on the checkout page.
Concerns about payment security
Payment security provided by online retailers is very important, because users are using their credit cards to pay, and most of them do not own a special credit card for online shopping.
This is a sensitive problem and online retailers have to find the proper way of solving it, as another reason for leaving without paying is "Excessive payment security checks". It is therefore recommended to contact special online software solutions that provide such security solutions (TrustE, Symantec).
Delivery options were unsuitable
If webmasters fail to think about delivery, this ends up being a problem. When considering the delivery options, think about the products you are selling and who might the company`s potential customers be. After you identify the target market, try to develop delivery options suitable for  each type of potential customer.
Roughly, these processes can be leisurely influenced by a webmaster and can bring added value to a company or product. The key behind it is to identify and determine those processes that represent the best solution to the problem at hand.
In essence, by offering the best solution for the abandonment reasons listed above the company will be able to significantly reduce the cart abandonment rate and directly increase the revenue.