Performance Measurement Maturity Model – assessing organizational performance measurement capabilities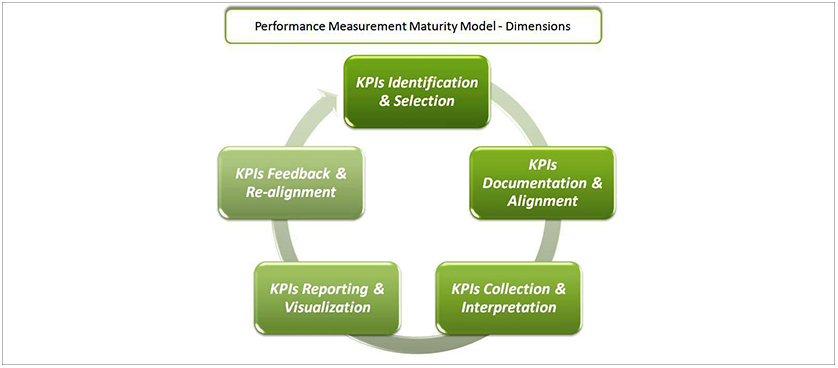 Performance Management and Measurement
In scientific management performance is associated with two key processes, performance management and performance measurement which cannot be separated from one another. Performance management both proceeds and follows performance measurement. Performance measurement appears as a sub process of performance management that mainly focuses "on the identification, tracking and communication of performance results, by the use of performance indicators" (Brudan, 2010).
Performance Measurement roles and importance
Increasingly, authors and commentators are discussing the multiple roles of measurement, as it is recognized that performance measurement allows managers to do far more than simply check progress (Neely, 2002).
The performance measurement system is a process supporting continuous learning in which feedback is used for identifying achievements and making adjustments to agreed-upon strategies or initiatives to ensure continued excellence of activities and services, and to progress for the attainment of organizations mission, vision and objectives. It also can provide a balanced and systematic attempt to assess the effectiveness of organizations operations from different points of view: financial, business performance, clients and employees.
In this setting performance measurement is a must and it is imperiously required to support the performance management system. One way to assure that a streamlined and mature performance measurement process is in place, is to assess the current measurement capabilities against a Performance Measurement Maturity Model.
About Maturity Models
The main reasons that stay behind why organizations might choose to use a maturity model in order to assess their current capabilities are:
Gaining a better understanding of strengths and weaknesses in order to enable improvement to happen
Gaining recognition of service quality in order to support proposals
Justifying investments in process improvement
Providing a map for continual progression and improvement
Focusing on the organization's maturity rather than specific initiatives
Thus, maturity models prove to be important tools to help organizations align their processes to a common standard, and guide their process maturity, step by step following a structured and predefined path.
Performance Measurement Maturity Model
The Performance Measurement Maturity Model proposed below is informed by an academic research project (Brudan, 2009) supported by further insights from the experience gained as implementers of Performance Management Systems and developers of smartKPIs.com, one of the most comprehensive repositories in the world with Key Performance Indicators (KPIs).
The model is built on five key dimensions each describing an important characteristic or step of a performance measurement process.
KPIs Identification & Selection – The selection of right Key Performance Indicators (KPIs) has a major impact on the organizational strategic directions. Indicators should focus on actions and services provided at each organizational level in order to achieve the organizational strategic objectives. Most important it must be considered at all times the measurement of what is important and not necessarily easy.
KPIs Documentation and Alignment – The process of KPIs documentation secures that the selected indicators are actionable, by establishing definitions, purpose, calculation formulas, targets, methods of data collection and reporting and data owners and custodians.
KPIs Collection and Interpretation – The process of KPIs collection and interpretation needs to be supported by a well defined and optimized system solution that responds to the performance measurement collection needs of the organization. Responsible for data gathering must be identified and it must be assured data availability for each KPI tracked in the Performance Scorecards and Dashboards.
KPIs Reporting & Visualization – Regardless of the parties involved in the performance reporting process it must be assured that the process is effective and efficient. An inefficient and ineffective reporting system will not generate any significant positive effect on improving the performance of an organization. Another important part of the measurement process is data visualization. Data visualization involves processing information in a graphic description of it in order to be understood and transmitted more easily, faster and more efficiently.
KPIs Feedback and Re-alignment – This process is one of the most important parts of the performance measurement cycle. It secures that the KPIs are kept on track and aligned with the organizational strategy, in order to provide with valuable information that will allow improved organizational practices.
The Performance Measurement Maturity Model uses a five level maturity framework which is adapted from The Capability Maturity Model Integration (SEI, 2001) and Portfolio, Programme and Project Management Maturity Model (OGC, 2008). Using this framework, organizations can assess the maturity level of their performance management practices in each of the five dimensions of the model against the 5 maturity levels.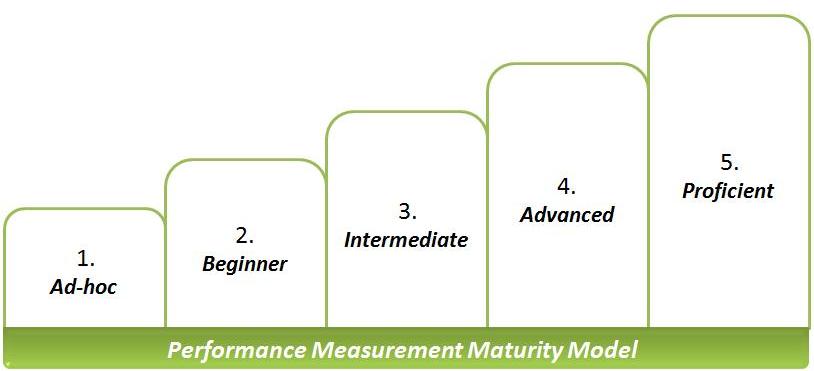 The model presented above represents a new tool that organizations can employ for assessing the maturity of  their performance measurement capability. For more details about how such a model can generate value in an organizational context, contact eab group.
 References
Brudan, A.N. (2010), Rediscovering performance management: systems, learning and integration, Measuring Business Excellence, Vol. 14, Iss. 1, pp. 109-123
Brudan, A. (2009), Performance Management Maturity Level in  Business Organizations, Master thesis, Arhus School of Business, Denmark
Neely, A. (2000), Business Performance Measurement: Theory and Practice, Cambridge University Press, UK
Office Of Government Commerce – OGC, (2008), Portfolio, Programme and Project Management Maturity Model (P3M3), Pubic Consultation Draft
Additional resources

Image Source: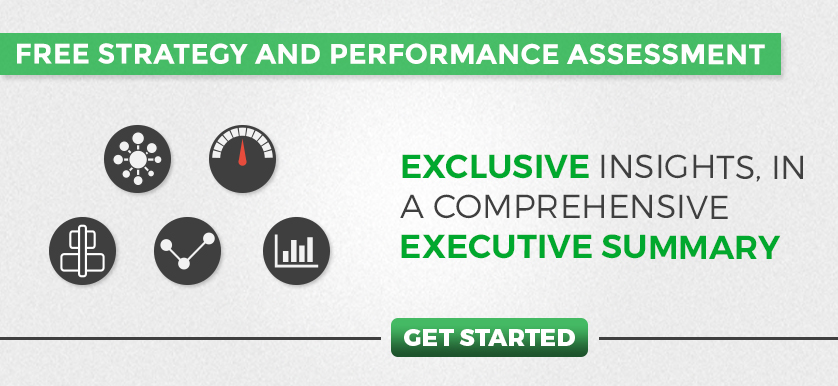 Tags: EAB group, Maturity Model, Performance Measurement, Research