Managing organizational performance by integrating finance efficiency and business insight – IBM 2010 Global CFO study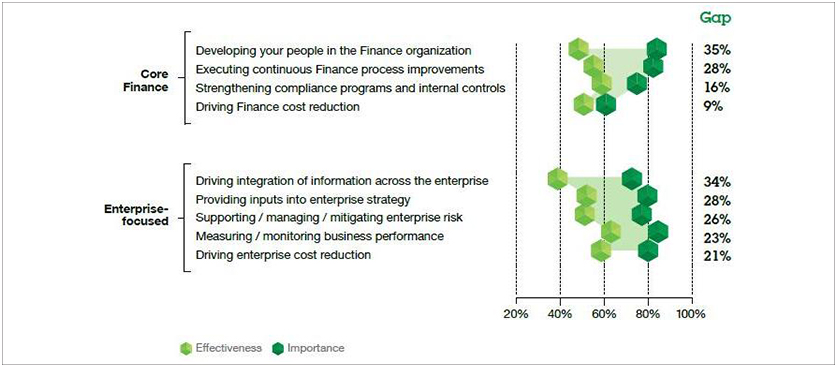 The latest IBM 2010 – Global CFO study, based on input from more than 1,900 Chief Financial Officers (CFOs) and senior Finance leaders worldwide brings new and valuable insights regarding the financial effectiveness and performance of organizations.The study main findings reveal that organization's finance effectiveness lags. More than 45% of the CFOs indicated that their Finance organizations are not effective in the areas of strategy, information integration and risk and opportunity management. This comes in the context in which, since 2005, the importance of integrating information has more than doubled, while the priority of the enterprise risk management has risen 93%, according with the same study.
The organization assessment process is based on nine dimensions that cover core financial and enterprise focused activities. The results show that Finance faces a widening execution gap, with expectations rising faster than effectiveness.
Despite the increased lag of finance efficiency and performance, the study identified a group of organizations called "Value Integrators", which stand apart from their peers. A combination of two primary capabilities that are strongly associated with outperformance sets them apart:
• Finance efficiency – "The degree of process and data commonality across Finance"
• Business insight – "The maturity level of Finance talent, technology and analytical capabilities dedicated to providing optimization, planning and forward-looking insight"
Besides the Value Integrators which are identified by the study as the most efficient organizations, three other types or organizations are nominated by the study and grouped according with the two core capabilities identified above. They are Constrained Advisors, Disciplined Operators and Scorekeepers.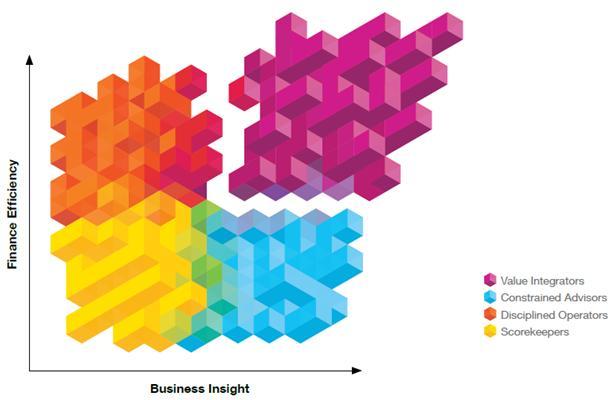 The fact, that the Value Integrators outperform by far the other types of companies can be easily depicted by looking at the 9 core dimensions that picture the finance capability. Although Value Integrators outperform the other organizations across all 9 dimensions, three of them sets them apart.
• Supporting, managing and mitigating enterprise risk
• Measuring and monitoring business performance, and
• Driving integration of information across the enterprise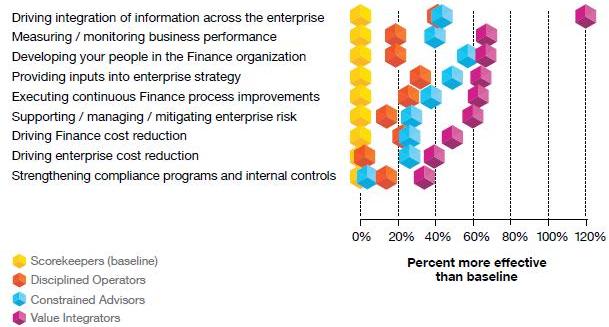 The study also revealed that when comparing the four different organizational profiles the most striking contrast appeared during the financial analysis. The Value Integrators outperform in all performance measures analyzed spanning across balance sheet, profit and loss and cash flow results areas.

Despite the fact that the biggest differences between organizations appear across their core finance competencies, major gaps appear also when looking at the enterprise focused activities. Thus the 2010 Global CFO study confirms previous research that already demonstrated that higher adoption of standards and stronger business insight help improve finance effectiveness and overall organizational performance. Integration between different dimensions and areas of expertise lead to a better strategic focus across all organizational levels, better and more informed decisions which thus lead to better overall performance.

smartKPIs.com contains popular Key Performance Indicators (KPIs) examples used in monitoring organisational financial efficiency and effectiveness. For further examples of financial KPIs  explore the Financial KPI examples section on the library of KPI examples  available on smartkpis.com (smartKPIs.com, 2010).

References

Image Source:
2010 IBM Global CFOs study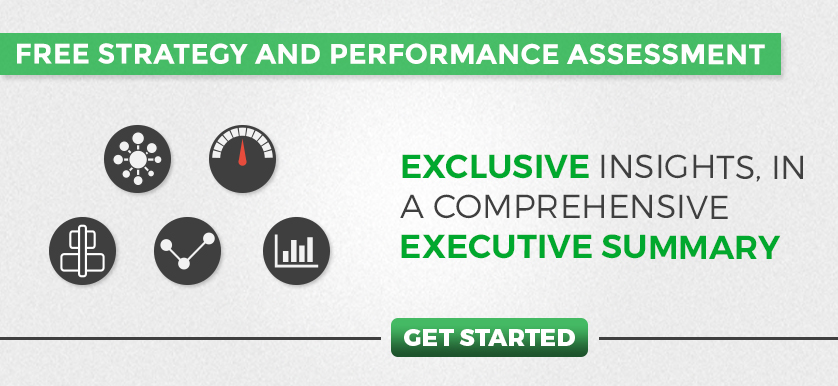 Tags: IBM Global CFO Study, Performance Management, Research, Value integrator