Marketing Supply Chain Performance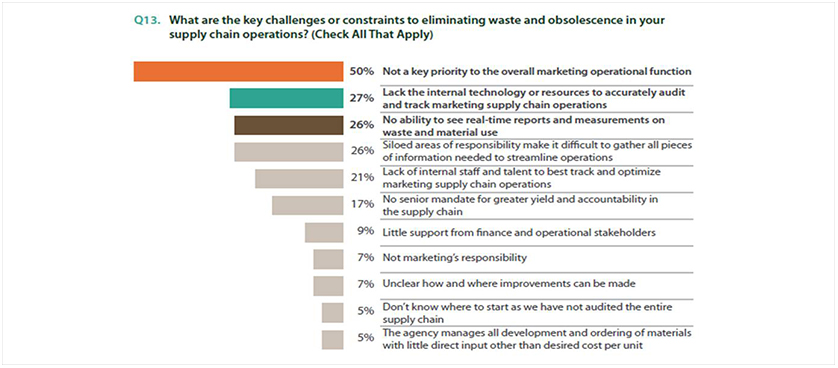 In addition to focusing on generating the best ideas through research and analysis, marketers need to also focus on the process of deploying these ideas into the market, making sure they reach the consumer in a timely and effective manner. To describe this process, the term employed is the Marketing Supply Chain, which consists of the people, processes and technology that make possible the creation and delivery of the marketing artifacts to the target consumers.
The Marketing Supply Chain optimization is a must in nowadays business environment, where cost-effectiveness and improvement at all levels are a major desideratum for businesses. However, marketers face strong problems in areas such as optimum production and storage of the marketing materials and reduction of waste.
A CMO (Chief Marketing Officer) Council 2010 study reveals that while investment in traditional marketing channels has been decreasing over the past few years, marketing consumables still make up a significant portion of the marketing mix. However, many marketers leave the optimization of the Marketing Supply Chain processes and operations to other functional areas, such as procurement, warehousing or finance (CMO Council, 2010).
Thus, it does not come as a surprise the fact that many respondents in the study mentioned not having any form of forecasting or inventory management of materials, instead relying on past orders or guessing to order when materials are needed and not having real-time access to marketing consumable inventory or utilization levels.
All these factors lead to an increase in marketing waste, which, in turn, translates into increased costs, if wanting to always deploy fresh content or a poor presence on the market, if using the outdated content until it finishes.
Although being aware of the fact that waste is a major problem of their Marketing Supply Chain, marketers mention that an important key challenge to optimizing processes and eliminating waste is, among others, the lack of real-time reports and measurements on material use and waste, as shown in the graphic above.
So, the employment of a performance management and tracking system, along with other prerequisites, such as a better collaboration between departments and using at a larger extent "greener" materials and technologies, could lead to improved processes and results.
smartKPIs.com invites you to browse the KPI examples in Supply Chain, Procurement and Distribution functional area to find performance measures you could employ in your Marketing Supply Chain optimization initiatives.
Reference
The Chief Marketing Officer (CMO) Council & The Business Performance Innovation (BPI) Network, Mapping + Tracking The Optimized Marketing Supply Chain
Additional resources
Image Source:
CMO Council (2010)
Tags: Procurement performance, Report Analysis, Supply Chain Performance