How can we ensure our KPIs are aligned to the strategy?
A common disappointment among managers in regards to measuring performance is that in practice, in many cases, the key performance indicators (KPIs) monitored do not seem relevant as they are not connected to the strategy. To better understand how this problem can be addressed, we must first identify its possible causes:
1. The strategy is not translated into clear objectives – nowadays, most organizations have a strategic plan in place for short and long terms. However, these plans may lack an important characteristic, the ability to clearly transmit what needs to be done and how success looks like.
To provide this clarity, strategic objectives must be concise. For example: Increase stakeholders' satisfaction, Optimize the delivery process, Reduce recycling costs or Ensure market expansion.
Solution:
Developing objectives using the SMART concept in mind is a good practice. Other important information such as timeframe, accountability, KPIs to measure the objective can be mentioned in an Objective Documentation Form.
---
2. KPI selection is done independently to the strategy – during the selection process, KPIs are not chosen to reflect the achievement of strategic objectives.
Solution:
Consider these three questions when measuring performance:
What do I want to achieve?
How will I achieve it?
What are the best ways to measure / reflect the progress in reaching my objectives?
The third question indicates what KPIs are suited for your objectives. In most cases, there is more than one way to measure your goals. For example, given the objective "Increase customer satisfaction", the marketing manager may choose to measure % Customers satisfied or # Customer satisfaction index.
The decision to measure one KPI or the other will take into consideration things like budget allocated for the KPI's activation (# Customer satisfaction index will require a multiple question survey that will be more expensive than measuring the percentage of satisfied customers), time to gather data and so on.
Using other KPI selection criteria can help managers shrink the list of possibilities, but remember that the main criteria is to ensure your KPI is linked to a strategic objective.
---
3. KPIs are not relevant, as we measure what is easy to measure – this is a very common pitfall that occurs during KPI selection workshops, choosing certain KPIs that we are familiar with, or those ones that are easier to measure.
Solution:
To address this issue, keep in mind that the efforts to measure a KPI should not be greater than the benefits generated, however the key criteria still focus on relevancy.
---
4. KPIs are not relevant, as we measure what is popular in the industry – in a similar way as mentioned above, managers may be tempted to measure the same KPIs that their competitors use.
Benchmarking is a helpful tool in measuring performance, but it must be used wisely. Comparing one company with another may be irrelevant even if they are in the same market, in the same industry and have a similar size, if they have different strategies.
Solution:
Use benchmarking data, if it is available, as a reference point for your activities and make sure the comparisons you are making are relevant.
---
5. KPIs are not reviewed after every strategic planning cycle – strategies change all the time, whether it happens in a well-structured way, like annual strategy reviews or informal, when managers responding to market changes start new projects. All the changes happening in the organization may put KPIs further and further from the business activities.
Solution:
Reviewing the strategy should take place in an organized way, which ensures KPIs are recalibrated to the new strategic directions and there is consistency between what we measure and what we want to achieve. Strategy review should happen once a year, or even more often for really dynamic business environments or start-up companies and realigning KPIs should be a part of this process.
---
In time, the organization evolves and so do its KPIs, therefore some of them may be superseded (the entity is mature enough to measure a more complex KPI), for some we may choose to suspend them, as the issue they were monitored has been solved, while others may need to be refreshed (changing the calculation methodology).
The value generated by using KPIs is directly influenced by how relevant the data obtained from the performance measurement process is for business planning and decision-making.
Therefore, addressing the above-presented issues may significantly improve the current performance management framework within the organization. Use the GPA Unit performance measurement audit tool, which is provided for free and can offer you an overview of your current maturity level in your organization, in a specified area.
Never lose track of the big picture!
If you feel that your strategy aligning is not quite up to par with the current practices in the business industries, and you would like to gain a better understanding of how KPIs interact with an organization's strategy, from its design to its implementation, The KPI Institute offers you a 3-day course, Applied Strategy and Business Performance Improvement with KPIs, which will act as a roadmap to the improvement of your long-term organizational performance.
You will explore the foundation of a successful business strategy and then translate it into actionable objectives. The solution for a higher success rate is to set quantifiable objectives and accordingly, use the right KPIs. The course provides the needed Measurement Framework to properly select the relevant KPIs, to document them and gather data.
Moreover, if after you have finished our course, you believe that this topic is something of interest to you and would like to gain in-depth knowledge and earn a specialization in Strategy and Business Planning, we offer you our Certified Strategy and Business Planning Professional certification course, which will help improve long-term organizational performance, through the use of strategic planning tools.
Participants will explore the framework that provides the foundation of a successful business strategy, focusing on the main components of a strategy and practicing the development of an efficient strategic plan. The course will also provide insights on the fundamental principles and methods for communicating strategy across the organization.
Furthermore, for those interested in other resource types, we offer you a wide array of webinars on strategy & strategic planning, which will serve as video guides to help you never lose sight of the connection between your strategy and KPIs!
Image source: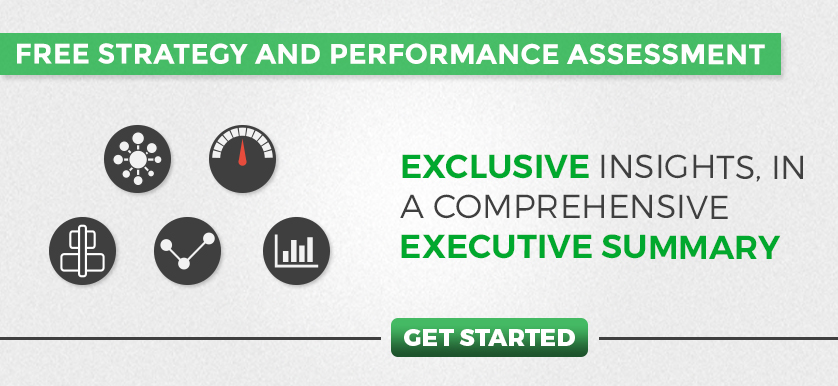 Tags: Ask the Experts, Business Strategy