Employee Engagement: What It Really Is, Why Invest In It And How To Get It Right In The Middle East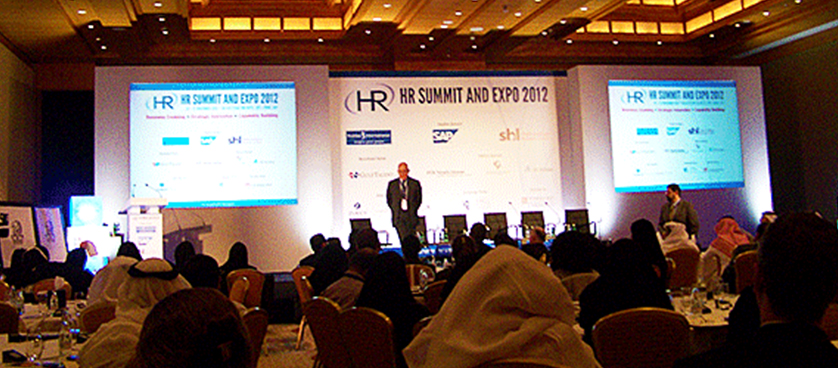 Employee engagement was a popular topic among the HR Summit and Expo 2012 presentations. The second day of the summit included a panel discussion moderated by Basem Al Attar, Chair of the HR Summit, best-selling author and award winning human resources (HR) strategist.
The panelists – Othman Haddi, Tamer Elewa, Jonathan Budden and Dr. Ayoub Kazim – represented a mix of experts from both local organizations such as the Dubai Knowledge Village and multinational corporations such as Procter & Gamble, Merck Sereno and Microsoft.
Some of the key discussion points were:
In defining employee engagement, the panelists mentioned things such as "engagement is about the connection", "employees at their best, achieving their peak"; they also referred to it as the emotional and physical commitment of an employee towards his/her organization; another definition of engagement was grounded in four H-s (head for decisions, heart for emotions, hand for productivity and hope for purpose);
One of the panelist made the point that discussing the importance of employee engagement is well-known and outdated as a discussion topic; instead, he suggested that current conversations should focus on "How can we make it happen?";
The panelist were asked to give examples of behaviors that allow them to recognize engaged employees; one such examples was employees showing up early and helping each other, spending as much time together as they can at company get-togethers;
Tamer Elewa emphasized the importance of customizing the employee engagement survey to the organization and within large organizations, even to different regions or divisions – "find your drivers and then measure engagement";
Jonathan Budden and Othman Haddi gave specific examples regarding the employee engagement surveys used at P&G and Microsoft;
In differentiating between satisfied, pleased and engaged employees, the panelist labeled the first category as not necessarily willing to go the extra mile, the second one as those who enjoy working and the third category as those going the extra mile because they want to do so;
Sustainable engagement was defined as enablement (giving employees the tools, resources and support they need) and energy (which often comes from a sense of accomplishment);
Employee effectiveness was defined as engagement together with enablement;
When promoting employee engagement programs in organizations we should speak in terms of returns.
Tags: Employee Engagement, HR, HR Summit and Expo, Human Resources performance