Challenges in managing organizational performance: insights from Eskom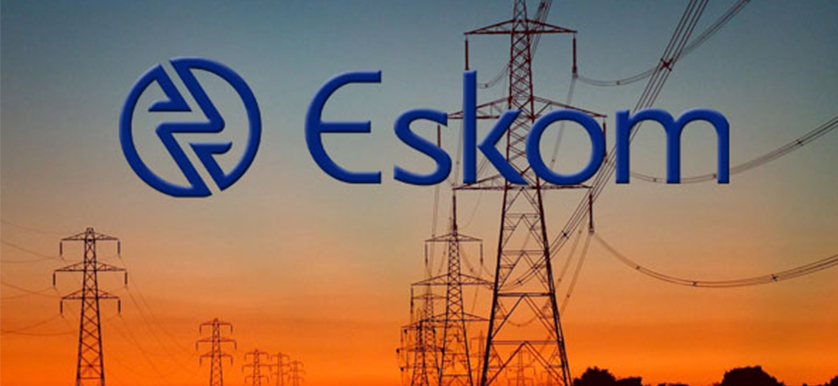 Eskom is a South African electricity public utility company which generates 95% of the electricity used in the country and about 45% of the one used all across the continent. Although the company puts great effort towards achieving its strategic objectives, and it monitors a set of Key Performance Indicators (KPIs), some of its business areas still need improvement. For the year ending 31st of March 2014, Eskom managed to meet the targets for only 57% of its 33 KPIs.
Its scorecard is formed based on Key Performance Areas, which include a number of KPIs accompanied by their targets, present and previous results, as it can be seen in the table below: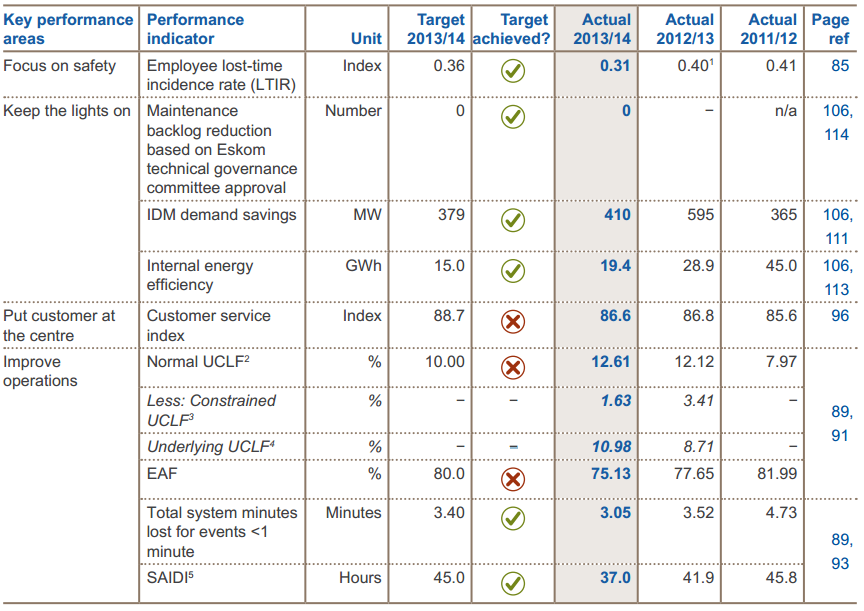 An important remark concerns the fact that Eskom's energy availability has fallen. Plant availability, including both planned and unplanned events, was only 75.13%, down from 77.65% last year and below the target of 80%. The company was forced to stop electricity delivery for 14 hours, after wet coal affected four generating units, for the first time since 2008. This drastic decision was needed in order to avoid a general blackout, which would have affected the entire South African economy.
The Public Enterprises Minister, Lynne Brown, puts pressure on the company's management to ensure better administration and control, as "Eskom is three to four years late and well over budget in bringing on line two new 4800MW coal-fired power stations".
Eskom is vulnerable especially during the winter, until a major part of the capacity expansion program will deliver new capacity. To support the implementation of the expansion programs, the company asked the National Energy Regulator an annual tariff increase of 16%, but an agreement could only be found at 8%. This led to a reduction of the company's revenues, which translates into difficulties in repaying the debts it has acquired.
On the other hand, the company was downgraded by the credit rating institution, Standard & Poor's, to a sub investment grade, which will increase the cost of funding with 30-40%. Also, Fitch Ratings revised Eskom's outlook to "negative". The risk for further downgrading is still present, as the company's financial profile is still sensitive and it can weaken materially.
Eskom tries to address its current financial problems with the help of the Government. As a result, the company's capital structure may change: "Eskom's financial sustainability is under pressure but we have investigated alternative funding, including possible equity and quasi-equity, in response. We have applied to NERSA for the RCA adjustment, and we have launched a business productivity programme to reduce cost, increase productivity and enhance efficiencies."
The Minister of Public Enterprises is confident that "the current capacity expansion programme will, once completed, result in a more secure national power supply that can meet the country's needs", as South Africa needs an energy secure environment to support its economic growth. Furthermore, Eskom's interim Chief Executive Officer, Collin Matjila, sustains that a comprehensive plan was developed in order to address the existing challenges and accelerate progress.
References:
Image source: