Basic Process Management Tools and Templates for Breaking Down Processes Into KPIs
Organizational processes should be designed in such a way that they effectively enable the strategic implementation of corporate objectives. Successful execution of strategy demands well execution of processes from all perspectives. 
Processes that are properly understood and deeply rooted in the organizational realities will produce results that are reliable, easily controlled, and effectively managed. The documentation of processes allows for meticulous work to be conducted in relation to a company's effort of architecting process frameworks and solutions. 
Moreover, process documentation is intended to accurately describe the landscape of a process, the activities included within that landscape, the standardized workflow associated with a particular process, and its current state by comparison with a desired one. Process templates generally reflect on the degree of process documentation within an organization. 
"Process templates are created to describe some aspect of a process, a process landscape, process flow, process solution or state. […] Process templates enable the capture and relation of process-centric objects within the same template or across multiple templates, each of which promotes its own view of a process." (Von Rosing, Von Scheel, & Scheer, 2014, pp. 175-180)
With decomposing processes into KPIs, proper documentation that involves process description and the internal procedures should be in place. Meanwhile, process management tools such as process maps are consulted for a better perspective on the process itself. 
The basic process management tools and templates that can be used for an effective process design are the following:
1. Process description: The process description is a template that supports the organization in understanding the functionality of each process in turn. It is vital that the process description concentrates on the purpose of the process as a constituent part of operational activity rather than the steps in the process. 
The purpose of the process becomes a focal point around which processes are defined. This is especially important due to the fact that processes around which the company is currently organized may not be the most suitable for strategy. It is not excluded that the process description includes more than one purpose for a process in place. 
Purposes can be main or secondary. The main purpose refers to the strategic purpose that the process serves for the organization. Secondary purposes are the ones that are directly tied to the main purpose of the process; however, they have a more functional or operational focus that generally derives from the process steps or activities. 
Such a way of working with the process description not only helps to validate the linkage to organizational objectives but also leads to a more accurate distribution of KPIs. This will be measured by levels of organizational performance.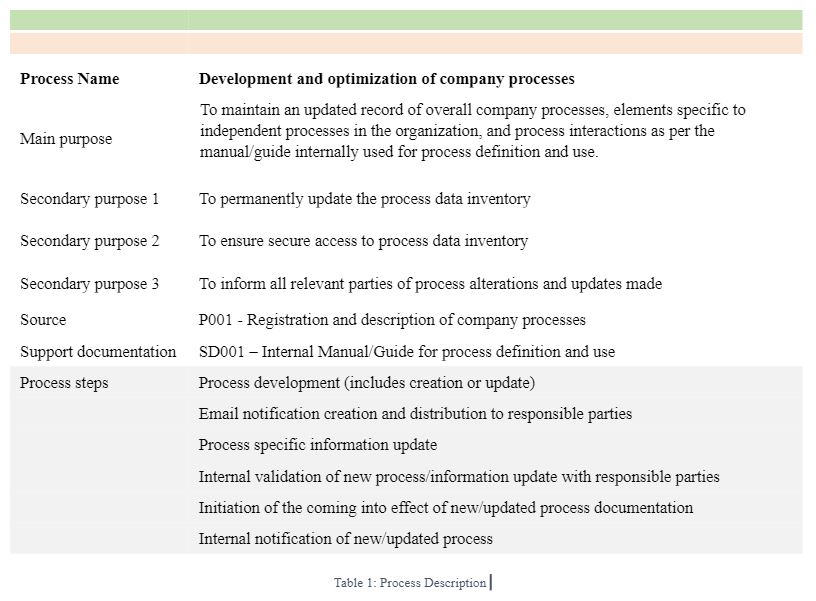 2. Process map: The process map is a process management tool "that shows input-output relationships among process dependent operations and departments and that documents in a step-by-step process sequence the activities that are required to convert inputs to outputs for the specific process." (Hunt, 1996, pp. 8-10) 
A process map provides an illustration of organizational processes as well as the interactions between the main process steps. A process map is especially important as it helps identify the main inputs stepping into the process and the main outputs stepping out of the process, while reflecting on the "as is" or" current state" of the process itself. 
One of the most important roles of the process map is it helps identify bottlenecks in the process or waste that needs to be eliminated in order for the company to achieve process optimization.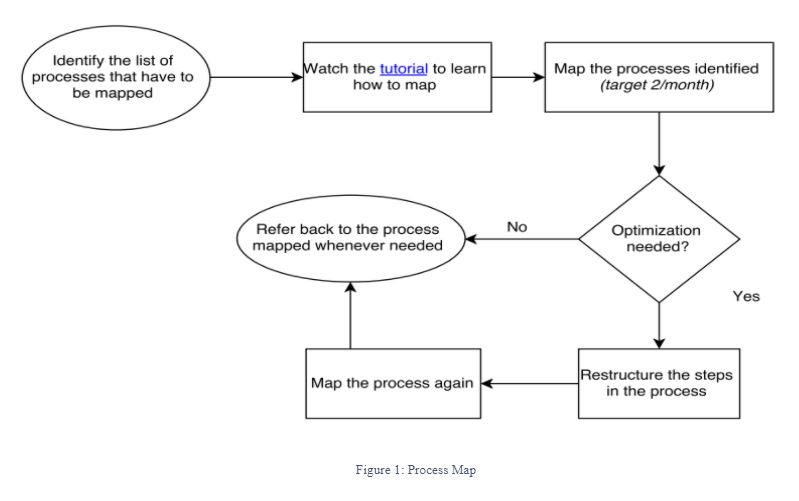 3. Internal procedures: Internal procedures are a necessary tool in breaking down processes into KPIs and process optimization thereon forward. They also deliver a standardized template for capturing specific process information. 
Internal procedures provide a more detailed view of how processes are conducted for the organization as well as the Service Level Agreements instituted as part of the interactions with other processes in the organization. 
Internal procedures also provide a set of detailed steps on how to perform process tasks, which significantly aid process performance measurement through KPIs.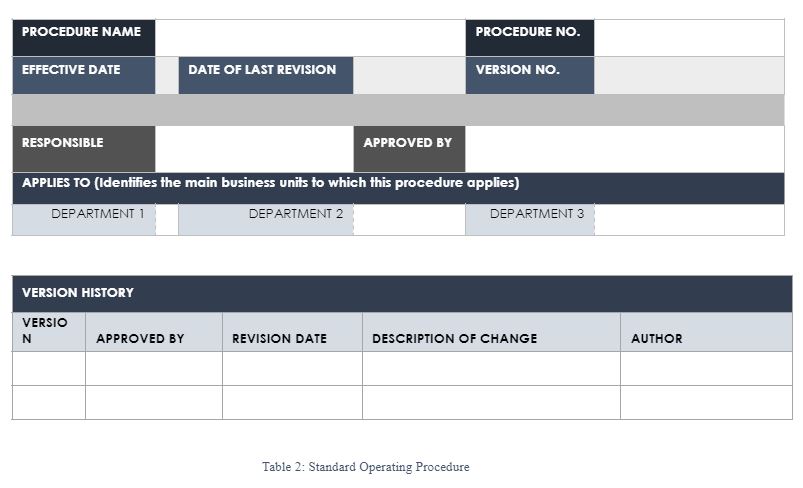 Those basic process management tools and templates provide a simple and cost-effective solution to breaking down processes into KPIs. If used effectively, they can deliver tremendous benefits, such as preservation of process knowledge, documentary evidence of process understanding, a framework for process performance measurement, and overall improvement of business processes over time.
Discover more about KPIs and how to develop a structured approach to measuring performance by signing up for The KPI Institute's Certified KPI Professional and Practitioner course.