An overview of Business, Corporate and Enterprise Performance Management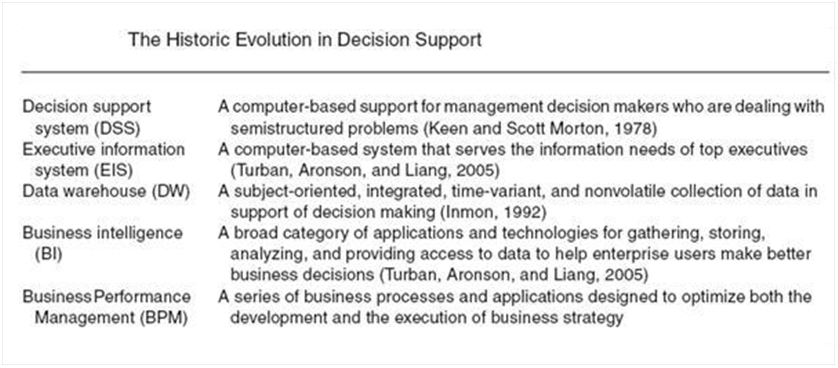 Simply stated, Business Performance Management (BPM) can be described as a series of business processes, systems and applications designed to optimize both the development and the execution of business plans.
Definition of BPM
In an effort to provide clarity to the industry, a BPM standards group was established in 2003. Their definition for BPM was "a set of integrated, closed-loop management and analytic processes, supported by technologies, that address financial and operational activities." (Frolick et al., 2006)
Synonyms for "Business Performance Management" include "Corporate Performance Management" and "Enterprise Performance Management".
Some consider Corporate Performance Management (CPM) is the area of business intelligence (BI) involved with monitoring and managing an organization's performance, according to key performance indicators (KPIs) such as revenue, return on investment (ROI), overhead, and operational costs. (SearchDataManagement.com, 2010)
If we regard Business Performance Management (BPM) and Corporate Performance Management (CPM) as near synonyms: BPM would serve as the more generalised and used  term.
However, because the use of the acronym "BPM" can cause confusion with "Business Process Management", using terms such as "Corporate Performance Management" or "Enterprise Performance Management" can avoid that confusion.
The history of BPM
Similar to other past trends in information systems, BPM has evolved over several decades. An account of its history is illustrated in the table above.
Examples of BPM frameworks
Core BPM processes include financial and operational planning, consolidation and reporting, business modeling, analysis, and monitoring of key performance indicators linked to strategy ( BPM Magazine, 2010).
According to other sources, the BPM framework is composed of four core processes. These four key steps are the foundation for designing, implementing, and managing BPM (Frolick et al., 2006):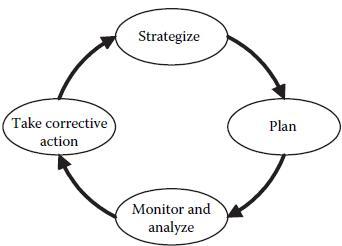 1. Strategize
2. Plan
3. Monitor and analyze
4. Take corrective action
The first two steps represent the formulation of business strategy, and the last two steps define how to modify and execute strategy. These four core processes form a closed loop that captures business strategy, which is then translated into strategically aligned business operations. (Image Source: Frolick et al., 2006)
Another example of a BPM or CPM  Framework is the one developed by PriceWaterHouseCoopers (2008). It is structured on 6 steps: strategy, plan, measure, insight, execute and reward. It also identifies 5 key enablers that help organizations driving strategy into sustainable performance: Culture, Governance, Data Management, Technology and Process.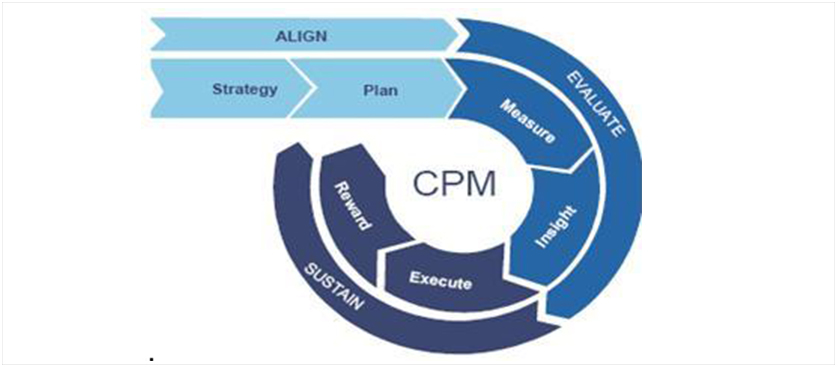 Various methodologies for implementing BPM exist. They provide companies a top-down framework by which to align planning and execution, strategy and tactics with business-unit and enterprise objectives. Various management concepts are intertwined in practice: Six Sigma, Balanced Scorecard, Activity-Based Costing (ABC), Total Quality Management, Economic Value-Add, Integrated Strategic Measurement and Theory of Constraints.

The Balanced Scorecard is the most widely adopted performance management methodology, especially as a system.

Methodologies on their own cannot deliver a full solution to an enterprise's BPM needs. Many pure-methodology implementations fail to deliver the anticipated benefits due to lack of integration with fundamental BPM processes.

References:

Image Source: Source:
PricewaterwouseCoopers, 2008