Window shopping for the World's best prices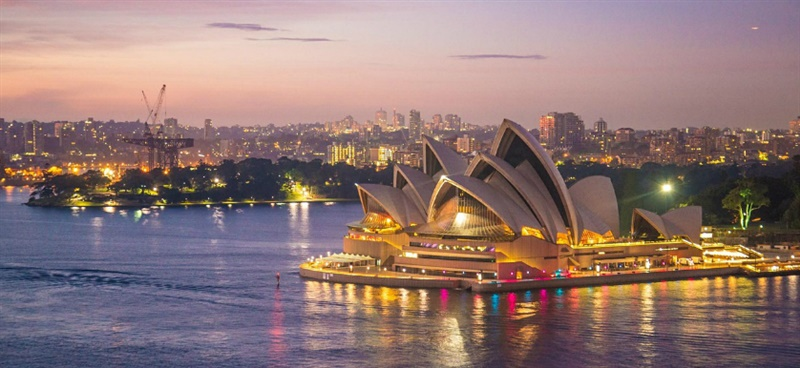 How many decisions do we base on prices? Our minds are continuously set on the growth or cut down of prices, while we constantly search for the most affordable way to live a good life. But what if a bargain was just around the corner? And what if the right instrument to spot it was at reach?
Recently, Deutsche Bank has published the fourth edition of its annual report on global prices in 2015. The interesting element that this report brings forth is that it provides the reader with a global view on price indexes, country and city rankings, alongside other factual data. The Deutsche Bank report reveals its less traditional humor characteristic by dividing price indexes into eccentric categories such as: the "Big Mac Index", the "Two liters of Coca-Cola" Index, the "Beer in neighborhood pub" Index, the "New Volkswagen Golf 2.0 TDI 140 CV 6 vel. (or equivalent) Index", as well as the "I-Phone 5 and 6 Price" Indexes.
For the fourth time in a row, Australia wins the title for the most expensive country in the world, followed closely by New Zeeland and the United Kingdom. The ranking uses the Purchasing Power Parity conversion factor. This reveals the number of units required to buy the same amount of goods and services in each country's domestic market as the U.S. dollar would buy in the United States. This is how we find out that Australians pay $1.12 in AUD for what Americans can purchase for $1 US Dollar, New Zealanders pay $1.11 in NZD, and people in the UK pay almost the same amount in GBP, for what American citizens can buy for $ 1 US Dollar.
It is believed that the reason for Australia being the most expensive country in the world, for the fourth time in a row, resides in it not having known any significant economic downturn. The inflexibility of the Australian labor market is one of the main drivers of rising prices, as are the high interest rates of Australia's Reserve Bank.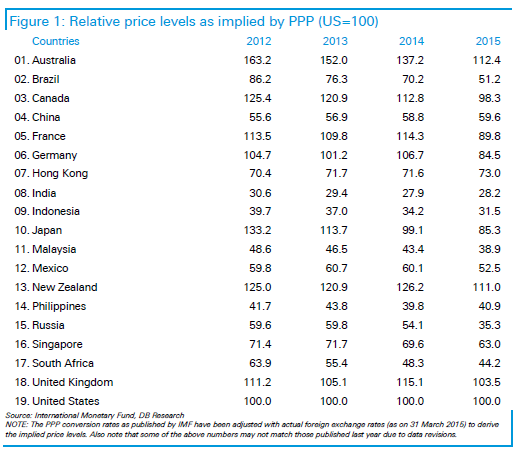 The fun part of deep diving into this research report starts by looking at informal indexes, such as the "Five Star Hotel Rooms" Index, or the "Taxi trip on a business day, basic tariff, 8 Km. (5 miles)" Index. Here, we find out that we'll want to avoid Sidney as our holiday destination because of the high rates of the five star hotel rooms. These may reach a relative price of 232% to the New York price for the same rank hotel. Instead of traveling to Sydney for your vacation, you might want to choose Wellington, New Zeeland, where you pay only 42% of the New York price for a five star hotel.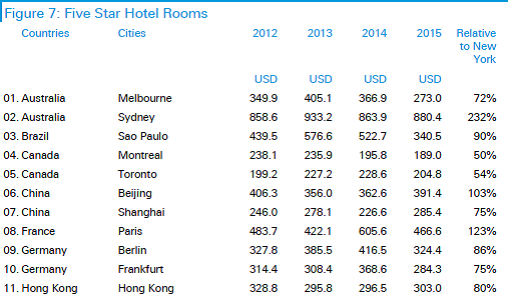 If you happen to be on a business trip, however, it might cost you more to take a taxi in San Francisco, USA, than in Kuala Lumpur, Malaysia, where the ride would be 15% of the money you pay for the same taxi in New York. If, by any chance, you try to replace the taxi with a rental car, then do so in India, or in China, but don't do it in France or in the United Kingdom, where it costs you some 150% more than it does in New York, for example.
If however, you plan on running from the airport to your hotel of choice, think about the fact that you could buy cheaper Adidas Super Star 2 snickers in South Africa, than you could in Germany, or in France. If Adidas is not a brand that suits you, then you can probably get a pair of Levi's 501 at the best price in India, where they cost 37% less than in New York.
The Big Mac Index should delight all fast food lovers. If you were planning on having an "all you can eat" Big Mac session, the best place to have your marathon would surely be Russia, where a Big Mac costs 72% less than in the US, its home country. Coca Cola fans, should go to Kuala Lumpur to have their favorite drink. They should, however, avoid Switzerland, where two liters of Coca Cola have the most expensive price tag in the world. Beer lovers will find the cheapest pint in the Philippines, or in Cape Town, South Africa, where 500 ml of beer costs only 27% of what it would cost in New York.
For those who aren't married, or in a serious relationship, the "Cheap Date Index" can make for a very interesting read. It turns out that single people are more likely to end up on a cheap date in Japan, Tokyo, than in India, where the odds of this happening are much lower. According to this index, single people should also avoid dating in Sydney, London, San Francisco, Paris and Berlin.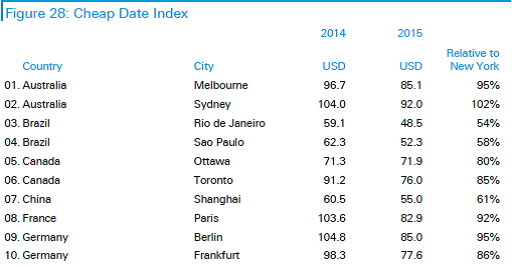 Despite its currency revival, the USA remains the cheapest place to buy an iPhone 6 from. On the other hand, it is also the most expensive place in the world to hire a top school graduate. The figures also show that shopping in Europe and Japan might not empty your wallet as much as it did before, while India prevails as the cheapest major economy in the world, across a high range of products. Alongside Sydney, Paris and London, Rio de Janeiro and Mexico City may turn out to be rather pricy holiday destinations while Tokyo is definitely an expensive place for dating.
References:
Image source: